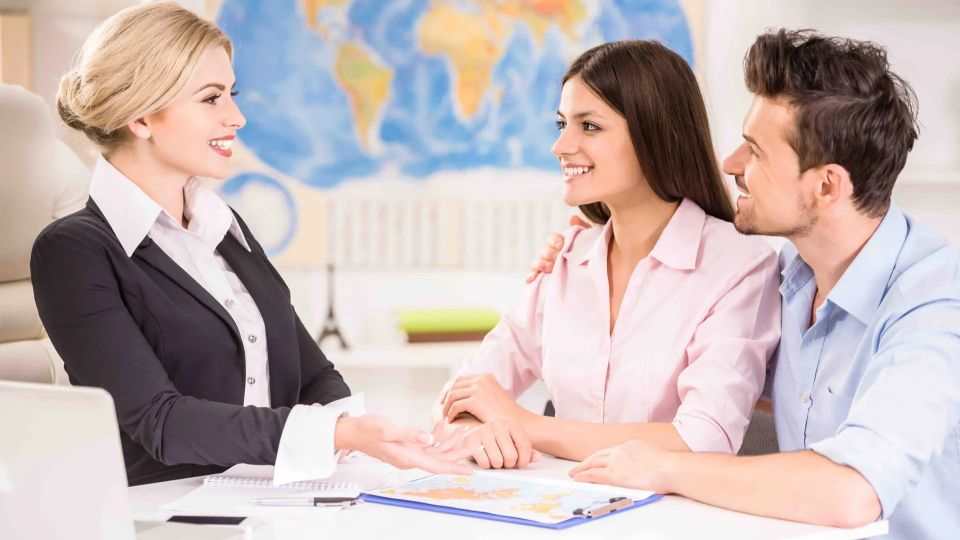 14 Businesses That Need A Website This Summer
Published on June 13, 2022
Sustaining a business without an online presence is no longer an option. 75% of people admit to determining a company's credibility based on their web design, which is why having a strong digital marketing strategy is critical.

Web design services are, therefore, in high demand across all sectors, but if you are looking for clients for your web agency, it would be a good idea to narrow your search to businesses that might urgently need a website this summer.

In this article, we've compiled a comprehensive list of businesses that have experienced a surge in demand this season, along with reasons why they would benefit from a new website.
1. Travel Agencies 
There is a reason why 'summer' and 'vacation' go hand-in-hand. With kids off from school, families can finally align their schedules and book that exotic trip they have been wanting to go on for ages and that is where travel agencies come in.

People spend hours on frustrating online research to get the best airline and hotel deals on their own, when instead they could have a travel agent make all the arrangements for them.

An engaging website, full of positive reviews and exciting experiences their past travelers have had, is what all local agencies need to convince holidaymakers and travelers to let them take the lead. They need a strong online presence to make them more accessible and that's your cue.

Similar to other SiteSwan website designs, our
Travel Agency theme can be easily customized to best represent your client's business. And who knows, you might just impress your way to a travel discount!
2. Food Trucks
The food industry is one of the most happening industries all year round, but with students free and people spending their time outdoors in the summer, the opportunity for food startups to do well is much greater. A lemonade stand started by a student is the epitome of a summer business and similarly, many others set up stalls full of refreshing summer treats like ice cream, donuts, and snow cones, and all they need is a stylish website to get the word out.

Summer is also the time of concerts, carnivals, and music festivals among many other events, which is a perfect opportunity for budding food trucks to get noticed. That kind of heavy foot traffic is what every food stall owner wants to generate, but how can they get the event organizers' attention without a webpage with pictures of their delicious food, praises by past customers, and an inspiring story?

Our visually appealing and modern Food Truck theme is all you need to persuade your local food truck of the new opportunities having a website will offer.  
3. Music Schools and Dance Instructors 
Summer can be a nightmare for parents, having bored and restless kids running around at home all day long, and if you are a working parent, the stress is insane.

Music or dance lessons, depending on the child's interest, are often a useful way to keep the children busy while parents are in distress. It will spark their creative juices, teach them valuable skills, and not have them stay idle for two months.

With so many instructors around every corner, it is not only important for these businesses to have a strong website that will help them reach audiences they otherwise would not have on their own but it is also crucial for their site to be search engine optimized. Most parents just google search for dance instructors in their local area and if that business's webpage does not rank high, they have no chance of getting new students.

With everything going remote after the COVID-19 pandemic outbreak, the competition is even higher, and you need to explain this to the instructors you are trying to approach. A stylish sample customized off our Music Instructor or Dance School theme will go a long way in highlighting the importance of online marketing.
4. Kids Gymnastics and Martial Arts Schools
While music and dance lie on the creative spectrum of activities, kids' gymnastics classes and martial art schools represent the highly physical activities that can keep kids busy while parents get some work or relaxation done. What more could a parent want than for their active and energetic kids to spend their summer doing something productive?

You have a great shot at procuring these clients because, like any other industry, they want to bring in new business. More specifically, their clientele are often students who are eager and willing to learn one of these new skills. A website is a great way to build interest and excitement in one of these fields. With a website full of colorful photos and information about the type of classes they offer, they can really showcase all the unique features that make their school or studio great. A website with high-quality videos of cool martial arts moves is all it takes for a child to want to try it and beat the competition of the other sports class options out there.

If you can present these schools with user-friendly websites, built with our Kids Gymnastics or Martial Arts themes, you can offer them at affordable prices to quickly get them signed up as a client. 
5. Junk Removal 
The start of the summer is usually marked by the dreaded summer cleanup that no one wants to do themselves. While some get their kids to help them with cleaning, many others approach professional clean out services that will take care of their garage, attic, and basement full of furniture, dated electronics, and other stuff they do not need anymore.

Many junk removal companies are new startups launched by individuals with a pickup truck and some muscle strength, and no one could benefit from your web design skills more than they can. They need to spread the word out, get new customers, and establish themselves in this saturated market of junk removal businesses.

For this line of work, we have a special Junk Removal theme for you to play around with!   
6. Lawn Services 
Maintaining a manicured lawn in the summer is not the same as doing it over spring or winter. The excessive summer heat, drought damage, growth of weeds, and other factors can turn the lawn completely dusty, dry, and brown. Since the lawn area will most likely be the venue for many family picnics, barbecues, get-togethers, and other children's activities over the summer, it is the worst time for it to look that way.

As many people are unsure what to do, hiring third-party lawn services is a safe option, but how do consumers know whom to trust?

Local lawn care agencies need to stand out among the competition, and you can help them do that. Maybe a website that contains images of past work they've done and blog articles with tips on lawn care can expand their business's reach and show people that they know what they are doing.

Our professionally designed green Lawn Care and Lawn Services themes are perfect to get started with! 
7. Swimming Pool Technicians 
Can anyone imagine a summer without a cool, refreshing swim? For people with a backyard and tons of open space, the summer is a reminder that they can utilize the free area to build a pool. For others who already have pools that they haven't used in a year, the summer time is when their pools get repaired or restored.

Since swimming pool technicians are not the kind of services everyone uses, Google is often the primary source or the only source of information. Therefore, a search engine optimized website that is customer-friendly, gorgeous, and full of useful information, such as services and pricing, is the only way to get more clients this summer.

Now is the time for you to reach out to pool installation companies, use our Swimming Pool theme to present a FREE homepage demo and make them your newest client.
8. Butcher Shops 
People eat meat all year long but demand for raw chicken or beef is much higher during summer. It is the time when everyone hosts backyard barbecues and picnics for their friends and family. For the best quality, many people today prefer to order these prime cuts and beef briskets from a butcher shop and some can even place orders to purchase meat online.

Your local butcher shops need to have an online presence to beat the supermarket chains that have made it easy to buy uncooked meat. You can wow them with a versatile website, taking help from our Butcher Shop theme, and make them realize the potential of growth, expansion, and profits in their line of business. 
9. Wedding Related Services
With the warm weather, summer is a popular time of year for couples to tie the knot.

Summer weddings mean in-season elegant flowers like lilies, gardenias, and carnations, beautiful photos with bright greens, vacation time for most guests, and nice weather to host outdoor ceremonies and receptions.

All businesses that have anything to do with weddings have a lot to gain from your web design services. No one does more thorough research than a bride who wants a summer wedding. To stand out among the competition, businesses need a modern, sophisticated, and tasteful website.

Check out our Catering & Events, Florists, DJ Entertainment, Photo Booth, and Wedding Photographer themes, depending on the type of services your prospective client offers. 
10. Massage Therapists 
Kids at home, regular picnics, parties, and outdoor activities, along with professional and personal commitments can all be overwhelming at times. Everyone needs some alone time and massages are great to clear the mind, rejuvenate the body, and provide mental relief from stress.

If someone is exhausted and stressed, they do not have the time to scour through hundreds of massage therapists before choosing one. An optimized website that ranks high, catches the eye, and presents all services, costs, and reviews directly without any hassle is what massage therapists need to take their business to the next level.

Are you designing a website for your local massage therapist? Try our charming and relaxing Holistic Healing or Massage Spa themes. 
11. Pet Services 
With kids on a vacation, summer is the ideal time for people to welcome a four-legged family member into their homes. Not only can children be the primary caretakers of the furry friend, but longer days, the bright sun, and mild weather are perfect for housebreaking a pet. For many, work is slower in the summer so there is more time to potty train, explore the outdoors, play, and bond with the new animal, and the weather does a great job at making that happen.

Adopting a pet is not a small decision, which is why extensive research goes into it before taking the plunge. Local dog breeders and other pet services need an aesthetically pleasing website with positive past client interactions that illustrate their credibility in the industry. People need to know they can trust you with their furry family members, which is why cute puppy pictures are not enough. Maybe a blog with tips on animal care could be a part of the spectacular website you create using our Dog Breeder, Dog Trainer, Pet Shop, or Pet Grooming themes. 
12. Pest Control Agencies 
While summers are overall a lovely time, a major downside to them is the growing pest infestations that come with high temperatures, moisture, and high humidity. Summer also means fresh grass and vegetation, which is an abundant source of nutrients for many pests. Their lifecycle keeps them active during summertime, and the longer days mean they have more time to feed. Overall, bugs are a problem during this time of the year and pest control agencies are in high demand.

With so much competition, a stellar website full of positive reviews, their area of expertise, and a tool to quickly hop on a call or book their services can work wonders in establishing their dominant position in this industry.

For this industry, we have a special Pest Control theme that will help you craft a beautiful and user-friendly website for your local pest control agency. 
13. Home Inspection and Moving Companies 
Among the millions of people who move, 50% of them do so between Memorial Day in May and Labor Day in March. Therefore, summer is the most popular time for people to relocate to new homes because children are off from school and moving at any other time would significantly disrupt their academic schedules. The weather is pleasant (who wants to carry boxes in the snow?), people generally have more time, and the home selling season is typically at peak to get better prices.

Like junk removal companies, many moving companies are also quick summer startups by people with a spare moving truck, and in the horde of businesses who offer the same service, they need a search-engine-optimized website that spreads the word out and transforms clicks into conversions. Word of mouth is a weak alternative to rely on and you need to demonstrate that to them with an elegant website, built with our Moving Company or Home Inspection themes. 
14. Solar Energy and Roofing Companies 
With sunny days, people use the summer to renovate or replace their roofs and install solar panels. With the growing awareness about climate change, solar panels not only reduce the carbon footprint, but also save a lot of money on energy bills. We generate a lot more than we consume in the summer, which is why the sunny days of this weather are a perfect reminder to get this work done.

However, public acceptance of renewable energy sources is still a long way from perfect. Therefore, solar panel installation companies could massively benefit from a website that informs and educates its readers about the advantages of solar energy. A strong digital presence will expand their customer base, increase profits, and help them meet their vision of a greener world.

Our elegant and purpose-driven Solar Energy Company and Roofing themes will help you design a website for your next client in either of these fields.  
Final thoughts
All businesses need a website and targeting these 14 particular industries is a smart way to go about finding clients quickly. Given the unparalleled advantages digital marketing presents to businesses today, web design is a lucrative venture that anyone can get into without any prior knowledge or sizable investment.

Starting your own website agency with SiteSwan is as simple as a few clicks. There are so many small businesses that need your services. We are here to support you with everything you need and with enough passion, practice, and fun, you will be earning a substantial income in no time. 
We'd love to hear from you!
Share your comments or questions using the form below.