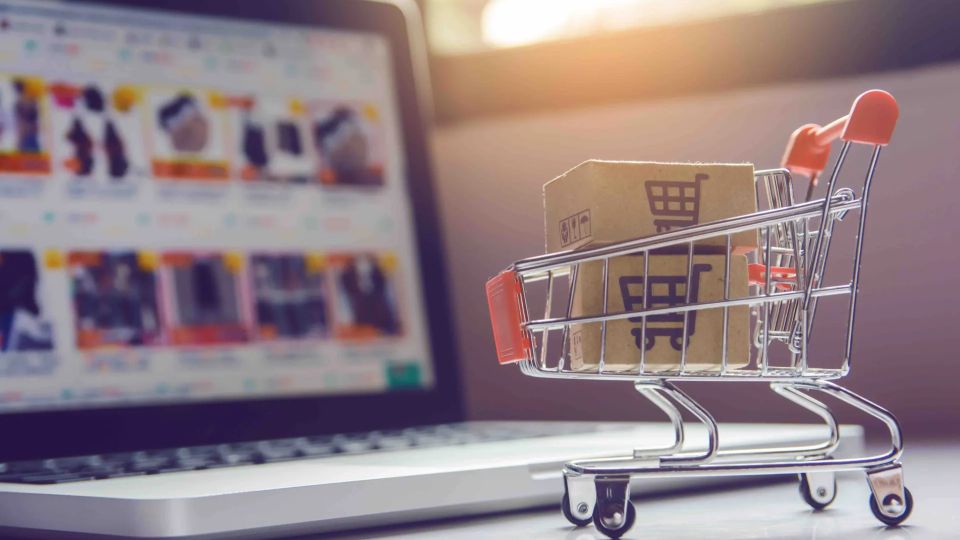 3 Ways Small Businesses Can Start Selling Products Online
Published on May 27, 2022
So, your client wants to start selling products online and why shouldn't they? Selling online allows them to tap into a whole new customer base that they might not have been able to reach by solely selling in person. In fact, global eCommerce sales are expected to hit $5.5 trillion in 2022 (source) and this number is anticipated to steadily grow over the next few years. (source)

With so many selling platforms, it can be daunting to figure out which one to choose. Since every business is unique in how it operates and the products it sells, the "one size fits all" model doesn't always work perfectly. The good news is a SiteSwan website can easily accommodate just about any solution you select including a hybrid of options. The main thing is to understand your options and the differences between them.

Continue reading to learn about three e-commerce selling options that you can present to your web design client.
 
Option 1: SiteSwan Online Store
For small or medium businesses that are just starting out with eCommerce or have a limited quantity of products they want to sell, the SiteSwan Online Store is a great solution. We've streamlined the process so your client can get up and sell their products in no time.

The main benefits of using the SiteSwan Online Store include:

✔️ Powered by Paypal. The SiteSwan Online Store is powered by PayPal which makes selling products and services on your client's website fast and simple. This is also very accommodating for customers who already have a PayPal login to make the purchase process and check out easy. Currently, PayPal has more than 360 million active users (source) making it a great option since so many people already use PayPal or can easily set up a PayPal account with just a few clicks.

✔️ Quick setup on any SiteSwan Website. In as little as a few minutes, you can have the Online Store fully integrated on a client's website. It requires the store owner to have a PayPal account in order to work. You will need to enter this PayPal Merchant ID / Email on the Site Details screen of the dashboard in order to activate the online store for a website. For business owners who do not have a PayPal account, one will need to be created in order for this set up to work.

✔️ No Assembly Required. The Online Store is a fully functioning eCommerce solution ready to use on your client's website. All you have to do is link the PayPal account, add the products and pricing, and you are ready to start selling.

✔️ Cost Effective.  This eCommerce solution is available at no additional cost to all SiteSwan resellers so you can offer this service to your customers at an uncharge and keep all the profits from it.

✔️ In-House Support. Your client doesn't have to wait on hold or message into a ibot messenger when they need support. As their web designer, you remain their main contact and resource for anything associated with their website and that includes selling their products online.
 
Option 2: Integrate a Third Party eCommerce Solution
Another option is to integrate a third party eCommerce solution. There is no shortage of eCommerce plugins and solutions out there that can fit just about any business's needs. Platforms such as Shoprocket, Ecwid, Selz, and Shopify are great for the clients who require more advanced features and capabilities.

The main benefits of using a third party eCommerce solution include:

✔️ Pre-generated Content for Marketing Strategies. These platforms usually have a team dedicated to sharing advice on how to market your product and articles that can help answer just about any question you may have. Additionally, they offer training and tools to build your online presence.

✔️ Multiple Payment Options. Some third party solutions have options to accept other forms of payment such as crypto currency, gift cards, etc.

✔️ Credibility. Thousands and even millions of businesses across the world use these platforms to sell their products. For example, 1.75 million merchants sell using the Shopify platform (source).

✔️ Enhanced Features. There is more flexibility on how you manage your products, shipping, payments, etc.
 
Option 3: Sell on an Existing Marketplace
If your client wants to test the waters by selling their product online without fully committing to integrating a solution onto their website, they can sell on a marketplace such as Amazon, Facebook, Etsy or eBay.

The main benefits of selling on a marketplace include:

✔️ No Integration Required. The good thing about this option is that there is no technical set up required. You simply use your website to promote your products sold elsewhere.

✔️ Gain Customers. Another benefit is that these Marketplaces essentially come with customers who are seeking certain products on these sites and give you more exposure.

✔️ Sell on Multiple Sites. You can sell your products on various sites so you are not limited to just choosing one.

✔️ No Out-of-Pocket Costs. It's normally free or very affordable to start selling on one of these sites. No need to invest a ton of money without knowing how it will go.
In Conclusion
Ultimately, there are a variety of different ways you can sell products online. Identify the features that are a "must have," then take time to review the options with your client to determine which would be the best choice for them and their business. Keep in mind, whichever option you choose, it can be effectively added to a SiteSwan website.

If you're interested in building and selling websites, watch our free demo to learn how you can become a SiteSwan Website Reseller.
We'd love to hear from you!
Share your comments or questions using the form below.