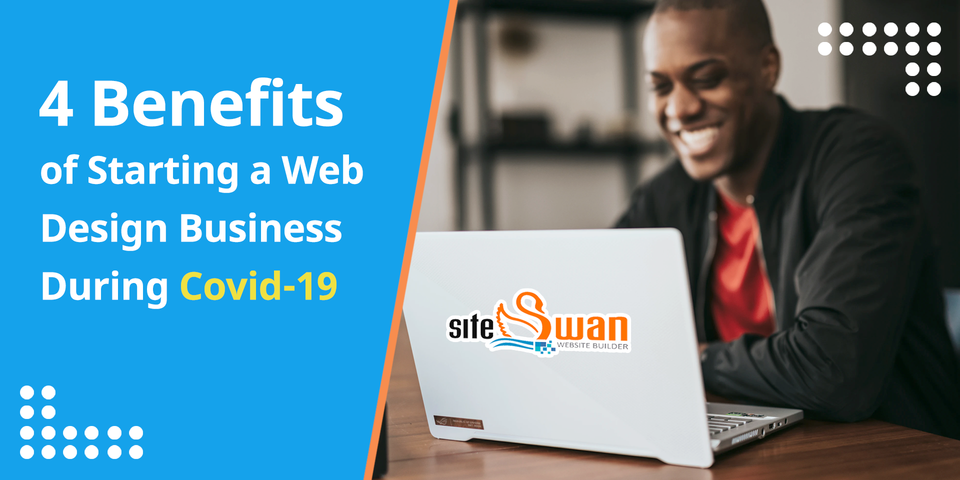 4 Benefits of Starting a Web Design Business During Covid-19
December 9, 2020
Launching a new business in the midst of a pandemic can be a scary thought. But it also presents a compelling opportunity. When most new entrepreneurs are reluctant or fearful, it's an opportunity for you to step up your game, launch your own business and grab market share. Starting your own web design business during Covid-19 has a few other hidden benefits as well.
1. Stay Busy and Mentally Sharp
Many cities and states are still enforcing "lockdowns" and self-quarantine. When you are forced to spend days at home with little to no productive activity going on, it eventually begins to take a toll on your mental and emotional well-being. You can kill time by surfing the internet or watching movies online only up to a point. Sooner or later, frustration will start setting in and stress levels may build up. These are bad signs for your health, and in many cases, may quickly start reflecting on your self-esteem and even family and relationships.

Starting a new home-based business, such as your own website design business, can keep you busy and productive through these unique times. Once you immerse yourself into the nitty-gritty and creative side of building websites, you will feel mentally recharged, act with acumen and agility, and will regain your drive and motivation to achieve new goals. As you start making progress in your new business, your sense of purpose and fulfillment will put you back on top.
2. Subsidize Your Current Income
Covid-19 has shaken the foundation of the U.S. economy, and it is going to take a long time to fully recover. Millions of people have lost their jobs or have been forced to shut down their businesses. Many others, who are managing to hold on to their jobs, are faced with reduced work hours or pay cuts. If you are one of them, you can utilize your downtime to make some money and subsidize your income, rather than let those hours go by unpaid.

All it requires is some decisive action to get started with your new business. The SiteSwan Website Reseller program gives you everything you need to start your own web design business and look like a pro from day one. There's absolutely no coding or programming required, so anyone can do it.  SiteSwan is a cloud-based web design software that removes the technical difficulty of building websites, so you can focus on promoting your business and generating sales.
3. Create a Safety Net for Yourself
Did you know that nearly one in two Americans do not have enough emergency savings to cover their bills beyond one to three weeks?* The coronavirus has only worsened this situation. While the current pandemic is hopefully going to get under control with promising vaccines, it has demonstrated to us that life is unpredictable. There are no guarantees about the future, and you never know when and how the next catastrophe will come.

It is time to learn the lesson, and find ways to insulate yourself from a lifetime of financial uncertainty. You can build up a recurring revenue stream by selling websites to small businesses in your area. Generate a setup fee along with a recurring monthly service fee from every site you sell. The market opportunity is vast, considering that millions of small businesses in the US are without a website and have a pressing need to go digital in order to survive. You can make the most of this opportunity and create a sustainable income stream for your future.
4. Leverage the Opportunity
There are over 28 million small businesses in the U.S. and more than 500,000 new businesses are started every month. Almost all of them need to have a website in place in order to tell customers who they are and convince them that they are reachable and accessible – especially during these challenging times. In the aftermath of the Covid-19 pandemic, consumer dependence on websites has accelerated and businesses are rushing to go digital in order to connect with local consumers online.

Time has never been more opportune to start your own web design business with SiteSwan. Forward thinking entrepreneurs who are willing to seize the moment will have a ready market with less competition. The demand for new business websites is far exceeding the supply. This is the time to establish your brand, win new customers, and get a strong head-start. Those who join the race late may never be able to catch up.
SiteSwan Website Builder is Here to Help!
At SiteSwan, we have created a user-friendly website designer platform that gives you everything you need to start, run, and grow your own web design business. You don't need any coding, programming, or technical skill or experience to do it.
To build professionally designed business websites, you just have to choose a theme from our outstanding range of over 100 website themes, customize your design the way you want, and publish it on the web. We provide all the training and support you need. With SiteSwan, you can be building websites in no time.

To learn more, call SiteSwan at (800) 462-9814 or contact us online today!
*Source: https://www.fool.com/retirement/2020/03/27/nearly-50-of-americans-dont-have-enough-emergency.aspx
We'd love to hear from you!
Share your comments or questions using the form below.