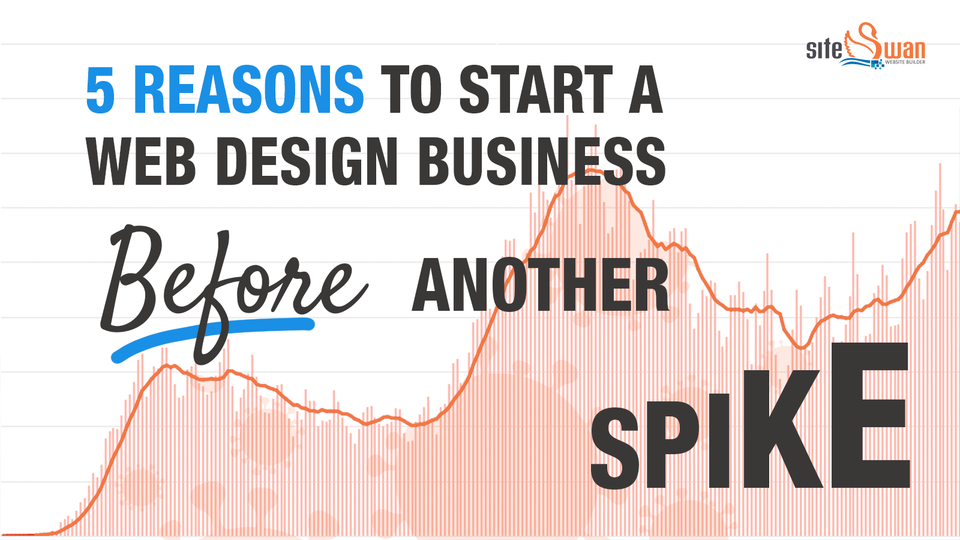 5 Reasons to Start a Web Design Business Before Another COVID-19 Spike
October 23, 2020
A fall COVID-19 spike could be coming. We're already seeing a rise in COVID cases across the country and experts are predicting the coming months will be the worst spike we've seen in months. Will the economy be able to withstand another devastating hit? Will you have a job? Running your own web design business offers you job security that an employer can't. Don't put your faith or future in someone else's hands; take control and be prepared for the worst by starting your own business today. Here are 5 reasons why you should start your own web design business before another COVID-19 spike:
1. Small businesses will need your help
In dealing with the aftermath of the first coronavirus wave and the likelihood of another spike, a lot of small businesses are fighting to survive. Fearful that they might face another shutdown, many businesses are investing in a new website so they can continue to serve customers online. While some storefronts might be forced to close, a website is always open and ready for business. Over the next few months, we predict the demand for affordable web design will be on the rise.
2. Web design is a virtually recession-proof industry
While many industries have suffered through the recent pandemic, web design continues to be in high demand and many independent web designers are flourishing. It seems like web design is a virtually recession-proof industry, and a service local businesses need even more during a crisis. The writing on the wall is clear: online shopping is on the rise and businesses are going digital. Now is the time to get in and start building your own business in a thriving industry.
3. Create financial security
We can all use some extra money during these challenging times. The recent coronavirus pandemic has brought on many unforeseen expenses such as medical bills, groceries, cleaning supplies and child care. With the ability to earn an upfront setup fee AND recurring monthly income from every site you sell, starting a web design business has huge profit potential and can provide the financial security you need to make it through another spike. Even if you're selling websites part-time, having a handful of paying clients can make a big difference and help relieve any unexpected financial burdens you might face.
4. You can work from home
It doesn't look like social distancing and self-quarantine are going away anytime soon. Protecting yourself and loved ones is extremely important and traveling to and from work exposes you to the possibility of getting sick. As a web designer, you can run your entire business from the comfort and SAFETY of your own home.

5. It's easy and affordable to start
Starting your own web design business has never been easier or more affordable to start. The SiteSwan platform gives you everything you need to start building and selling websites to local businesses with zero experience required. All you need is a computer or laptop, an internet connection and the dedication to succeed. We offer affordably-priced plans that let you grow as you go, without any long-term contracts and without breaking the bank.
Take control of your career and your financial situation by creating a stream of recurring income from website sales. Don't rely on the government to agree on how to help everyday people like you through a challenge that could affect your employment and livelihood. By starting on a plan now to grow a web design business, you can get ahead of the next COVID spike and profit by helping other business owners thrive during a difficult time.
We'd love to hear from you!
Share your comments or questions using the form below.