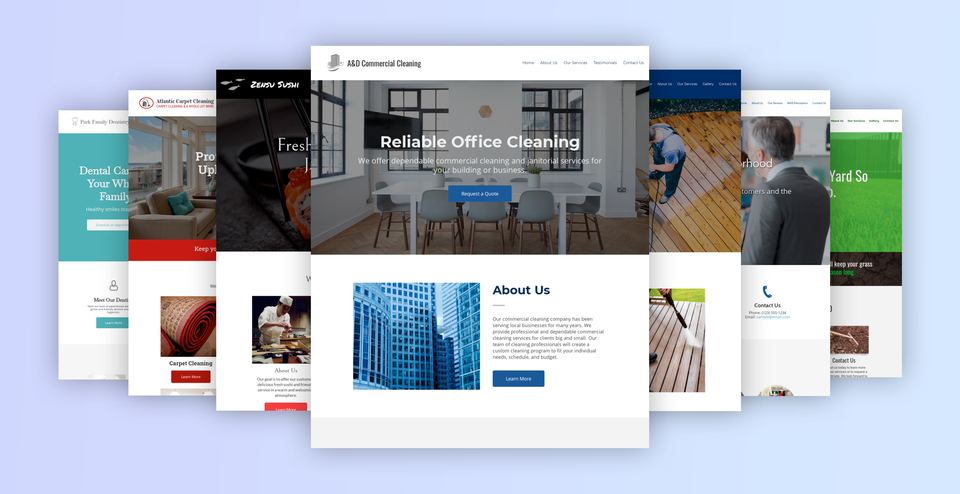 6 Businesses that Need a Website Now
The COVID-19 crisis has a had a huge impact on small businesses everywhere. For some, a website has become their only chance for survival. For others, a website is allowing them to keep up with increased demand due to the pandemic. Whether you are looking to start or grow your web design agency, consider focusing your sales efforts on these 6 businesses that need a website now more than ever.
1. Restaurants
As restaurants continue to face temporary closures and in-house dining restrictions, operators are focusing on growing their takeout and delivery business instead. The need for a mobile-friendly website where customers can easily access online menus and stay-up-to-date about on-site dining options has never been more important. SiteSwan websites are the perfect solution for restaurants looking for a fast, easy and affordable way to get online. Restaurants can even use their website to offer online ordering and delivery by integrating 3rd party solutions like GrubHub, Seamless, Uber Eats and DoorDash with just a few clicks.
Homeowners and businesses have never been more concerned about maintaining a clean and safe living/work environment. Residential and commercial cleaning companies are busier than ever, trying to keep up with the high demand, and new cleaning services are popping up every day. Most cleaning companies don't have a physical location or storefront, and rely exclusively on their online presence to get found and promote their business. A website is great way to get their business on the map, promote their services and attract customers. 
Stuck at home, many homeowners are cancelling vacations and opting to use their extra time (and money) to complete projects around the house. From small repairs to major renovations, home improvement companies like contractors, handyman services, electricians and plumbers are all busy and have their phones ringing off the hook. A website helps them generate leads, offer estimates and communicate with customers online, so they can continue to take on new projects and grow their business throughout the year.
Many healthcare providers are being forced to change their operating hours, follow extra safety precautions and even limit patient care. A website helps doctors communicate with their patients about these changes, offer online scheduling and post important documents so patients can fill out forms prior to their visit. 
As many big box pharmacies are struggling to keep popular products in stock like over the counter medicine, masks, gloves and cleaning supplies, small independently-owned pharmacies are flourishing. Small mom and pop pharmacies are becoming hometown heroes, offering their communities a safe and affordable place to shop for everyday essentials. These pharmacies can use their website to communicate with customers, post updates about product availability, offer personalized service and even accept online orders for pickup or delivery. 
Check out our new pharmacy theme:
Pharmacy
6. Houses of Worship
While religious services have resumed in many states, churches and houses or worship must still comply with limits on indoor gatherings. These religious institutions can use their website to offer online prayer services, video sermons and even accept online donations. 

Our Religious themes are versatile and can easily be customized to your liking:
We'd love to hear from you!
Share your comments or questions using the form below.