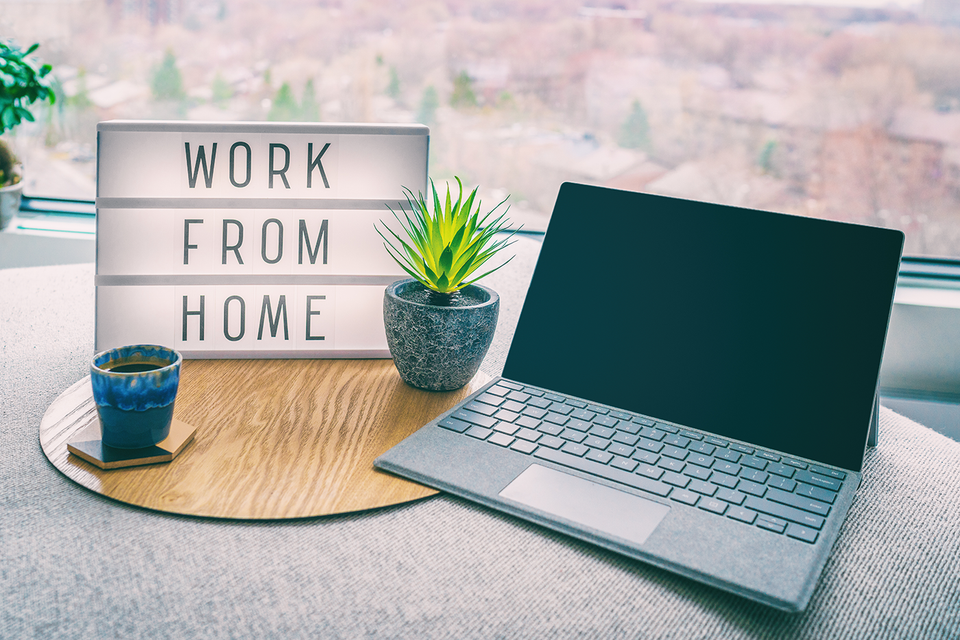 7 Perks of Running a Home-Based Business in 2021
Published on November 1, 2021
Approximately 50% of Americans worked remotely during the pandemic. However, this luxury is coming to an end for many people as more and more companies demand their employees to head back to the office. The problem with this is that a lot of people have either gotten used to the perks of working from home or just don't feel comfortable returning back to the workplace as COVID continues to impact our communities. Even new vaccine mandates are causing people to make a choice between getting a shot or being terminated (and some people don't feel comfortable getting the vaccine).

As a result, people are quitting their jobs at an all time high and looking for new employment options that let them work from home. But what can you do if you want to work from home but cannot find a job that lets you do so? Starting your own home-based business can be a great option. In fact, there is no better time than now to take the plunge into entrepreneurship.

One of the best home-based businesses you can start in 2021 and the coming year is a web design business. Affordable web design is in high demand and millions of small businesses can use your services. More than ever, businesses realize the importance of having a strong online presence. And a strong online presence starts with a professional website. In fact, almost half of small businesses without a website (44%) plan to create one in 2021. Since the Internet is here to stay, we're only going to see the demand for affordable web design continue to increase in the coming years. This could be your chance to cash-in.

If you're uneasy about returning back to the workplace and have been thinking about start your own business, here are 7 perks to starting and running your own home-based business, specifically a web design business in 2021.
1. Eliminate a Long and Stressful Commute
Say goodbye to traffic, high gas prices, road rage and crowded subways. You can get back hours of your day by eliminating your daily commute. You're also able to work easily from any room in your home - all you need is a place for your computer or laptop and a wi-fi connection. Just make sure to pick a quiet place to work with few distractions.

The truth is, the majority of website sales can be made over the phone or via email. When necessary, you can always meet clients in person at their business, a local coffee shop or even virtually via Zoom. When you run your own home based web design business, there's no need to commute to and from an office every day.
2. Protect Your Health & Family
With COVID, many people are scared to head back to the workplace (and rightfully so). As we enter Flu season, this is a greater concern - some experts are calling this double threat a "twindemic." It's important to make your personal and family's health a priority.

Working from home can help you avoid harmful germs that you might otherwise come in contact with on a daily basis commuting to and from work. Mass transportation, crowded office buildings, closed door meetings, public bathrooms, and elevators all expose you to other peoples' germs and increase your risk of getting sick. Working from home allows you to make your health a priority (including healthier eating habits) and protect your family. Furthermore, there is no boss to tell you that you have to get vaccinated in order to stay with the company. As a home-based business owner, it's completely your choice whether or not you decide to receive any vaccines.
3. Enjoy a Better Work/Life Balance
You can make your own hours and create a schedule that's best for you - mornings, nights, weekends - it really doesn't matter in web design. Since you set your own schedule, you're able to enjoy a better work/life balance and start enjoying more quality time with family and friends.

If you want time off, you don't need to submit a formal request. Since you're the boss, you get to approve your own requests for time off. This flexibility will allow you to help kids with homework, attend school events, go to a friend's upcoming wedding, and participate in other social activities.
4. Save Money & Take Advantage of Exclusive Tax Benefits
Working from home and running your own business can actually put more money back in your pocket. Buying new work clothes, dry cleaning bills, gas, parking and other transportation costs all add up considerably. Eliminating these expenses by working from home can result in significant savings so you'll feel like you're actually making more money.

You'll also save money on lunch, coffee and snack expenses if you eat at home. This is not the only way you can save money as an entrepreneur. There are even many tax benefits of running your own business and working from home that allow you to write off everyday expenses including internet, electricity, and even your mortgage payment. Be sure to consult with a local accountant or tax professional for more details on this. There are numerous factors that go into taking the home office deduction - here is a guide from the US Chamber of Commerce.
5. It's Easy & Affordable to Start
Unlike traditional businesses, starting your own web design business is extremely easy and affordable to start. No storefronts or expensive office space are needed. You also don't need to invest in costly equipment, inventory, or supplies.

All you need is a laptop and SiteSwan subscription. We give you everything you need such as your own marketing website, local prospecting tool, sales and marketing material, and other support. In fact, you can think of us as a "business in a box." You can literally launch your business overnight. The risks are minimal, there are no long-term contracts, and you can cancel anytime.
6. Say Goodbye to Office Politics
When you work for a company, you might have to deal with office politics. This can take a variety of different forms such as backstabbing colleagues, gossiping, spreading rumors, or sucking up to the boss in order to be considered for promotion.

Running your own home based business can be a joy in that you don't have any office politics to deal with. Since you are your own boss, there is nobody to suck up to in order to get ahead. You also don't have any toxic colleagues or higher ups to worry about. The growth and advancement of your business is based solely on your efforts.
7. Have Fun and Express Your Creativity
Having your own web design business can give you many ways to exercise your creative spirit. For instance, you can set up and decorate your home office however you'd like. You get to set the atmosphere for your at home work environment. There is nobody to tell you that you cannot do something.

When it comes to the client projects, this will also give you plenty of opportunities to exercise your creative spirit. Instead of having a boss tell you how the client project will be done, you get to call the shots. For example, you'll often help the client determine the right colors, fonts, images, messaging, etc., for their website.

There are many benefits to running a home-based business including the 7 perks mentioned above. Out of all the different types of home-based businesses out there, we like web design the most since there will always be demand for as long as the Internet is here. If you feel like you're "stuck" in a job where you're not allowed to work remotely or you just don't like having an employer rule your life, we'd love to help you start your web design business. If you're ready to start your own home-based business and enjoy the perks mentioned above, be sure to join our reseller program here.
We'd love to hear from you!
Share your comments or questions using the form below.