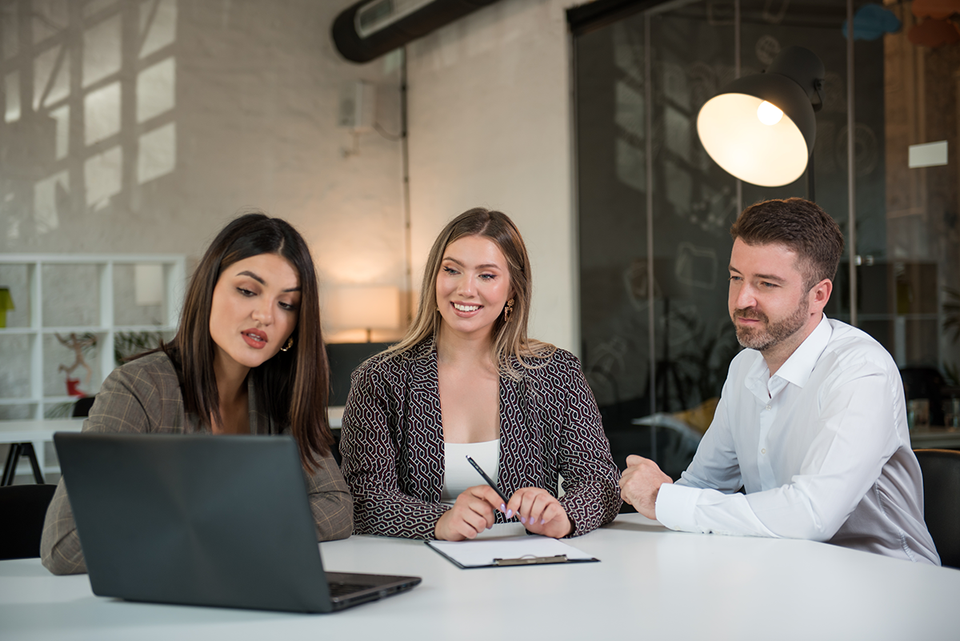 7 Website Sales Pitch Ideas
There is much more to being a web designer than just building great-looking websites. Sales and marketing are equally important (if not more important) to running a successful web design business. After all, without sales, you don't have much of a business at all.

However, effectively engaging prospects and generating interest can be a challenging task. How do you pitch small businesses on a new website? How do you explain the importance of having a strong online presence? How can you stand out from other web designers in your area and make an irresistible offer?

If you're currently running a web design business or thinking about starting one with SiteSwan, here are 7 website sales pitch ideas that can help you attract more clients and close more deals.
1. Educate the Prospect with Compelling Stats
There are many facts, figures, and stats that support the need for a business to have a strong online presence. And a strong online presence starts with a new website. Some of these stats are so powerful they can encourage a potential client to take action immediately, so that they do not miss out on the huge opportunity to grow their business online.

 For example, did you know?
There are many more facts and figures, but this should be enough to motivate any prospective client to take action and understand the importance of having a professional, mobile-friendly website. You'll want to emphasize the point that if they don't have an effective website for their small business, they could be losing market share to the competition and miss out on the potential for more leads, more customers, and more revenue.
2. Share Examples of Your Previous Work
If you've built websites before and have a portfolio of work to share, this could be a great way to pitch clients and show them what you're capable of. Include some links to recent website projects to show off your best work. Top it off with client testimonials or case studies for each example to help earn their trust and build your credibility even further.

Don't have a portfolio? No problem. If you're just getting started with SiteSwan and don't have any clients, you can always share links to our theme designs. Our themes will provide the prospect with a good idea of the quality of sites you can build so they know what to expect when working with you. You don't even need to reveal that these are templates, and can easily pass them off as your own work.

For more tips on how to build a portfolio with no clients, click here.
3. Offer to Build their Website for FREE
That's right; offer to build them a new website for their business in the form of a free demo. If they don't love it, they pay nothing. If they do like what they see, then they simply pay you to complete their site. This eliminates their risk, and allows them to preview exactly what their new site can look like before they pay. This is the #1 recommended sales approach for SiteSwan Resellers and can help you generate immediate interest and stand out from the competition. After all, seeing their new website is much more effective than just talking about it.

Start by using one of SiteSwan's pre-built themes or create your own custom design. Within minutes you can create a fully-functional website that's personalized for their business. Add a few final touches like the client's logo or photos of their business to compliment their brand, and viola! You'll have a beautiful website ready to present to the client.

This is a very powerful way to generate excitement and demonstrate the value of a new website since clients can see exactly what their website can look like (rather than someone else's). Normally a free demo design alone is enough to win them over as a paying client.

Here's a tip: Start with just the homepage. Don't spend too much time working on the interior pages of the site - you can even hide the content on the interior pages all together. Focus on making a strong first impression with the homepage design and assure them that if they like what they see, you'll complete the rest of the site.
4. Give Them a Sneak Peak of the Website Editor
When some people think about websites, they might think of dealing with code or other complicated techie stuff. As a business owner, they might be concerned about keeping their new website up to date.

We made it so easy to add and edit content with SiteSwan that any small business owner can do it themselves. They can post photos, coupons, videos and much more. You can show them the website editor and demonstrate how easy it is to post new content to their site so they can be confident they can do it on their own. Ease their concerns even further about keeping their site up-to-date by assuring them you'll happily make routine website updates for them (provided that they are paying you a monthly service fee).
5. Provide a Value Added Service
A great way to pitch a business on a new website is by providing a value added service with the sale. If you can increase the value of what you're offering, it'll make it easier for the client to invest in a new website.

You might include a free logo design or free set of business cards with the purchase of  a new website. You might even bundle our Reputation Management service with their monthly website plan so they can monitor customer reviews and build their star rating. Or offer to set up their Google My Business page, Facebook page or Twitter account if they become a client so all of their online marketing will be in sync with their new website. Basically offer anything that will make your website package more attractive.

All of these added services require very little time and money on your part, but will add significant value for your client and help you seal the deal as their new website provider.
6. Show Them the Savings
Web design is not cheap. Especially a site with all the features a SiteSwan site offers. The average cost of a small business website is $2,000 - $10,000 depending on how large and complex the project is (Source). Monthly and maintenance fees can often exceed $100 per hour! Not to mention it can take weeks or even months to complete.

Building them a website with SiteSwan can save your client a lot of time, energy and money without sacrificing quality. Most SiteSwan Resellers charge anywhere from $300 to $1,500 and our suggested price is $499 for a basic website – well below the national average. The process is much quicker also. Whereas a typical small business website project can often take weeks or months to complete using another website builder, a SiteSwan website can be completed in less than an hour.

With SiteSwan, you can assure your clients that you can build them a website that has all the features they'll need at a price they can afford.
7. Give Them an Irresistible Offer
If you're just starting off, looking to build your portfolio quickly, or you want to focus on getting more clients fast so you can build your monthly revenue, then consider offering a sizable discount on your setup fee and working that into your sales pitch. For example, you could offer half-off or even FREE setup and design for the first 10 clients. Who could turn that down?

Remember, your ultimate goal is to build your recurring income, so as long as they pay you a monthly service fee, you can afford to lower or waive the setup fee. You could also use this as a seasonal promotion (e.g., as a new year special during January, you'll do this for the first 10 clients but they have until January 31 to take advantage of this) or even on a regular basis.

Check out this related article on how to land your next 10 clients on Facebook.

Since your per-site fees are so low with our SiteSwan reseller plans, your only real expense is the time you invest to create the site. This isn't much considering how fast and easy it is to create a site with SiteSwan. By doing this, you can quickly build your client base and increase your recurring monthly revenue.

Implementing the right techniques could potentially be the difference between running a web design business and profiting from a web design business. The more effective you are at sales determines your overall success. Incorporating these sales pitch ideas into your outbound efforts can make for much more aggressive growth, and all of these techniques can have their effectiveness amplified if you're using SiteSwan to build and manage your websites. 
Published on October 18, 2021
We'd love to hear from you!
Share your comments or questions using the form below.