Delta Digital Strategies uses SiteSwan to Grow their Business Beyond Print
Case Study by Jim Haigh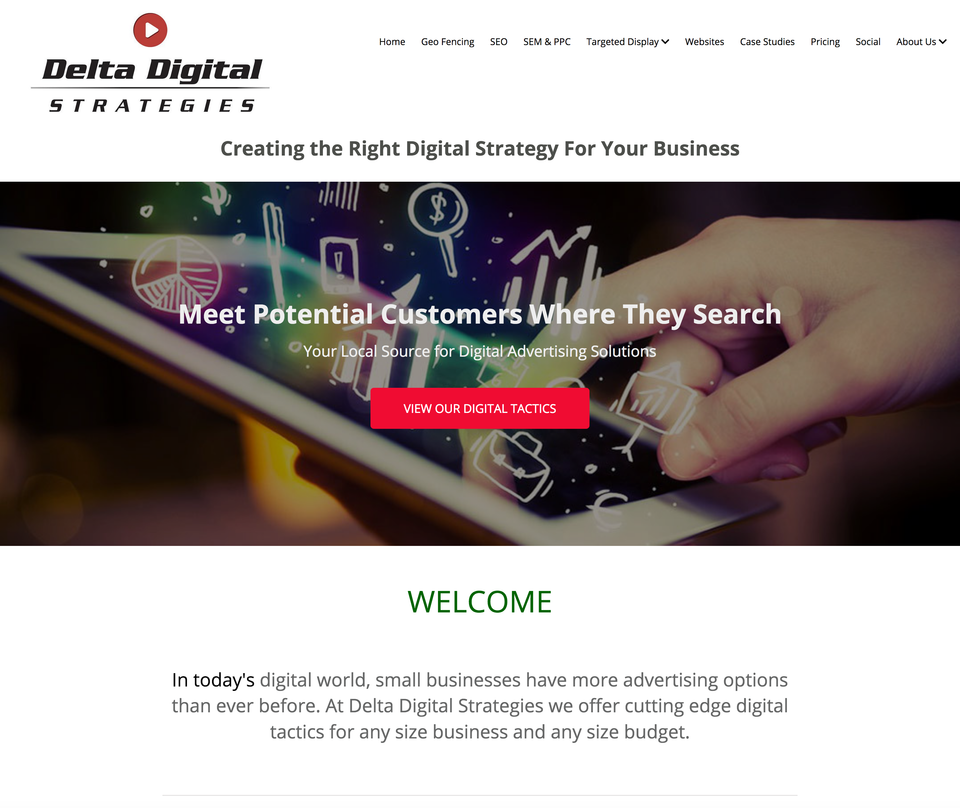 Overview
The Mathes brothers, Joe and Mike, grew up with printer's ink in their veins, working together as kids at their father's newspaper. They founded Delta Publications in 1988, and for 20 years built a community publishing powerhouse through growth, acquisition and innovation. Hit hard like all publishers during the Great Recession, they felt the pain as key categories were not coming back to prior heights. Recognizing the early signals the digital future was sending, they dove into the SiteSwan lake. Responsive website design became the hub of an expanding suite of digital services that grew into Delta Digital Strategies. Their combined integrated soltutions are now driving print ad sales, opening doors to new clients -- and boosting the bottom line beyond expectations.
The Challenge
Joe and Mike grew up in the newspaper business serving their northern Wisconsin community with ink printed on paper. Seizing opportunities to offer businesses a better way to communicate with potential consumers, their publishing company flourished to bring three distinct print editions to their communities in the Kiel, WI region. Tri-County News boasts a paid circulation of 4,500, while the region's shopping guide Tempo is direct mailed to 20,000 neighbors, and the community's glossy women's journal, VERVE Magazine, is published quarterly.

The Mathes brothers had to find a way to combat their eroding print ad sales. Categories were not fully bouncing back from the Great Recession. Their biggest, automotive, was the canary in the coal mine. Meeting with a dozen General Managers in a given week, Joe recognized that advertising budgets were permanently shifting to online verticals like AutoTrader, and to websites forced by corporate. The full-and-half ads page bonanza was never coming back. Pretending otherwise would be foolish. And to not get in the website building business would be lost opportunity. Or much worse: a slow death by a thousand paper cuts.
The Solution
Delta Publications jumped on board with SiteSwan in 2011, as one of SiteSwan's very first resellers. Always early digital adopters, they knew they needed ease of use and scalability. Ideally, Joe wanted a ready-made "website design business in a box." At the time, there was no shortage of vendors competing to offer publishers solutions in the digital space. The elegant simplicity of our White Label platform and robust tool kit met their needs. The Mathes brothers were mold-breakers, and were able to instantly and seamlessly drive new revenue and open the door to more opportunities and expansion by offering websites thanks to SiteSwan.

"The software is great, and the numbers crunched, so we dove into the SiteSwan lake," said Joe, adding, "it's amazing how quickly you can scale." With 1-Click Site Creation, designer-crafted Themes, and a built in Local Prospecting Tool that helps publishers find businesses that need websites, scalability is a foundational pillar of the platform. As SiteSwan Co-Founder, Justin Gerena recalls, Joe just 'got it': "When launching SiteSwan, we sought out forward-thinking publishers who recognized the need and had the desire to embrace digital revenue streams. Joe was and is the epitome of a forward-thinking publisher."
Results
Building and selling awesome SiteSwan responsive websites quickly began backfilling the eroding print revenues that started years earlier. It even turned into a launching pad for a suite of integrated digital solutions, and established a new and separate company to provide tighter focus on emerging opportunities. Delta Digital Strategies was born, with SiteSwan websites at the hub of the digital marketing wheel. The new spokes of the wheel extend into solutions including: SEO, SEM and PPC, Targeted Display, Social Media Management, and even Geo Fencing.

Revenues at the new sister company far outpace any print advertising declines at their shopper, and foster print ad growth in their newspaper. Now, digital revenue accounts for about 20% of all Delta revenue, and is delivering margins over 40%. But what the Mathes brothers appreciate most is the hassle-free security of recurring revenues. The hidden beauty of it, Joe says, is the fact that, "we don't need to sell it again next week!"

Joe relishes in not only the additional revenue from website sales, but also the unforeseen benefits that come with it – like increased advertiser loyalty and newfound revenue in other digital marketing services in the web design realm. And as for expansion, Joe remarks: "When you're designing websites and offering digital solutions, you're not limited to your circulation area, and that is a really big deal."

He continued, "I know a lot of publishers don't know where to start. We started with SiteSwan, and the software, the resources and the white label reseller model made it easy. In a couple hours, you have an awesome website your client loves. You can then build and scale from there. It's worked extremely well for us." Joe's closing wisdom to publishing peers: "You have to realize that you just have to start somewhere."
We'd love to hear from you!
Share your comments or questions using the form below.