Exchange Media Group uses SiteSwan to Make Local Connections and Control the Marketing Conversation with Their Clients
Case Study by Jim Haigh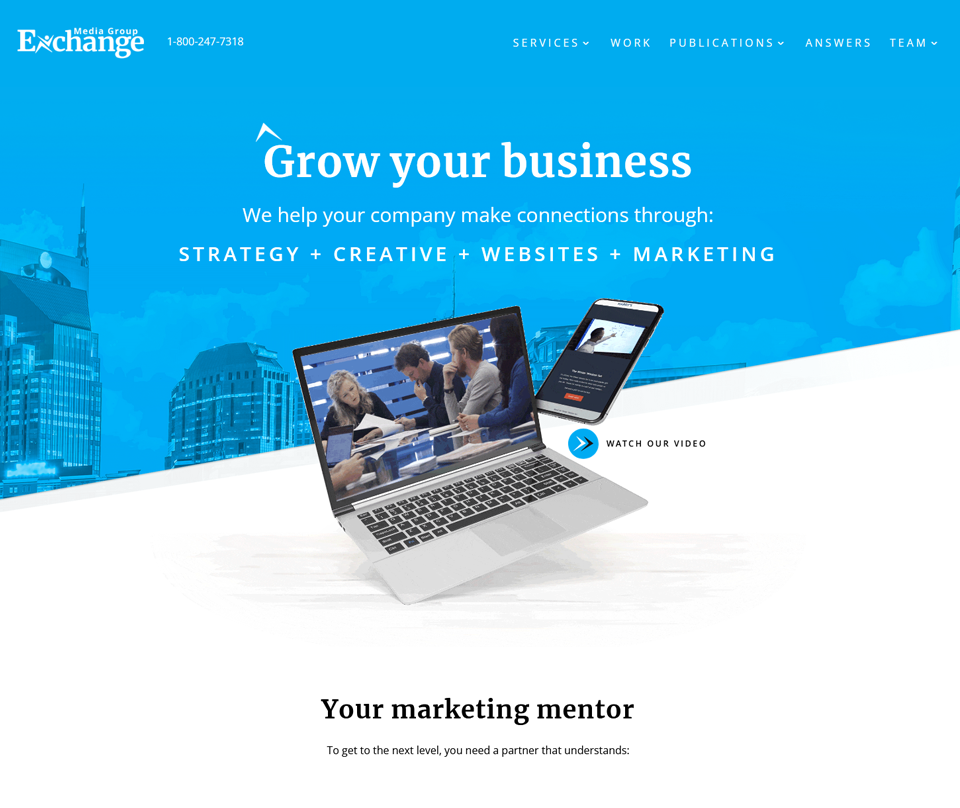 Overview
The family owned Exchange Media Group is proudly primed for their 40th Anniversary. The publishing company that Will Thomas and sister Katie McNabb's father, Bill, founded in 1979 "to connect buyers and sellers" is successfully weaving together the print and digital landscape of the communities they serve. Today they are "making connections" exponentially, and the future looks brighter than ever.

"Building beautiful SiteSwan websites was the cornerstone of our digital efforts in the beginning, and it remains a critical component of all of our complementary agency services," shares Will. "When you're building and maintaining your local small businesses' websites, you are able to control the conversation," he adds.

"Our father would be proud that we can sit down with a client and have a complete marketing strategy conversation based on the "purchase funnel." That we have the knowledge and ability to truly add value and a competitive edge, because," as Will reflects on ten years at the helm, "we're not just selling them an ad in print. We are selling a strategy."
The Challenge

The Thomas family business has always had a laser focus on problem solving. They recognized the need to embrace digital technology to advance their core mission of making connections in the 21st Century. Tennessee's most widely mailed shopper could not sit back and rely on the core group of Exchange Media Group's original, and still loyal advertisers. They understood that growth and sustainability would need to be fueled by digital initiatives.

The challenge for Exchange was to stay true to four decades of history and values of their direct mail publishing company roots. With the keen understanding that the 84,000 circulation shopping guide, combined with the 22,000 monthly Farmers' Exchange agriculture magazine, would account for a significant portion of revenues into the foreseeable future. While also envisioning strong growth in digital solutions revenues accounting for larger and larger percentages of an expanding bottom line.
The Solution
After local market needs analysis, and careful consideration of all solutions available, Will decided that building professional SiteSwan websites would be the engine driving the digital growth plans and strategic vision. "Back then, it just made sense. We wanted something our graphic artists could easily train and use to make awesome responsive websites. We knew we didn't want or need programmers. Because when you lose your only Joomla or WordPress specialist, you're up a creek," Will jokes.

"We were ready for SiteSwan when they took their web design business-in-a-box live. We knew Justin and Bobby from SAPA conferences and tradeshows years prior, and had positive experiences with their publisher solution Page Flip Pro," he remembers. "And we've been amazed how SiteSwan has evolved, stayed ahead on design features, business category templates and enhancements. Really robust, but remaining easy to use and train on," Will adds.
Results
In barely more than 5 years as a SiteSwan White Label Reseller, the explosive growth in website design has also driven expansion into related digital services. To meet the needs of over 200 website clients, the legacy print publishing company was essentially forced by popular demand to create a separate digital agency. Under the name 'allySites,' they offer a range of solutions including: SEO, Online Reviews Management, Video Production, Facebook Marketing, Google Ads and YouTube Marketing and Email Marketing to the region's SMBs. In addition, they also operate the area's leading online classified marketplaces www.Exchange931.com.

Growth and multichannel success also inspired a fresh approach at organizational structure in context of founding principles from 1979: "'Be a Team Player,' and 'Continue to Learn,'" revealed Will. "As print sales were stalling, and website design and digital services were growing, we took a closer look at roles and best fits based on personality types. We have a great team, everyone doing their best and working well together – but we weren't necessarily putting them in the best position to win."
We'd love to hear from you!
Share your comments or questions using the form below.