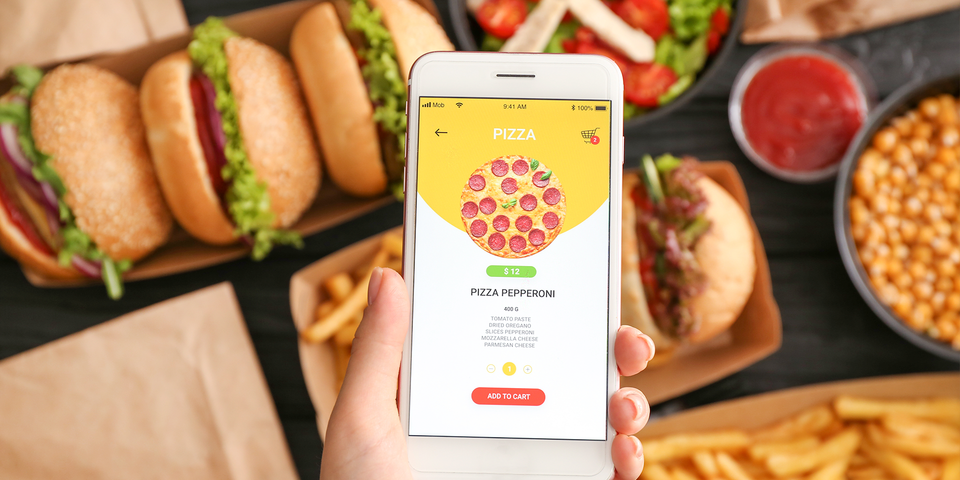 How to Add Online Food Ordering to a Restaurant Website with SiteSwan
March 30, 2021
Online food ordering has exploded over recent years. The recent COVID-19 pandemic has fueled this growth even more. With social distancing and restrictions on indoor dining in place, more and more restaurants are looking to expand their takeout and delivery service by offering online ordering to their customers. Customers are also enjoying the added benefits and convenience of online ordering including flexible scheduling and more dining options to choose from. It's safe to say that the demand for online food ordering will continue to rise even after the pandemic subsides.
If you have a restaurant client who wants to offer online food ordering on their website, it's important to understand your options and the differences between them. We've found that there is not a "one size fits all" model that works perfectly for each client since every restaurant operates differently. While SiteSwan currently does not offer a native food ordering feature, our platform is compatible with almost all third-party food ordering platforms, making it easy to offer your clients the solution that works best for their individual needs.
Here are the 3 most common ways you can add online food ordering to a SiteSwan website:
OPTION 1: Link to Online Ordering & Delivery App
This is by far the easiest and most popular solution. There are dozens of online ordering apps like GrubHub, Seamless, DoorDash and Uber Eats that have become very popular and make it extremely easy for restaurants to start offering online ordering to their customers. You'll find that a lot of restaurants are already offering online ordering through one or more of these platforms, so it makes sense just to create a link on their website to their online ordering page on these apps. The benefits of doing this is that it's easy to setup, the technology is already in place, and each one of these online ordering apps comes with a built-in audience of hungry customers. Also, these apps will even make the deliveries so the restaurants just need to focus on fulfilling orders.
The main benefits of using ordering & delivery apps include:
✔️ Restaurants can tap into a built-in user base and captive audience. They don't have to worry about promoting their restaurant because each of these apps has millions of existing customers they can appeal to. These apps also continue to invest millions of dollars into their technology and local advertising to draw in more hungry customers. This is one of the biggest advantages of using an online ordering and delivery app.
✔️ Fast and easy setup. Typically a restaurant can be up and running on one of these apps in a matter of days.
✔️ No heavy lifting. Neither you or your client will need to worry about the technical stuff. These solutions already have the technology in place and will help your clients add their menu and get setup.
✔️ No out-of-pocket expenses. The majority of these platforms offer free setup and only take a commission on orders placed. Restaurants don't need to invest thousands of dollars setting up online ordering before they even know if it's right for them. Restaurants can also offset their expenses by charging a service fee or adjusting their online prices to cover their costs.
✔️ There are multiple vendors to choose from. There are literally dozens of these ordering apps and restaurants can add themselves to all of them if they want. Some customers prefer one app over another, so adding your restaurant to multiple apps is like multiplying your customer base each time.
✔️ Deliveries can be outsourced. Restaurants have the option to use their own delivery staff or leave it to the app.
✔️ It's easy to setup on any SiteSwan website. Simply add a button or link on your client's website to the restaurant's profile on the app, and you're done.


 
https://localpizzeria.themes.multisiteadmin.com

 *Look for the order online post.
OPTION 2: Integrate with a Restaurant's Existing POS
Another option is to integrate with the restaurant's current POS (Point of Sale) system. A lot of Point of Sale systems offer an online ordering option that can be embedded into a SiteSwan website by copying and pasting a few lines of code. You'll need to check with the restaurant's POS provider to determine if this option is available. If your restaurant client is in the market for a new POS, they might want to consider an online ordering feature before making their decision.
Some of the main benefits of using a POS include:
✔️ Most restaurants already have a POS system in place. Sometimes it's as simple as "turning on" this feature so they can offer online ordering. The restaurant's menu is already in the system and there's no need to invest in or manage another software.
✔️ It seamless integrates with their current operations and workflow. Online orders come in and get delivered to their kitchen, just like the rest of their orders, so they can easily fulfill them.
✔️ Integrating it into a website is normally fairly easy. Every POS system is different, but they will typically provide the restaurant with either a hosted link or some HTML code that you (as the web designer) will need to copy and paste onto the site.
Option 3: Use a Standalone Online Ordering Platform
Lastly, you can use a standalone online ordering system. There are literally hundreds of vendors out there that provide restaurant online food ordering solutions that are compatible with SiteSwan sites. ChowNow, iMenu360 and GloriaFood are just a few examples. You can either create an account on the restaurant's behalf, or let them sign up themselves. Then you will follow their instructions for uploading their menu and adding an online order option to your client's website. Sometimes it's as easy as creating a link, or copying and pasting some code. The biggest drawback to this option is that the majority of these standalone systems charge a setup and/or monthly fee that your clients will have to pay.
Some of the benefits of using a standalone ordering platform are:
✔️ There are hundreds of companies to choose from. Finding the right one can be difficult but ultimately a restaurant needs to determine which solution is best for them by comparing features, pricing and capabilities.
✔️ Some offer flat-rate pricing. Instead of taking a commission on every sale (like the delivery apps do), some standalone platforms will charge a set monthly fee. In the long-run this could end up being less expensive for a restaurant if they do a high-volume of orders.
✔️ Adding it to your website can be simple. While Integrating a standalone ordering platform into a SiteSwan website varies with each vendor, most times it's fairly simple. Sometimes it's as easy as adding an "online ordering widget" or link to your client's site, while other times it can be more complex and involve adding some code.
In conclusion…
Ultimately, there are a lot of different ways you can add online food ordering to a restaurant's website, but each restaurant will have their own individual requirements, preferences, and budget. It's best to discuss these options with your client to determine which choice is best for them. Some clients may even opt for multiple options to give their customers a choice. Thankfully, SiteSwan is flexible enough to accommodate just about any option you choose.
We'd love to hear from you!
Share your comments or questions using the form below.