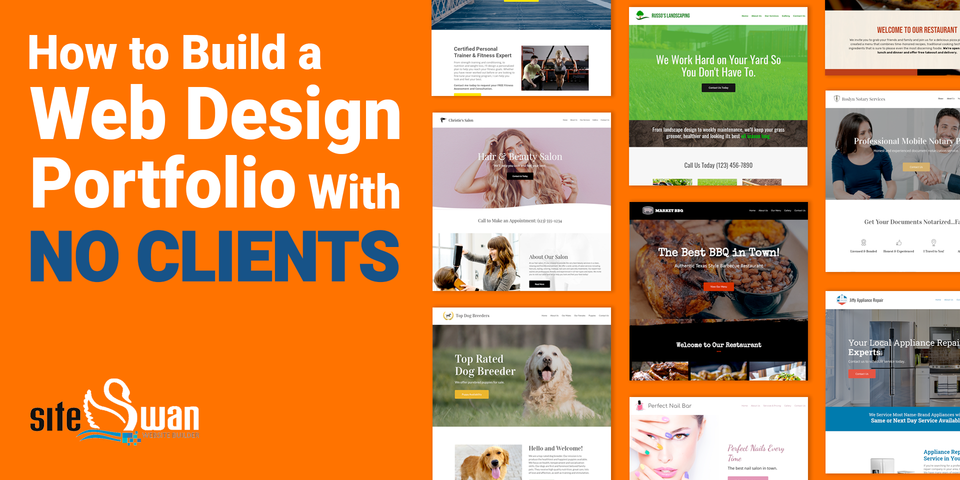 How to Build a Web Design Portfolio with No Clients
Published on December 30, 2020. Updated on February 14, 2022.
Starting your own web design business can be a fun and financially rewarding career. However, if you're just getting started, chances are you don't have any past work in your portfolio to show off to potential clients; that's okay! Here are four creative ways to quickly build up an impressive web design portfolio when you don't have any existing clients.
1. Use Themes to Create Sample Sites for Made-up Businesses
What do you do when you want to build websites but don't have any clients? You play pretend, for one! The key role of any portfolio of work is to be able to show potential clients that you can actually perform the services you advertise, and just because a client isn't real doesn't mean you can't build a website for them. SiteSwan offers over 150 different themes that allow you to quickly create stunning websites across different industries and verticals with ease. With a little bit of imagination, time and effort, you can build an entire portfolio of website examples using our themes before you ever encounter your first paying client.
Start with one of our professionally designed themes and customize it for a made-up business. Have fun and come up with a fictitious business name and maybe even upload a logo. You can quickly swap out some images or change colors if you'd like. You want the site to appear to be a real business, but it's OK to be honest that these are sample sites and not actual clients. Remember, the goal is to simply show potential clients that you are capable of building websites.
2. Build Sites for Family or Friends
Chances are you either know someone in your friend group or have a family member who owns and operates their own business. Do they have a website? If the answer is 'no,' you might want to consider offering to build them a site, perhaps at a discounted "friends and family" rate. This not only serves as a great way to help out someone close to you, but it's an ideal vehicle for building up a portfolio of actual work samples that can solidify your legitimacy as a professional designer.

Reach out to friends and family on social media and offer to build them a new website for their business so you can use it in your portfolio. Consider discounting the setup fee (or waiving it entirely), but keeping the monthly fee. The initial discount will help you build your client base fast and the residual monthly income will pay off long term. Friends and family also make great sources for referrals.
3. Offer Your Web Design Services for FREE
It can be challenging to get a potential client to agree to pay for a website if you don't have any prior work examples to show off. While creating mock business websites or building websites for friends and family can help get your portfolio off the ground, so too can offering free web design services to area businesses. Consider waiving the setup fee and charging just the monthly fee; or you may even waive all fees entirely for a period of time, if it makes sense for your business model. Remember that these projects are simply for bolstering your portfolio, and that you won't be working for free forever.

Reach out to local businesses and offer to build their website for free. Explain that you are just getting started and would like to earn their trust and prove yourself by not charging them for the first 3 months, 6 months or even year. This is an offer that's hard for any business to refuse. After that time, if they are happy with the work you've done for them, all they need to do is pay your low monthly service fee to keep their site active.
4. Donate a Website to a Local Organization or Charity
In a similar vein, you may want to contact a local charity that you believe in and offer to donate a website for the cause. This can be effective for a variety of reasons, as you not only will be doing a good thing for the community, but you'll be making connections with other organizations and businesses in your area who may need websites in the process. Working with non-profits who may need a website update is the perfect way to build a reputable portfolio, and there is a surprisingly strong need for this type of work at the moment.

Look for small, local charities or non-profit organizations in your area that you feel are a good fit. Local Chambers of Commerce, Rotary Clubs and Kiwanis Clubs are all great examples because they work with a lot of small businesses – your prime target market. Offer to build and manage their website for free, in exchange for a little exposure and recognition within their network. Be sure to reach out to their members to let them know you built the website for the organization and would be happy to build one for their business too.
Final thoughts...
Using one or more of these four tips is a great way to quickly build an impressive portfolio for your web design business, especially if you're just starting out. Choosing the right website building platform will ensure this will be an easy task. With
SiteSwan, you can build professional websites in minutes with absolutely no coding or previous experience required. From professionally designed themes and sales and marketing material, to your own agency website, the SiteSwan platform has everything you need to start, run and grow a successful web design business from the ground up.
We'd love to hear from you!
Share your comments or questions using the form below.