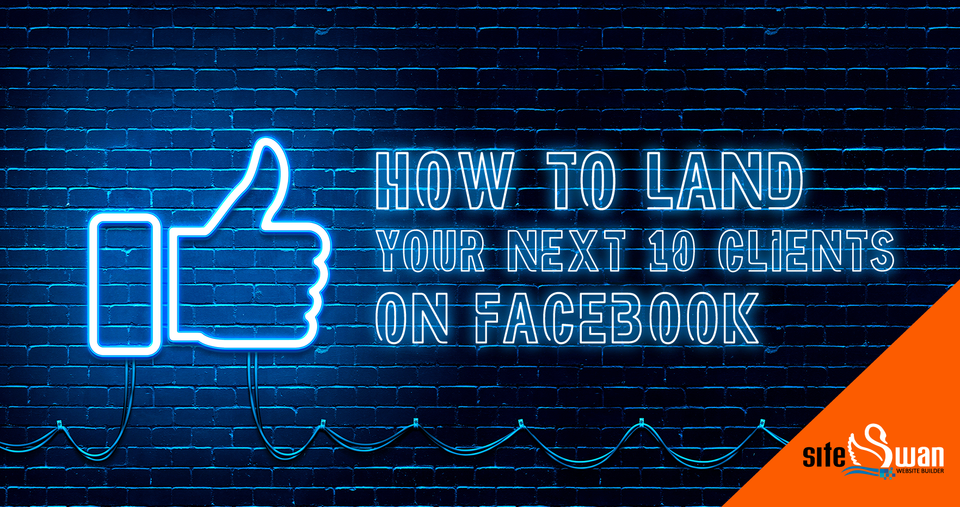 How to Land Your Next 10 Web Design Clients on Facebook
Published on February 17, 2021. Updated on October 15, 2021.
Looking for an effective way to sell websites to local businesses? Leverage the power of social media and start promoting your web design business on Facebook.

With billions of active users, social media platforms have significantly changed the landscape of online advertising. Facebook in particular has become one of the most effective tools for networking and promoting a business. A single post can help you reach thousands of potential clients. If you're looking to grow your web design business, here's how you can land your next 10 clients on Facebook today.
Are you ready? Here it is… Copy and paste the statement below: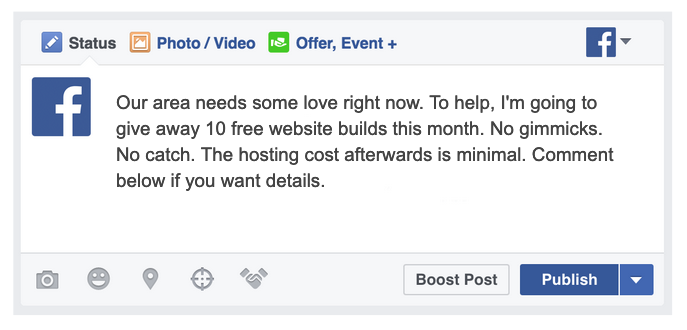 This is an actual post that a real SiteSwan reseller recently used to land 10 clients in just a matter of days. Even though they waived the entire setup fee, they still charged $50/month for hosting and maintenance. This one post generated an additional $500 per month in new recurring revenue for their web design agency. That's incredible!

While this message obviously references the recent pandemic and economic challenges so many small businesses are facing, it was successful because it is engaging, timely and offers something of real value to potential clients. Feel free to use this exact post as is or modify as you see fit. Here are some tips to help you create your very own promotional messaging for Facebook, even post-pandemic.
Tips for Crafting the Perfect Facebook Message
It's crucial when marketing a promotion for your web design business to ensure that you're starting with a clear, well-written, cohesive message. Here are a few tips for crafting the perfect message:
1. Make it irresistible.
When you're just starting out and trying to get your web design business off the ground, it can be difficult to bring in new clients without offering some sort of incentive. One highly effective way to get people to work with you is to offer your services free of charge or at a significant discount to minimize the risk. If a potential customer feels they have little or nothing to lose, they'll be far more likely to work with someone who is new to the business than they otherwise would be.
Instead of charging full price for your web design services, try reducing the setup fee or waiving it all together. After all, you can still charge your clients a monthly service fee.


2. Make it timely.

It's no secret that COVID-19 continues to be the most timely topic of conversation in the business community and beyond, and it should come as no surprise that now is the perfect time to offer deep discount promotions to current and potential customers. That being said, this strategy is not case-specific to the pandemic and can be utilized well after these challenging times are behind us.

A great way to make a promotion timely is to base it around the current month, season, an upcoming event or any approaching holidays. You can even look for positive ways to tie in recent news.

Here's some examples of taking a seasonal spin on the promotion:
New Year Special Offer...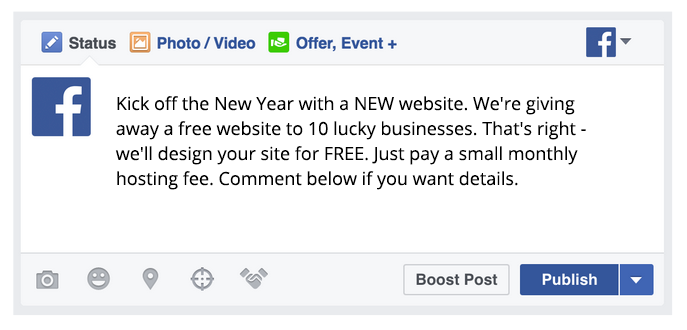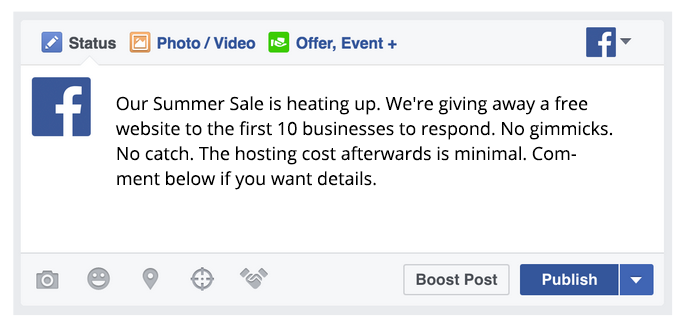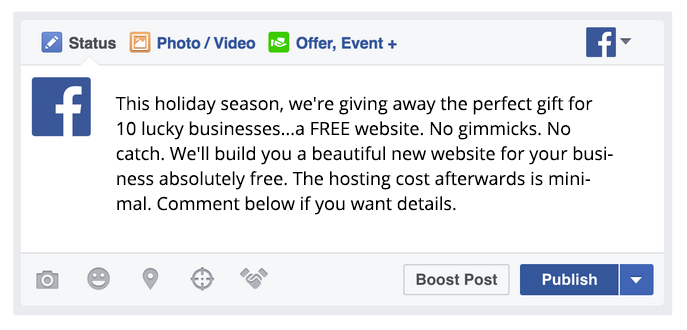 3. Make it easy.

Today's small business owners are far too busy to entertain offers that might be confusing or take up too much of their time. This is why it's so important to make the offer and process as simple and hoop-free as possible. Make it easy for businesses to understand what you're offering, make it easy for them to contact you to redeem the offer, and make it clear that the process for building their website is just as simple and stress-free.

Once a business owner claims your offer, start by asking them for some basic info so you can start working on their site. Take the time to learn about their company, the main services they offer, and who their clientele is. Ask for their logo and any images they'd like to see you include on their new website. Ensure them that they will be able to make changes and request revisions after the initial design and that you'll continue to manage and update their website on a monthly basis.

4. Make it fun!

The beauty of Facebook is that you don't really need any reason in particular to use it as a vehicle for promoting your web design services. Some of the most successful social campaigns can be distilled down to posts as basic as "Every 50th like gets a free website build; let's see those shares!"

You can also get a lot of mileage out of running one-off, limited discounts that encourage potential clients to act quickly. This technique works especially well when business is slow and you could use some extra work on your plate. 
Start Promoting Your Web Design Business on Facebook Today!
Facebook can be one of your best tools for promoting your web design business, both during and long after the pandemic. Take a look at the calendar and start planning your promotions now so you can make the most of the upcoming holidays and seasons. Focus on creating promotions that offer true value to your customers, and the results will no doubt reflect your efforts.

Want more tips and ideas on how to grow your web design agency? Become a SiteSwan Website Reseller today and gain instant access to exclusive resources and guides to help you grow your business.
We'd love to hear from you!
Share your comments or questions using the form below.