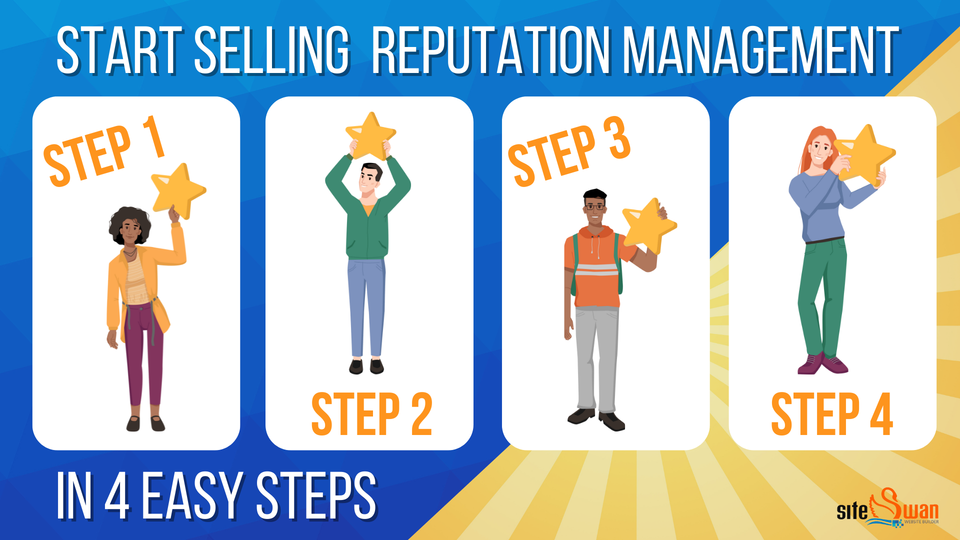 How to Sell Reputation Management to Local Businesses
In today's highly-competitive landscape, it's more important than ever for businesses to manage their reputation. Negative online customer reviews can not only tarnish a businesses' brand, it can have a direct impact on sales.

In fact, according to a Harvard study, a one-star 
increase
 in a businesses' Yelp rating can lead to a 9% increase in revenue.
Meanwhile, a one-star 
decrease
 in their overall Yelp rating could lead to a 5% loss in revenue.

However, monitoring reviews from multiple sites can be a difficult and time-consuming process. Even more difficult is generating more positive reviews and preventing negative reviews from going public to begin with. This is an area that the majority of small businesses need help with, and are willing to pay for.

SiteSwan's new Reputation Management feature allows you to white label and sell review monitoring and reputation management services to your existing web design clients and other local businesses. Selling reputation management is a great way to differentiate yourself from the competition, add value to the services you are already offering, and generate a new stream of recurring revenue.

Below we outline four simple steps along with tips for effectively selling Reputation Management to local businesses in your area using the SiteSwan platform.

Step 1: Educate the business owner about the importance of online reviews
 
While most local businesses might be familiar with online review sites like Yelp, many small business owners are not aware of how important reputation management actually is and how online reviews can have a direct impact on their business. This is where you come in.

As an agency owner, it's your job to educate the business owner on the importance of reputation management and the risks associated with not monitoring customer reviews.

To assist in your efforts, we created a professionally designed, white label sales flyer to help you share some key statistics and educate the business about the importance of maintaining a positive online reputation.

This sales flyer is accessible to all SiteSwan Resellers and is available in the SiteSwan Resource Center. This document will help make the sales process faster and easier because it will help businesses understand the importance of Reputation Management and the value of the service you are offering.
Step 2: Generate a FREE, personalized sample report to show your client

Next, it's time to assess the businesses' current reviews and reputation. With SiteSwan's new Reputation Management feature, you can easily generate a free sample report for any of your clients in minutes, all from within the SiteSwan dashboard. This sample report is a powerful selling tool and will help you illustrate the value of the service you are offering.

Each report is personalized for the individual business location and provides a snapshot of their current online reputation including:
Their Average Star Rating

Total Number of Reviews

Breakdown of Reviews by Star Rating

Total Reviews by Source (Google, Yelp, Facebook)

List of all Recent Review
Step 3: Highlight some of the main features and benefits of subscribing to the service
Armed with the sales flyer and a personalized sample report in hand, you're now able to effectively sell reputation management services to a business. Start by reviewing some of the key metrics in the report and then highlight the main features and benefits of subscribing to the service.

When a business enrolls in reputation management, you will be able to help them:
Monitor their online reviews from sites like Google, Yelp and Facebook

Receive daily notifications and emails with any new reviews for their business

Generate more positive reviews from their happy customers

Prevent negative reviews before going public

Promote their best reviews on social media

Properly respond to customer reviews (good and bad)
Step 4: Close the sale and upgrade their account

Now that you've educated the business owner, showed them a personalized sample report, and highlighted the benefits, it's time to ask for the sale.

Remember, you're not just selling software - you are selling a solution to help your client manage and improve their online reputation. Remind them of the risks associated with negative reviews, and the potential to increase sales with more positive reviews.
 
When a client comes on board, you can upgrade their account from your SiteSwan dashboard. We'll automatically scan the web for new reviews every day, generate a new Reputation Report and deliver it to their inbox every morning, and grant them access to exclusive features like Social Sharing and the Review Request Form. Now they will be able to keep track of what customers are saying about their business and improve their reputation.
How much should you charge for Reputation Management?
Reputation Management is a very lucrative service. Most agencies charge anywhere from $99/mo - $199/mo depending on the client and the market. For example, if a client gets a lot of new reviews every month, the service is worth more to them. It's also more valuable for businesses who might not have a great star rating and are looking for an effective way to improve their online reputation. 
Ready to start selling Reputation Management to businesses in your area?
Reputation Management is included with most SiteSwan plans. You can offer to your existing website clients or sell it as a standalone service. Click here to learn more about how it works.
We'd love to hear from you!
Share your comments or questions using the form below.