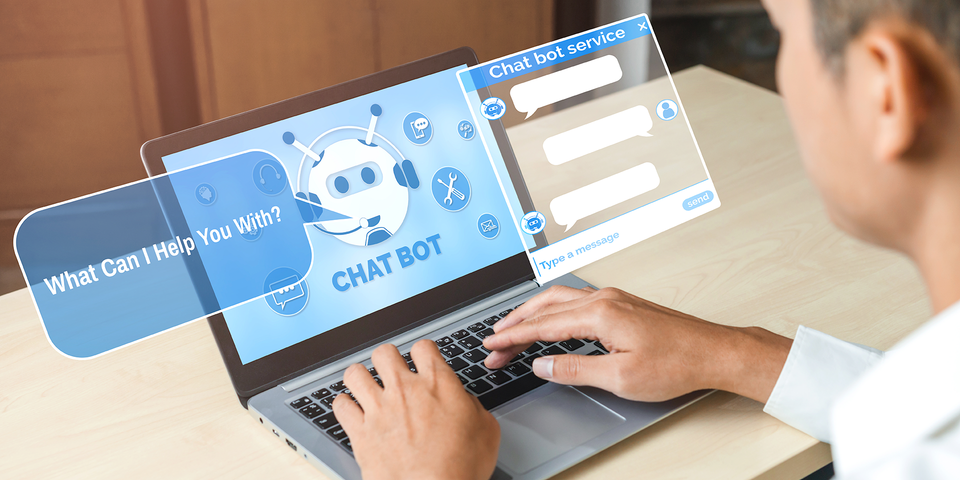 Introduction to Adding Live Chat and Chatbots to Your Website
April 8, 2021
In the fast paced digital world we now live, customers demand multiple channels of communication and immediate answers to their questions online. For businesses looking to take their marketing and customer support to new heights, live chat and chatbots are two very popular solutions.

If you have a client asking about adding live chat or a chatbot to their website, or thinking about adding one to your own website, it's important to understand the differences between the two and the advantages of each. Incorporating live chat or chat bots into your web design packages is a great way to not only add value and satisfy your clients' needs, but it can also generate additional revenue for your agency. Chat functionality is considered a premium feature that many businesses will happily pay extra for.
What's the difference between Live Chat vs Chatbot?
The biggest difference between the two is that live chat relies on human-to-human communication, while chatbots utilize AI (Artificial Intelligence) or MI (Machine Learning) to simulate human conversation when interacting with an end user.

Both chat options typically appear in the form of a "widget" on the bottom corner of a website. When a customer visits a website, they can initiate a conversation by typing into the chat box. Live chat will connect them with a real person who will be able to assist them. Chatbots on the other hand, provide pre-programmed answers to common questions.
So which one should you choose? There are several factors to consider when deciding between live chat and chatbots.
1. Availability of Human Resources
For larger companies, or those that have a dedicated sales/support team, live chat is a great option. It allows your team to connect with customers on your website and have personalized 1-on-1 conversations. Live chat can keep help keep your team productive during slow periods and better assist website visitors who have questions or concerns.

However, for small businesses with limited staff, chatbots are often a better solution since it does not require a real human to answer questions. In that sense, chatbots can be more cost-effective than live chat.
2. Complexity of Questions
For difficult questions, live chat is a clear winner. Because live chat utilizes a real human, it's therefore more capable of handling complex or unique questions that a customer might ask and there is really no limit to the level of support they can provide. Live chat offers agents the ability to research answers prior to responding, ask for additional details from the customer, or even speak to another agent to get the right answer. If your business handles a lot of complex customer issues that require personal attention, than live chat is a better solution.

If your company handles mostly technical questions or issues that affect the majority of your customers the same way, chatbots will do the trick. Chatbots are excellent and the most efficient for handling simple, repetitive or common questions that can easily be answered.
3. Response Time & Availability
Let's face it, customers often choose to communicate via chat because they want an immediate answer to their question. In general, chat bots offer faster response times and greater availability.

Because live chat requires a human agent to communicate with a customer, interaction is limited to the number of agents who are working at the moment. Unless you have an agent working around the clock, you can only offer live chat during specific times of the day. Also, one agent can only handle a few chats at a time. If you experience a high volume of customer questions, you will need to hire more agents to support your customers.

When a chatbot is installed on a website, it can instantly answer multiple customer questions at one time. Customers don't need to wait for an agent to be available or to respond. Chatbots also work 24/7 without the need for a human agent, so you can provide support any time of the day.
Popular Live Chat and Chatbot Vendors
There are hundreds of companies that provide chat technology, and almost of all of them can easily be added to any website, including those built on the SiteSwan platform. While the process for adding a chat widget to your website might differ from one company to the next, it's usually as simple as copying and pasting some code onto your site. Here are just a handful of popular live chat and chatbot software vendors:
The Bottom Line
Live chat and chatbots can be incredibly helpful for customers across practically all industries, and the technology is only getting better with each passing year. There are advantages to both live chat and chatbots solutions. Deciding between the two will require you to determine which features are most important for your individual business. Some companies will even incorporate both live chat and chatbots since each have their own strong points and they can coexist and compliment each other.

If you have a web design client asking about adding chat to their website, it's important to discuss their options and help them choose the solution that's best for their business and go over any costs involved. You likely want to charge your client an additional monthly fee (on top of the vendor's cost) to compensate your time in setting it up and providing any support or updates they might need. No matter which option you choose, take the time to review the different vendors, compare features and pricing, and use the points highlighted in this article to make an educated decision.
We'd love to hear from you!
Share your comments or questions using the form below.