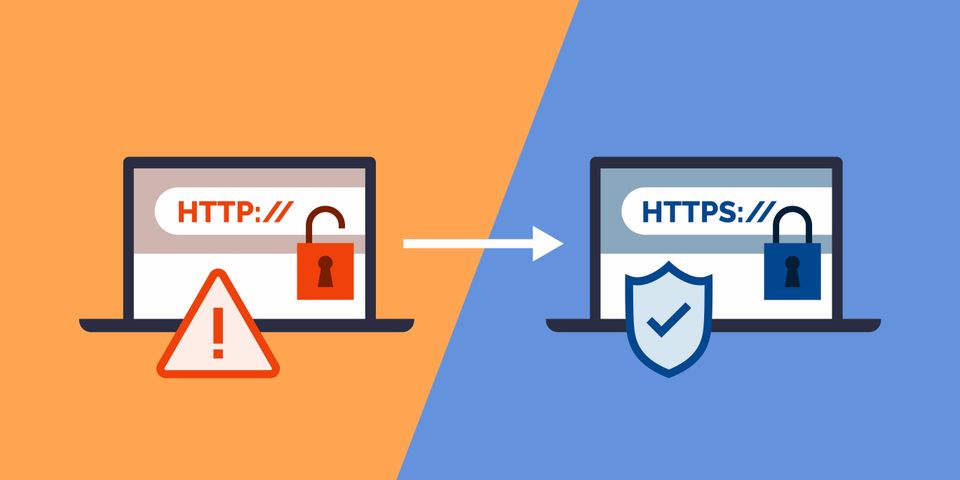 What Are SSL Certificates & Why Are They Important?
Published on November 9, 2021. Updated on May 22, 2023.
Just as there will always be crime no matter what city you live in, there will always be cybercrime and cybersecurity concerns to watch out for no matter where you spend your time on the internet. With so many people getting hacked, it's no wonder why more and more people are hesitant to visit new sites, share personal information, or make online purchases unless they know for sure that it's safe.

According to Statista, in 2022 the number of data compromises in the United States stood at 1,802 cases. Meanwhile, over 422 million individuals were affected in the same year by data compromises, including data breaches, leakage, and exposure. Thus, cybersecurity is not something to take lightly.

While cybersecurity can be a very complex subject with so many different factors to consider, especially for larger corporations, one of the best measures a small business owner can take is installing an SSL certificate on their website. This will make your website more secure and help keep hackers away.
What exactly is an SSL certificate?
To begin with, SSL stands for Secure Sockets Layer - this refers to the layer of encryption between a web server and someone trying to access the content on that web server. An SSL connection is created by an SSL certificate. When this SSL certificate is in place, you'll see a URL with the 'https:' instead of the usual 'http:' - this encrypted connection makes it very difficult for cybercriminals to intercept any data that's submitted online (such as an online form or credit card information). A Certificate Authority (CA) is the company that furnishes the SSL certificate.

SSL certificates are not just for e-commerce sites or larger companies. Every website needs an SSL certificate whether or not it intends to take credit card payments online. Even if the only information you'll ever collect via your website is a name and email address, you'll need that encrypted connection so nothing ends up in the wrong hands. While an SSL certificate won't completely keep hackers away, it can at least serve as a deterrent.
All SiteSwan sites include a FREE SSL certificate!
Many website builders and hosting providers will charge a premium extra fee for an SSL certificate. In fact, GoDaddy charges at least $99.99/year for a basic SSL certificate for a single website. When you build and host a client website through SiteSwan, an SSL certificate is already included at no additional charge. It's part of our goal to set you up for success.

Even if you never get involved in e-commerce nor collect any information online (not even with an online form), you'll still want an SSL certificate. Some internet browsers will actually warn you if you're about to visit a site without a valid SSL certificate in place. This could actually prevent potential customers from even visiting your site.
Here's why SSL certificates are important:
Now that you have a better understanding of what SSL certificates are, here are the top three benefits to having an SSL certificate installed on both your website and your client websites:
1. Provides Security
When you have an SSL certificate installed, any data that's transferred from a web browser to a server is encrypted. This way you won't have to worry about any cybercriminals getting ahold of this data. Examples of data could be:
Credit card numbers

Physical addresses

Email addresses

Social security numbers

Anything else you might ask for in an online form
There are also four different kinds of SSL certificates depending on the level of protection you need: 
Extended Validation (EV)

The most expensive and most secure type

The CA will conduct a thorough review to verify you own the domain and have officially registered your business

This type is mostly used by banks, large enterprises, and anyone else dealing with highly sensitive payment and customer info


 

Organization Validation (OV)

The CA will ask for proof that you own the domain AND the business behind the website

This includes the CA going through official public records to confirm that your business is legitimate

This type reveals details about your business name and location to website visitors which helps to build trust and show that you took additional measures to secure any information they send you 


 

Domain Validation (DV)

This is the easiest and cheapest one to obtain

The CA only confirms that you own the domain

For the majority of blogs and "online brochure" websites, this is typically all you'll need


 

Wildcard

If you have multiple subdomains (e.g., blog.yourwebsite.com, training.yourwebsite.com, internal.yourwebsite.com, etc.), then you'll need this type of certificate in order to secure them

Most hosting providers make it easy to install this
If you have a basic small business website where you might have a form that collects basic personal information like the name, email address, phone number, etc., then a DV certificate is all you'll need in the majority of cases.
2. Builds Trust
Many browsers will display a warning if you're about to visit a website without an SSL certificate. This warning might appear as an alert on the screen that says something like "This website is not secure". This creates a huge concern for site visitors and can turn away potential customers.

Having an SSL certificate means you'll display the 'https:' in the URL along with a padlock icon to the left of the URL. This assures your visitors that they are on a secure website. If you plan on having a contact form for collecting information, your visitors will rest assured that any information they send will be sent securely.

If you plan on selling any products or services on your website and collecting payment online, then you'll definitely need to build trust with an SSL certificate in place. According to GlobalSign, 85% of online shoppers avoid unsecured websites altogether. While most hosting providers make it very easy to install an SSL certificate so that you can secure your website and display that padlock icon in addition to the 'https:' in the URL, you won't have to worry about about installing an SSL certificate if you're building a site on SiteSwan - it's done automatically during the site creation process.
3. Improves Search Ranking
The Google Page Experience report offers valuable insights into the user experience that visitors have while interacting with your website. By assessing page experience metrics for each individual URL on your site, Google incorporates them as an influential ranking factor in determining the position of a URL within its search results. So if websites don't have an SSL certificate giving them that HTTPS encrypted connection, then they will not rank well in the search engines. Google will give HTTPS websites much more "search engine love" than HTTP websites.

In some cases, Google may even penalize you if you don't have a valid SSL certificate. Even if you do not have any forms on your website (i.e., you don't plan on asking visitors to fill anything out nor submit anything online), you'll still need an SSL certificate in order to get on Google's good side. If you want your website to rank well in the search engines, it's important to have a valid SSL certificate in place.
Rest assured, your site is safe with SiteSwan
It's essential that anyone who has a website takes security seriously. But beyond security, there are other significant benefits associated with having an SSL certificate on your website. Whereas some hosting providers might charge extra for an SSL certificate, as a SiteSwan reseller this is comes at no additional charge. It's just one of the ways we help you give your clients the features they need, at a price they can afford. If you're ready to start reaping the benefits of an SSL certificate, including website security, online trust, and better search rankings, be sure to build your next website on the SiteSwan platform.
We'd love to hear from you!
Share your comments or questions using the form below.