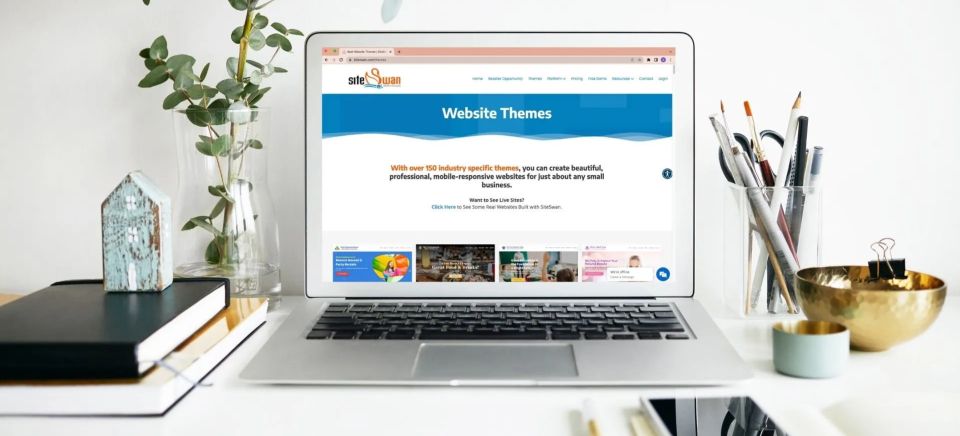 5 Reasons to Use SiteSwan Themes for Your Next Web Design Project
Published on May 16, 2022
Whether you're new to web design or already operate your own thriving business, you're most likely familiar with some of the key design elements involved in creating a business website. From selecting images, to color scheme and layout, there are many options out there, making it sometimes hard to know exactly where to start in the design process.

Luckily, SiteSwan offers a reliable source of web design Themes in a variety of different industries. Our collection of more than 150 Themes can make designing websites a breeze. For website redesigns or first time business websites, our professionally crafted Themes are a great place to start.

With SiteSwan Themes, you can create and customize beautiful websites for just about any small business in no time at all. Have we peaked your interest? Keep reading to discover five reasons why SiteSwan Themes could be the perfect solution for your next web design project.
1. Modern Web Design That Visitors Will Appreciate
Our portfolio of Themes is carefully curated with the latest modern features and designs. For small businesses, this is especially important for the following reasons:

A. Modern websites are easy to navigate. They use streamlined designs and clear, concise menus so that visitors can quickly find what they want without getting confused or wasting time. This is crucial in today's online world, where users tend to make decisions in only a couple seconds when looking at a new site. Easy navigation is key to lowering bounce rates and keeping site visitors longer on the website.

B. These site designs are familiar to visitors. By using best practices for current websites, visitors will know where to look for content, contact information, web forms, and more. It will provide them a user-friendly experience and a familiarity to the format that they feel comfortable with.

C. No worries about color or design elements. Our Themes have been created to use the best color palettes and other appealing design elements that won't distract or clash. The Themes are guaranteed to look great no matter how visitors are viewing your web page, and don't require business owners to make complex choices about contrast or placement.

D. Easy to read. We follow best practices for text contrast and readability so you don't have to worry about formatting. The placement of content, graphics and more are aligned on each web page to give a clean and professional look.
2. Imagery Specific to the Industry
Don't worry about finding professional and high-quality images when using our Themes. Our portfolio of Themed web designs come equipped with imagery that compliments the industry or business the website was created for. You can customize the Theme with your own images or pictures of your clients business.

The SiteSwan platform also offers access to a library of professional stock photography to draw upon. Our image content is categorized by industry terms, with targeted images available for all kinds of businesses. That makes it easy to quickly find images that are the perfect fit for your client, including niche industries and services that it may be difficult to find photos for elsewhere. Best of all, there are no additional fees for using our image portfolio, so you don't have to worry about paying extra for images that you like and want to use.
3. Built with Relevant SEO Content
Our templates are made with SEO (search engine optimization) content in mind! SEO practices help improve page rankings by tying specific words and phrases in content to the way a search engine interprets the intent of user searches. That means that they are ready to help your clients see the web traffic they need for a successful business. It's also a way to explain how your sites will lead to improvements over previous sites that clients may still be using.

One issue with SEO is that its tactics and best practices can change over time. Older SEO work can sometimes do more harm than good with modern search algorithms. But our templates are easy to customize with the most current SEO practices so that websites avoid pitfalls like keyword stuffing while still being optimized. That's a great selling point for customers who may have heard about SEO before but don't really know how it works, and want the most reliable results.
4. Fully Optimized for Mobile Devices
Mobile optimization isn't just a bonus for today's websites – it's absolutely necessary for businesses to build a significant brand. The majority of people make buying decisions while browsing on mobile devices, for anything from hiring a petsitter to finding someone to fix their HVAC system. Today's websites need to work with mobile devices, which means they support vital features like: 
Automatic switching between landscape and portrait views that resize images and text so that users don't miss any important information.

Fully touch-responsive so that users can easily navigate, magnify, and select options using their touch screens.

Font sizing options that are easy to read on mobile devices

Efficient layouts that are programmed to load quickly so that mobile users don't have to wait for websites to load – one of the most common causes of mobile bounce rates.

Avoid more problematic or older design elements that ruin the mobile experience. 
The good news is that all SiteSwan websites, including our Themed website designs, are fully optimized for mobile devices at the start
, with layouts and responsive elements that work well on smartphones or tablets. If clients express interest or worries about mobile optimization, you can assure them that the site will function without issues.
5. Designs for High-Demand Industries
Sometimes it can be difficult to find the right variety of website templates, especially if clients want something that stands out. SiteSwan works to develop templates specifically for high-demand industries that need new sites, so you're sure to find what you need. That means less time shifting through unpopular templates, and quickly accessing templates for the work you have such as home improvement, restaurants, landscaping, tree services and more industries where demand is high.
Build Your Next Website with a SiteSwan Theme Design
Building websites using SiteSwan Themes makes the design process simple. You can add logos and images in just minutes, fill in templates with accurate data about a particular business, and have a full-fledged website ready to display for immediate feedback from clients.

Features like these make SiteSwan the perfect platform to use for your website design business, or for expanding a current web services business into new areas. Even with these Theme templates, you and your clients still have the freedom to use the content and logos that you favor, ensuring that the site remains unique and identifiable to past customers.

To learn more about our Themes, how pricing works, and what other resources we provide, visit SiteSwan. You can also view a free demo of our platform to experience exactly how it works and what we provide, along with plenty of other resources. Let us make your web design work easier, while delivering exactly what your clients have in mind.
We'd love to hear from you!
Share your comments or questions using the form below.