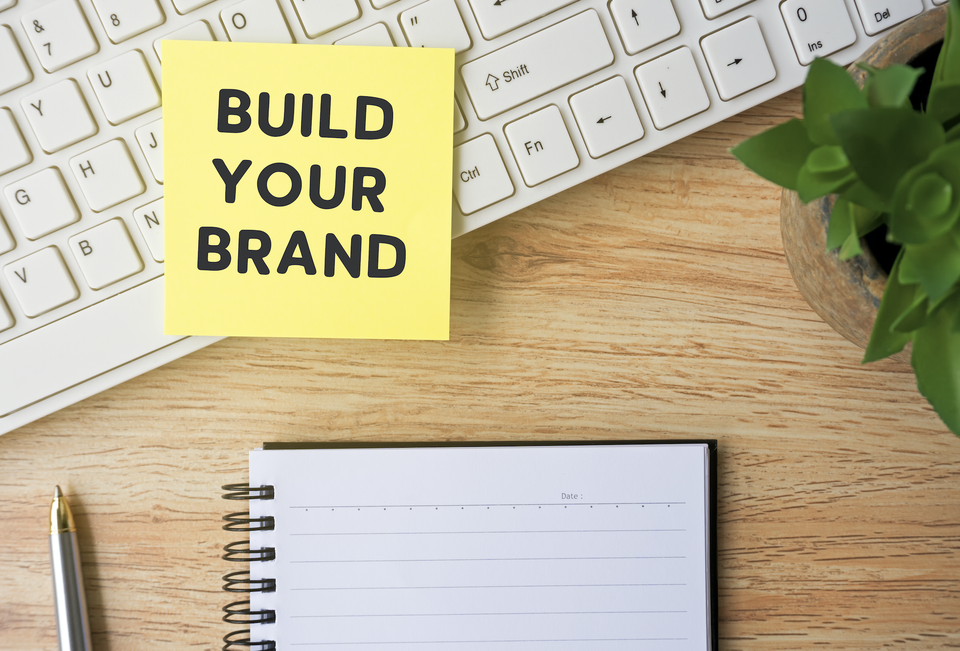 8 Steps to Building Your Business Brand 
Published on April 4, 2022
When starting your own business, there are many factors you have to consider when it comes to marketing your company. One of the most important elements is establishing your business's brand. Follow these steps to learn how to build a brand for your business.  
What is a Brand?
First, let's define what a brand is. When you think of a company's brand, you probably think of its name and logo. While that's part of a brand, it's not the only thing.

A brand is how people perceive your business whenever they interact with it. This includes the emotional connection and engagement people experience with your band.

A business brand includes its logo, name, colors, fonts, mission, message, people and reputation. 
What is Business Branding?
Business branding is creating a comprehensive message for your business, products and services. You do this through logos, copy, slogans, and names.

Certain elements of business branding should be considered early on when starting out such as selecting a name for your business and your domain name. Later in this article, we'll dive into why these types elements will be important in your branding and business growth.
How to Build a Brand
Before you start your business you need to think about how you are going to build your brand. Building a brand isn't just for major businesses like Nike and Home Depot. Home-based and small businesses need to have their own brand as well to spread awareness and entice people to want to learn more about what they do. If you currently run your own web design agency or are thinking about starting one, follow these 8 steps to start building your brand.
1. Research Your Target Audience
Before you do anything else, you need to research your target audience. You want to understand your potential customers, as well as who your competitors will be.

There are a few different ways of finding your target audience:
Do an online search for your product or service in your field and check the results

Shop how your customers would shop (online and offline) to get a feel of how they would buy your product

Talk to those in your target audience and ask them what brands they buy and why
Take note of what the most established brands in your market are, and why customers prefer these brands. What is it about the businesses that are most appealing to them? Is it the price, customer service, reliability, quality of the product or service, or reputation? The more information you can gather about what your target audience wants, the better you can market your web design services to them.
2. Choose Your Business Name
Choosing your business name is a huge commitment. Your brand name will also affect your social media page names and website domain name. When choosing a business name for your web design agency, consider the following:
Combine two or more words into one 

Use your own name

Think about things you are passionate about 

Keep it simple and literal

Create an acronym for a longer name

Make up a new word

Incorporate an adjective

Alter the spelling of an existing word

Make sure a relevant domain name is available
You want a name that is unique yet simple, and won't get confused with other brands. Consider keeping your name broad - especially if you plan on offering multiple services or product lines in the future.
3. Choose Your Brand's Look
Once you have a brand name you need to choose your font and colors. These will be used across your website, social media pages, business cards - everywhere.

Don't just choose your favorite colors. You need to consider color psychology. Color psychology is the psychology behind how colors affect human behavior.

For example, the color red can indicate love, strength, or excitement. Green can indicate nature or healing. Purple can indicate luxury or royalty.

A little understanding of color psychology will go a long way.

After choosing your brand's colors, you need to choose what fonts you will use. You can use one font for headers and a second font for your body text.

A few tips for picking your font:
Choose fonts that are clear and legible

Choose fonts that won't tire the eyes

Don't choose fonts that look similar to other brand's fonts

Choose fonts that are flexible and work across all mediums

Pick fonts that match your brand's personality
Look at what other brands are using for their font. What works and what doesn't work? 
4. Design Your Brand Logo
Your brand's logo is one of the first visual engagements customers will experience with your brand. So you want to make a good first impression.

Your logo should be unique, scalable to multiple sizes, readable, and identifiable.

Think of how and where you will use your logo. It may appear on your website, marketing material, as your Facebook page profile picture, in YouTube videos, or elsewhere.

There are different types of logos to consider. A logo could be an icon, an emblem, your mascot, something abstract, or a combination of different types.

Hire a professional graphic designer from job sites such as Fiverr, Upwork, and Etsy. The SiteSwan team can also help you with your logo design. We've designed hundreds of logos for our web design resellers.
5. Identify Your Brand Message
What do you want your brand to convey to consumers? Do you want to take a more professional approach in your messaging or have it be fun and casual?

One of the many benefits in starting your own web design business, you have the freedom to choose how you want to present your brand. The important thing is to keep it consistent. For example, if you are going for a more formal or professional feel, you might think twice before you post a picture or gif of a dog wearing a suit on your social media accounts. Think about the message you want to send to your target audience and stick to it across all channels.

Additionally, consider the type of words you want to incorporate in your brand message, particularly words that would appeal most to your clients. As a web designer promoting your services, using words such as affordable, professional, custom, responsive, user-friendly, and search friendly, are indicative of what your clients are looking for when working with a web designer. 
6. File for Legal Protection
After your brand's look is established, you may want to file for a trademark. A trademark will provide legal protection for your logo or name.

If you have a proprietary product, you should also look into patents. Patents and trademarks are not the same and do not provide legal protection for the same assets.

You can apply for a trademark or search to see if an existing trademark exists through the United States Patent and Trademark Office (USPTO) website. 
7. Apply Your Branding Everywhere
Finally, it's time to spread the word. Share your brand across all your marketing materials, website, and social media pages. Use these tips to showcase your brand on multiple outlets.
Include your logo and brand colors (when applicable) on everything. Business cards, promotional content, social media, website, apparel, etc. 

On your marketing website, make your brand and messaging front and center. For example, you may have on your homepage, "We Build Affordable Websites to Grow Your Business". It's simple and it conveys what your business does. 

Use social media to share posts and images that highlight your brand's personality. 

Send marketing campaigns to display your brand identity through emails, newsletters or online ads. 
​​​​​​​
8. Keeping Your Brand Consistent
Creating your brand is only the beginning. Keeping your brand consistent is an ongoing process.
It's important to keep your brand consistent across all of your channels (website, social media, email campaigns, ads, etc.).

Why? Because brand consistency leads to brand recognition.
Examples of Brand Consistency
You don't have to look very far to find good examples of brand consistency. You can probably list 5-10 major brands off the top of your head. Odds are, if they are successful, they have some brand consistency.

Take Southwest Airlines, for example. Their planes are decorated in blue, red, and gold colors. Their logo also incorporates these colors and is in the shape of a heart. Southwest's brand has been a people-first approach, despite being a budget airline. Their heart logo indicates that. Their branding extends even to the New York Stock Exchange - Southwest's ticker is LUV.

Another example of brand consistency is Coca-Cola. The Coca-Cola font has stayed consistent for years, and its script lettering is instantly recognizable. Coca-Cola bills itself as a brand that sells beverages that are refreshing and fun.

Beyond your personal business stationery and marketing website, your brand consistency extends to social media and anywhere where else your business is being promoted.

Create social media business pages for your company and post regularly, 2-3 times a week. Share content that aligns with your brand's values. Some examples of content you could share are small business tips, local suggestions, or design tips.

Meet your clients where they are at. That could be on Facebook, LinkedIn, Instagram, Twitter, TikTok, YouTube, or more likely, several of these.

Highlight testimonials from satisfied customers on your website, promotional materials, and social media business pages. This will further build your reputation as a credible business and help further support your brand. 
Are You Ready to Build Your Brand?
Whether you're just starting your business or looking to relaunch your brand, use the tips above to get started. By following the steps outlined in this article, you'll be on your way to developing a brand that aligns with your target audience, resonates with your customers, and consistently presents your company in the best light possible.

For more educational articles to help you grow your business, check out our blog page. 
We'd love to hear from you!
Share your comments or questions using the form below.