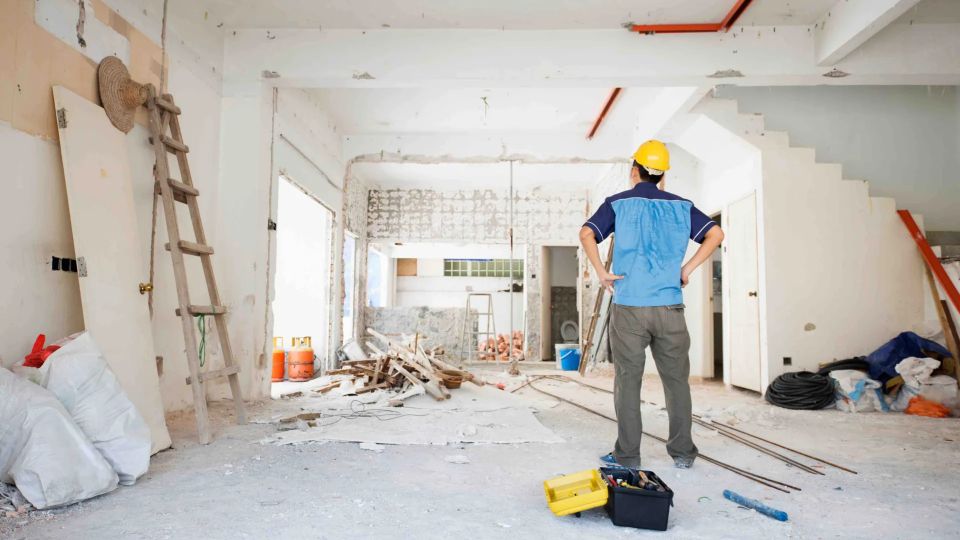 How to Sell Websites to Home Improvement Businesses
Published on March 13, 2023
As a web design business owner, it's important to recognize the potential for profit in creating websites for businesses in the home improvement industry. This niche presents a lucrative opportunity for your services.

The US has seen a steady 5.1% annual growth in home improvement businesses between 2017 and 2022, making it a promising sector to tap into. For example, with construction and roofing websites in high demand, businesses in these industries often lack the technical know-how to develop their own websites or pay an absorbent amount of money for one to be created.

By understanding the specific needs of businesses in the home improvement industry and tailoring your services accordingly, you can successfully sell websites to this market. Keep reading to discover how to effectively market your web design services to home improvement businesses.
Home Improvement Industry
Studies show that annual home improvement revenue is supposed to reach $269 billion in 2025. Drastically increasing the revenue for home improvement businesses. It has also been estimated that there are 524,387 remodeling businesses in America as of 2022. These numbers have continued to grow as the home improvement industry grows.

Part of why the home improvement industry is so successful is that it covers so many niches. This includes industries such as landscaping, remodeling, handyman, painting, and interior design. When searching for a business to help with their home improvement needs, a potential consumer's first move will be to look at examples of the business's work on their website. This is part of why having a website is so important for these industries.

Although, many of these industries lack a proper website. That is why the option to sell websites in this industry can be so lucrative. Research has shown that businesses that have a website attract more customers. This is the biggest selling point for a website if you are trying to sell a website to one of these industries.
Why Target Home Improvement Businesses?
When you sell websites to businesses in the home improvement industry, there are some things to know. This is an industry that has a lot of potential.

You have the opportunity to start selling a website to a local home improvement business. Or you could branch out and sell websites to businesses all over the US.

There is a huge amount of home improvement businesses that need a website. Many of these businesses don't have a website at all or have a very poor website that could benefit from a redesign.

Like any business, home improvement businesses need to have a professional website. This is the first impression that potential customers will get when they look into this business.

It also helps to attract local customers when they are trying to find a contractor to go with. If a home  improvement business doesn't have a website, it may not be found by potential customers.

Overall, there are many selling points for home improvement businesses to have a website. This is an important element of any business's marketing strategy.
Home Improvement Website Must-Haves Features
Now that you have a better understanding of the home improvement industry, you may be curious about the essential components a website should include. Each business has unique needs for their website, and it's crucial to know these details in order to create top-notch websites.

To effectively sell websites to businesses in the home improvement industry, it's important to have a deep understanding of what you're doing and the market you're selling to. Certain must-have details are critical for these businesses, and they may vary depending on the type of business the website is being created for.

Conducting thorough research is crucial to create the most visually appealing website that's tailored to fit the specific business and the type of information consumers are searching for. Here are some key elements to focus on when building and selling websites for home improvement businesses.
Professional Images
Including high-quality images on a website is crucial to attract potential customers and create a professional look for any type of business. This is especially important for home improvement businesses, as images can help customers better understand the services they offer.

For construction websites, showcasing images of the latest projects can be incredibly impactful. Similarly, roofing websites should include images of the roofs they have worked on. These images not only help to visually demonstrate the quality of the business's work, but also provide social proof to potential customers.

It's essential to ensure that the images are convincing and of high quality, as low-quality or unconvincing images can easily turn potential customers away. By prioritizing the use of high-quality, relevant images on home improvement business websites, you can effectively attract and convert leads.
Local SEO
In today's digital age, search engine optimization (SEO) is essential for any business website. Optimization is the process of strategically integrating relevant keywords and phrases throughout a website to improve its visibility and ranking on search engines.

Using carefully chosen keywords throughout a website is crucial as they reflect the terms potential customers are searching for when seeking services from a home improvement contractor.

Without proper SEO, a website can struggle to gain visibility and attract potential customers. Investing in SEO is crucial for businesses to maximize their online presence and reach a wider audience.

By prioritizing search engine optimization, you can help home improvement businesses rank higher on search engines and ensure their website is an effective tool for attracting customers.
Accurate Company Information  
Providing comprehensive information about a business on its website is critical for building trust and establishing credibility with potential customers. This includes details about the company that are relevant to the client, such as office hours, location, and contact information.

Having an about page and services page that clearly outlines the business's offerings is also essential. This allows potential customers to quickly and easily understand what services the business provides and how it can meet their needs.

In addition to providing contact details, it's important to include a simple way for customers to request an estimate or quote such as an inquiry form. This can help to streamline the sales process and increase the likelihood of securing new business.

By ensuring that a home improvement business's website includes all the necessary information and features, you can help to enhance its credibility and create a seamless customer experience that encourages conversion.
Compelling Testimonials
Testimonials are a powerful tool in advertising a business. Displaying positive feedback from satisfied customers on a prominent section of a business website can be a game-changer when it comes to building credibility and attracting new customers.

For businesses in the home improvement industry, testimonials should be a top priority on their website. They provide potential customers with valuable insights into the quality of services the business provides and how it has helped other customers achieve their goals.

When selling websites to businesses in the home improvement industry, including a section for testimonials is a must. By highlighting the positive experiences of past customers, you can help to establish trust with potential customers and improve the chances of converting them into loyal clients.

Remember, testimonials are a powerful marketing tool that can set a business apart from its competitors. By prioritizing them on a website, you can help to create a compelling narrative around the business's services and build a loyal customer base.
Selling Websites to Home Improvement Clients
If you're looking to sell a website to a home improvement business, it's important to approach the process strategically. While every business may not initially see the value in investing in a website, it's up to you to make a compelling case for why it's a necessary expense.

Fortunately, there are proven methods for doing so in a professional and effective manner. By understanding your clients' needs and goals, you can craft a customized approach that highlights the benefits of a well-designed website for their specific business.
Find Their Pain Points
To successfully sell websites to businesses, it's important to understand the pain points they face and offer solutions that address their needs. Identifying these pain points can help you create targeted solutions that resonate with potential clients.

For home improvement businesses, one of the biggest pain points is often finding and attracting new customers. By highlighting the benefits of a business website and demonstrating how it can address this issue, you can effectively sell your website services to clients.

It's important to stay informed on the latest trends and best practices for website design and optimization, so that you can offer the most effective solutions to your clients. Keep in mind that each home improvement business is unique, and your approach should be tailored to meet their specific needs and goals.
Provide Examples
One way to sell websites to home improvement businesses is to provide examples. Everyone loves examples and enjoys seeing real evidence of something.

With SiteSwan's website Themes, you can easily customize a website for your potential client by adding their business logo, brand colors and contact information. With our Instant Site Creation tool, you can have a fully customized website ready to present to a client within 60 seconds!

Another benefit that a business will take into consideration is to show them what their competitors are doing and how a website will make them stand out. If this business's competitors have websites, this could be your selling point. After all, businesses need to stay up-to-date with what their competition is doing.

It is also a good idea to have reports and statistics on how effective websites are. These numbers can help to convince uncertain clients of the benefits of a business website.

There are many ways that you can provide examples of why your service is necessary. It is always a good idea to research the specific business you are selling to for accurate results.
Stick to Your Niche
The home improvement industry is very large and covers a lot of areas. Because of this, it is a good idea to have a niche that you work with. Maybe you decide to focus on painters and interior designers or on the other hand you can focus on plumbers, electricians, handyman services, general contractors and roofing companies. SiteSwan has a variety of different website Themes that help spark your interest and creativity for certain types of businesses in the home improvement industry that could use a website.

By narrowing your focus, this is going to give you expertise so that you can be trusted in this area and get to know this field of work. You will want to stay within this niche so that you can build upon this reputation and knowledge base.

This also allows you to provide better results for your clients. You will become an expert in their industry, target audience, and understand where their pain points are.
Make the Home Improvement Industry Your Niche for Selling Websites
One of the first steps to successfully selling websites in the home improvement industry is to do your research. You need to understand the market and the needs of potential clients. This means familiarizing yourself with the pain points and challenges faced by businesses in the home improvement industry, such as difficulty in finding potential clients and standing out from the competition.

Once you have a solid understanding of the industry and its challenges, you can begin to offer solutions. This is where SiteSwan can help. We offer pre-designed website themes specifically tailored to the home improvement industry. Our Themes are visually appealing and user-friendly, making it easy for businesses to showcase their services and attract potential clients.

Ready to start selling websites to businesses in the home improvement industry? Contact SiteSwan today to learn more about how we can help you succeed. Our team of experts is ready to assist you every step of the way.
We'd love to hear from you!
Share your comments or questions using the form below.