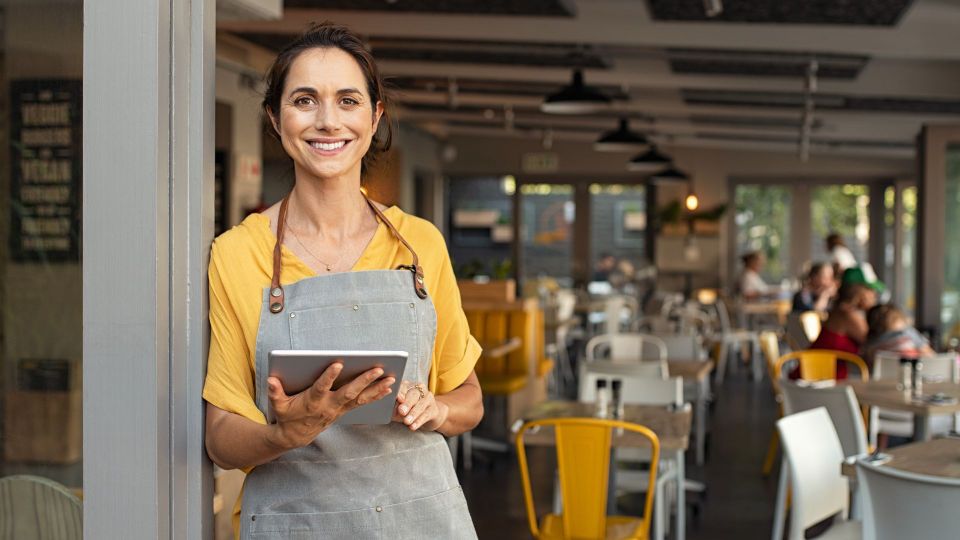 How to Sell Websites to Restaurants: Everything You Need to Know
Published on January 24, 2023
Websites are the foundation of restaurant marketing. With over 660,000 restaurants in the US, the demand for effective web design is quite high in the industry. However, they need the right services for their website, as a DIY site doesn't cut it anymore.

Well, that's where you come in. Let's talk about how to sell websites to restaurants in 2023!
Why Restaurants Are a Good Target For Website Sales
First, let's understand why restaurants need websites. Modern restaurants need websites because the majority of customers start their food search online. If a restaurant doesn't have a website they can miss out on a large pool of potential customers.

Websites also help restaurants serve their existing customers. Customers often visit a restaurant's website to view their menu, check the hours of operation, or even place an order online (if applicable).
Moreover, this poses another benefit to restaurants, as a website can act as their best marketing tool. 53% of website traffic comes organically, primarily from search engines.

With an optimized website and a Google Business Profile, users can find their restaurant organically, which drives higher sales. Having an optimized website is the best way to drive organic traffic, even better than social media marketing.

These are only a few examples of why restaurants need websites. Fortunately, this makes a mutually beneficial relationship between restaurants and web designers. Here's why.
Many Restaurants Don't Have Websites
Believe it or not, a large percentage of small businesses still don't have a website in 2023. As a whole, the restaurant industry is one of the biggest offenders here.
If they do, they're often not the most functional websites. Partly, this is because of the high-stress environment the industry is known for. Owners are often too busy with other tasks to worry about the quality of their websites.

Also, starting a restaurant is expensive. Still, a website is a necessary expense before opening, as it's such a powerful marketing tool that can provide so many important functions for users.
Restaurant Owners are Busy
If you know two things about the restaurant industry, you know that it's stressful and that they are a lot of work. This makes restaurants a perfect client base for web designers. Owners are busy thinking about day-to-day operations, health inspections, licenses, and so much more. They need someone else to manage their website.
New Restaurants are Always Opening Up
There's always a sea of newer restaurants in nearly every city across the country. This makes specializing in restaurant web design an excellent choice. You have an endless supply of new leads.

Once you build a solid portfolio of restaurant websites, you'll certainly have a consistent pool of restaurants to pitch to throughout your career.
Free Content
Restaurants typically already have the content for your website, making it a relatively easy job compared to other industries. They can supply images, menus, stories, and more. This makes for a cheaper and easier process when adding files and content to these websites!

If you're building websites with SiteSwan, you'll find our library restaurant website Themes particularly valuable. They come pre-designed with ready to use imagery and content.
Websites Integrate
Optimized websites integrate with a restaurant's entire digital marketing strategy. If they already use social media marketing, email newsletters, or ad campaigns, a website can tie them all together.

With an optimized website, users, subscribers, and followers won't be lost along the way. Remember, websites are the center of an organization's digital marketing strategy. That's an important selling point to push!
How to Sell Websites to Restaurants
First, it's important that we practice our pitches. Successful salespeople with 40 years of experience will still practice their pitches daily. If you're just starting out, it's important to get it down before making adjustments over time.

Most importantly, you need to remember your selling points. You're trying to convince someone to hire you over every other web designer they could find. Why exactly should they do that?

The answers to this depend on your background, your skills, your rates, and your areas of expertise. Whatever you can offer them, remember it and practice saying it. Again, you can always perfect this over time.

Once you have this pitch down, here's where to start!
Look on Job Boards
Especially if you're starting out and trying to build a portfolio, look on job boards! There are plenty to choose from where businesses will post their need for web design services. They will likely post their budgets, expectations, and more. Craigslist is one of the top job boards to find clients.

Generally, you will then have a quick call or Zoom meeting with them to discuss the project if they choose you. This is your chance to try your sales pitch. Make sure you've rehearsed it prior to this meeting.

Some platforms charge a certain fee from 10% to 30%, or possibly a flat rate. On others, the fee is the responsibility of the job poster. There are plenty of platforms to choose from, so find the one that works for you and consider posting your services as well!
Promote Your Services
Of course, you should build your own website with your portfolio available. This is essential for nearly every freelance industry, especially web design. Make sure that it's up to par with your other work, as this is your best opportunity to showcase your skills.
From there, you can try promoting your services on:
Social media

Freelance or gig service pages

Local business or service directories
The list goes on. Try to diversify to reach the widest possible audience, and stay as active as possible on these over time. You may not generate leads right away, but don't give up! If you don't have time to manage these platforms, consider hiring an intern or virtual assistant to help you.
Search For Prospects
Fortunately, restaurants without websites are quite easy to find. Searching on Google for "restaurants near me" or "restaurants in Boston" can give you an extensive list of potential opportunities. From there, expand the Google Business listing carousel to see which businesses don't have a website button.

Even then, feel free to click on the ones that do! You may find plenty that don't have optimized websites or ones that are clearly outdated or DIY. These are also great opportunities to pitch your services.

From there, feel free to check restaurants trending in your area on social media. Check for links to their websites and find potential prospects!

SiteSwan's Local Prospecting Tool is another great way to search for restaurants in your area, and quickly identifies the ones with and without a website. 
Talk to Local Restaurant Owners
If you are at a restaurant to enjoy a meal and the owner is present, check their website. If you don't find one or if it's out of date, let the owner know about your services and give them a business card. Face-to-face marketing is still one of the most powerful forms, no matter how far digital ads have come.

Owners want to please their paying customers, so they'll typically at least have a chat with you. If they never call you, at least you tried!
Knock on Doors
Again, try face-to-face whenever possible. Showing up at restaurants and reaching out to owners directly is the best way to leave an impression on them. A business card can serve as a reminder later on, once you've already planted the seed.

Remember that restaurant owners are busy. It won't help if you show up unannounced and give a lengthy pitch. Simply let them know about your services, give a couple of highlights, and let them know that you're available to talk further if they choose!
Call Instead of Email
Everybody gets emails and LinkedIn messages trying to sell them stuff. Most of us just ignore them or even report them as spam.

Conversely, a call is much more personable than another of these messages. If they're out of range for you to visit, call directly and ask to speak to the owner. Let them know about your services and make your pitch.
Have Samples Prepared
Beyond your portfolio, you can show owners a vision of the website you want to build for them. Selling them a website that's almost ready to go is a lot easier than asking them to go through your entire portfolio. Fortunately, this doesn't have to take too long with Instant Site Creation!

Again, these need to be restaurant-specific websites, which need to include:
Basic contact information

Addresses and hours of operation

Company history

Links to social media

Menu and highlights

Online ordering (if applicable)

Gift cards/merch
Once you have these samples prepared, you can easily demonstrate to owners (with a concrete example) how this website will benefit them!
Start Selling
Now that you know how to sell websites to restaurants, put these tips to use today. The sooner you do, the sooner you can start generating leads and growing your business! Restaurants always need websites, so spread the word about your services as soon as possible.

SiteSwan has more than 10 different pre-designed restaurant website Themes so you can easily build websites for just about any type of restaurant business.

Stay up to date with our latest website marketing tips, and don't hesitate to contact us with any questions or for help with your strategy!
We'd love to hear from you!
Share your comments or questions using the form below.