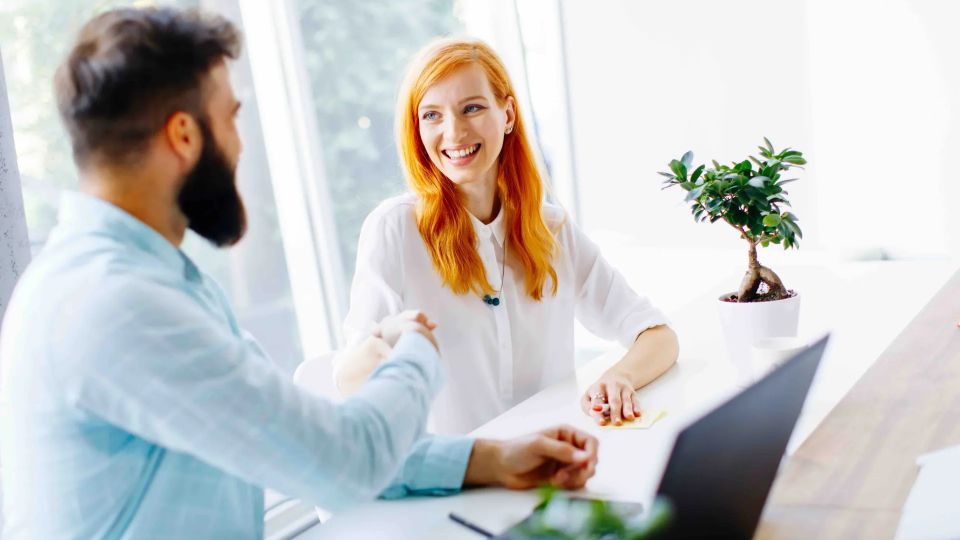 The Top 6 Things Small Businesses Look for in a Web Designer
Published on June 6, 2022
Creating a beautiful website can be a challenging feat for small business owners, whether their present design needs minor modifications or a complete overhaul. What's even harder is finding a qualified web designer to take on the task without breaking the bank.

As opposed to large corporations, small companies have a specialized need and often a limited budget to market themselves and gain the trust of consumers. For this reason, it's essential for small businesses to have a professional, mobile optimized, and fully functional website to help them grow their business.

Like any other business decision, small business owners want to ensure they are choosing the best web designer to create and manage their website. But, what exactly are small business owners looking for in a web designer? How do you, as a web designer, stand out from the competition and earn their trust?

Here are 6 factors that small businesses consider when looking for a web designer.
1. Overall Quality of Work
A website is like a home that is open to the entire world. In the same way you'd want your home to be the best representation of who you are, businesses want their website to depict the finest version of themselves. With how impactful websites can be on a consumer's experience and interaction with a business, it's vital for business owners to choose the right designer that fits their needs.

During the hiring process, small business owners will usually want to review the designer's previous work or portfolio. Using this information, they get a true sense of the web designer's abilities which allows them to identify which candidate's style and design work are similar to what they envision for their own website.

When developing your portfolio or selecting samples that you'd like to keep on hand if a potential client asks, be sure to show off your best work! Typically, 5-10 quality example websites should do the trick. If you're new to web design and don't have clients just yet, no problem. You can explore your creative side and customize SiteSwan's website Themes to use as samples.

When it comes to designing websites, quality is key. It's very evident when a cheap website was just slapped together or if it's a DIY disaster. In order to succeed in today's competitive online marketplace, it's important for businesses to have a website that is both attractive and user-friendly, everything that SiteSwan websites offer. 
2. Price and Affordability
One reason that many small business owners often put off or shy away from getting a website is because of the expense associated with it. Because of limited resources, many small businesses cannot afford the thousands of dollars it takes to build and maintain a website. In fact, the average cost of a small business website can be upwards of $9,000 (source). However, with the right designer and pricing package, it can be affordable for small companies to enter the digital world with their own business website.

When it comes to selling your web design services, you want to find a balance between being affordable and knowing the value of your work and time. The mindset should be that you want to keep your rates attractive enough so you can quickly take on new clients with little push back, but you also don't want to price yourself so low that you're waiting months to turn a significant profit. For more advice on how much you should charge for your web design services, click here to read our recent article on this topic.

If you are new to web design and trying to gain new clients, consider offering a limited-time promotion for the first few months or waiving the setup fee for your first handful of clients. By doing so, you can bring them on as a new client quickly and it gives them time to develop their trust in you and your services.

With SiteSwan, you can build high-quality websites for the fraction of the time and price other agencies charge. With nearly 200 pre-built Themes, you can build a beautiful, mobile-friendly and search optimized website in no time, allowing you to keep your rates (and profit margins) very attractive.
3. Time to Launch
Small businesses face fierce competition from big corporations, as well as other businesses within their industry, so they need to do what's necessary to keep up with their competition. Everyday that a small business owner doesn't have a website, they are losing out on prospective customers and leaving money on the table. If a web designer suggests that a website project could take weeks or even months to construct, this may sway a small business owner's decision during the hiring process.

Like most things, time is of the essence and having a tangible website created in a matter of days instead of weeks is much more ideal. SiteSwan Resellers can build websites for their clients quickly and with ease. So during your discussion with a potential client, assure them that you can get their site launched in days, far faster than the competitors.
4. Industry Experience and Knowledge
Small business owners want their web designer to be up to speed on current design trends, proper security practices and the critical elements of a website. In addition, it's helpful to understand the fundamentals of SEO and how to improve a website's ranking on search engines such as Google, Yahoo, and Bing.

As a SiteSwan Reseller, you have access to valuable resources including helpful articles and guides that will educate you about best practices, design tips and keep you up to date on industry trends.

SiteSwan's websites were designed with SEO in mind so when you speak with a potential customer, you can assure them that their site is built using the latest technology and best practices to help them rank higher in search results.
5. Availability and Ongoing Support
Unfortunately, flakiness and unreliability are common occurrences in the web design industry. Web designers who don't follow through, disappear for weeks at a time, communicate poorly, or ignore their clients lead to business owners getting frustrated and will lead to customer churn.

During the sales process, it's important to address these potential concerns with clients and give them confidence that you are a reliable web designer who will be able to provide top-notch customer service, even after their site is launched.

Small business owners want to know you are readily available to make modifications and updates to their website quickly. After all, that's why they're paying you a monthly service fee.

Give your clients multiple ways to contact you including email, phone, or text messaging. Assure them that you will act quickly and make updates in a timely manner. Providing excellent customer service is the key to keeping paying customers for a long time (and getting referrals).
6. Credibility and Reputation
Regardless of the quality of your product and price, a lack of trust will have a detrimental impact on your business's long-term viability. Business owners want to know that they can rely on you, your company and your services.

Establishing credibility can help you earn a clients' trust, strengthen your reputation and grow your business. To develop your credibility as a web designer, you need to look and act professional, prove that you operate a legit business, can be trusted and are committed for the long-term.

Set up your marketing website, establish your portfolio, print out business cards, and get active on social media to show that you take your business seriously and are invested in your success.

If you want to further grow your credibility in the community, consider joining a Chamber of Commerce and other similar groups to help establish yourself as a local business owner, promote your services, and grow your network.

Customer reviews and testimonials are also extremely powerful. Upon completing a project, be sure to ask every client for their feedback in the form of a review. Share these reviews on your marketing website, in your brochures and on social media to provide the social proof and trust that your future clients are looking for.
Final Thoughts
Web design can be a highly competitive field. However, it's not that hard to stand out if you know what your clients are looking for.

All small businesses owners want a website that looks great, performs great, and is within budget. Building sites with SiteSwan, keeping your rates affordable and sharing samples of your work is an effective way to accomplish this.

They also want to be sure they can count on you, that you're knowledgeable and that you're reliable. Presenting yourself professionally, staying up to date on the latest trends, sharing reviews and providing excellent customer service is sure to win them over.

Follow the tips in this article to give yourself a leg up on the competition and to make yourself more attractive to potential clients.

Not a SiteSwan Reseller? Click here to learn more on  how to get started.
We'd love to hear from you!
Share your comments or questions using the form below.