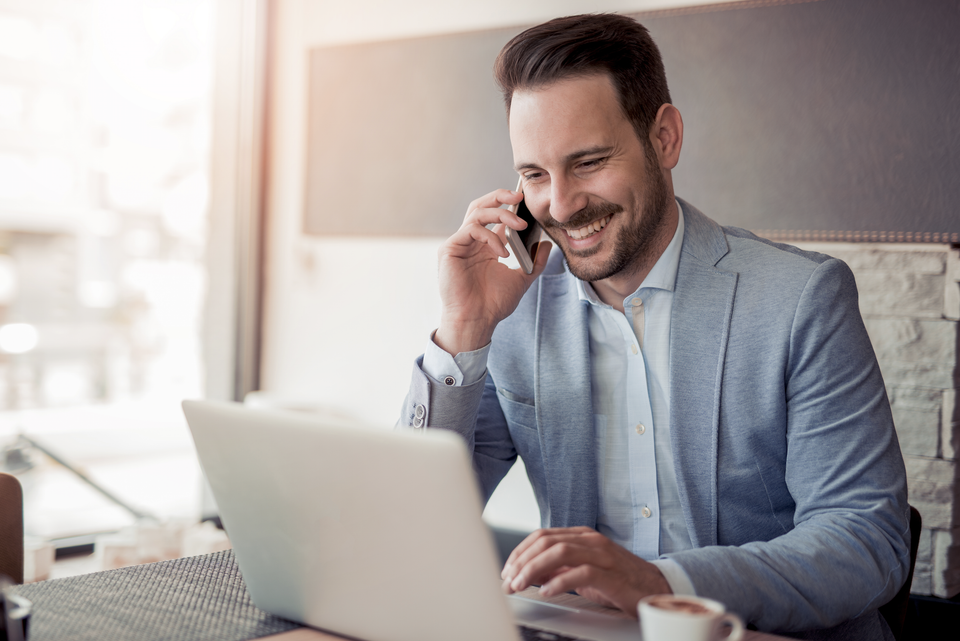 5 Tips for Selling Websites Over the Phone
Published on March 21, 2022
As any expert will tell you, sales are the lifeblood of any business. If you don't make any sales, then you won't generate any revenue. When selling a service like website design or digital marketing, you need to find small business clients who are willing and able to pay you. Thankfully, there are plenty of businesses out there that need your services. Arguably, EVERY small business needs a website these days. With over 30 million small businesses in the US and counting, there is no shortage of potential customers. There are multiple ways to connect with these business owners. One way is using the phone with cold calling.

Cold calling often gets a bad reputation. With the right training and strategy, however, selling websites over the phone can be an effective way to gain new clients. Small business owners in particular tend to be very receptive to phone sales. You can target specific industries or markets and typically cover more ground and speak to more prospective clients with cold calling compared to knocking on doors or other marketing methods. The trick is to be patient, proactive and consistent with your efforts.

Here are five tips for selling websites over the phone:
1. Create a List
Before picking up the phone, generate a list of prospects - doing this will help you maximize your time on the phone and help you keep better notes during conversations. There are plenty of tools to help generate leads. For example, the SiteSwan Local Prospecting Tool can help you search for local businesses based on keywords or industry. It can also provide further details such as who doesn't have a website and who does have one but it's not mobile optimized.

While the SiteSwan Prospecting Tool is incredibly useful, there are a number of other ways to generate a list of prospects. To name a few, think of current customers you may already be providing a different service to, tapping into your personal network of friends and family, joining business organizations or clubs such as a chamber of commerce, hosting a seminar on a topic that would appeal to small business owners, and using social media to connect with professionals.

To track your leads and follow ups, you can invest in a CRM tool or create a simple spreadsheet using Microsoft Excel, Apple Numbers or Google Sheets. HubSpot is one of the best free CRMs on the market.

When setting up your CRM or spreadsheet, you'll want to include the following fields:
Business Name

Contact Person

Phone Number

Email Address

Do They Have a Website?

Is It Mobile Optimized?

Lead Source

Notes
Including these types of details from the conversation will be beneficial to reference when conducting follow ups.  
2. Do Your Research
Think of your sales call like a job interview. Before sitting with the hiring team, you would want to research the company and learn why they might be a good company for you to join. In a similar way, try to find out information about the business before calling so you have some context to pull from during the conversation. Some helpful details to have on hand could include the owner's name, number of years in business, any marketing they're currently doing, and if they already have a website. This will help build rapport with your prospective clients.

A great way to research a potential client is to check their current website if they have one. You can often find much of this information on their "about" page. If a business does not have a website, check to see if they have a social media presence like a Facebook company page. Another effective way to find out information about a business is to simply give them a call. Before calling to make your "pitch", make a preliminary phone call to gather some information and details about the business.
3. Call at the Right Times
As the saying goes, timing is everything. Calling at the best time of day can really impact your ability to reach the business owner. Be mindful of the industry and call off hours. For example, you would avoid calling a bagel shop during morning hours because that is their busiest time of day or restaurants you would steer clear of calling in the afternoon and evening hours while they are serving lunch and dinner.

You also might find that you'll have better luck on certain days of the week. For instance, Tuesdays tend to be a slow day for most small business owners. After you know the best days and times to call, use this to help you develop a consistent cold calling regime. 
4. Tighten Your Pitch
Remember, their time, just like your time, is valuable. You have a limited window of opportunity to keep their attention and get their interest. Cut to the chase, focus on your main points, and be respectful of their time. Be sure to practice your pitch multiple times before you begin cold calling anyone. Just make sure you don't sound "rehearsed".

We recommend our resellers to offer a FREE homepage demo design as a free preview of their site. This is a very compelling offer and should be part of the pitch. People respond well when they know there is something in it for them and it is a great way to ensure they engage in a follow up call.

Here is a sample of what your website sales pitch might include:

Hello [contact's name], this is [your name] from [your agency name].

The reason for my call is this. We specialize in affordable website design and are working with some of the local businesses in your area helping them get online. When I came across [their company name], I thought you could benefit from a new website as well.

Would you be interested in seeing a FREE demo design showing you exactly how your new website can look? There is absolutely no cost or obligation to see our design, we just want to show you what we're capable of.
5. Always Follow Up
A follow up is one of the MOST crucial parts of a sales strategy. You've already spent your time and effort doing the research and speaking with the person, so don't miss out on a chance to gain a new client because you didn't touch base with them.

Create a schedule of how frequently you plan to follow up with leads. For this, try using a Customer Relationship Management (CRM) software to help you stay organized. Within these platforms, you can schedule reminders, manage customer information, and add notes about previous conversations.

Keep in mind that 60% of customers say no four times before saying yes and that 95% of all converted leads are reached by the sixth call attempt (source). As author and motivational speaker Jim Rohn once said, "the fortune is in the follow-up."

Now you have five tips to help you "warm up" to cold calling. As with any new skill, you'll get better with time and practice so pick up the phone and start dialing. While you may have to endure several rejections before you get one prospective client who says "yes", the power is in the numbers. Think of every "no" as one step closer to a "yes". If you are proactive, consistent, and work on refining your strategy, selling websites over the phone can be a very effective sales strategy, allowing you to accumulate a large database of paying clients. 
We'd love to hear from you!
Share your comments or questions using the form below.