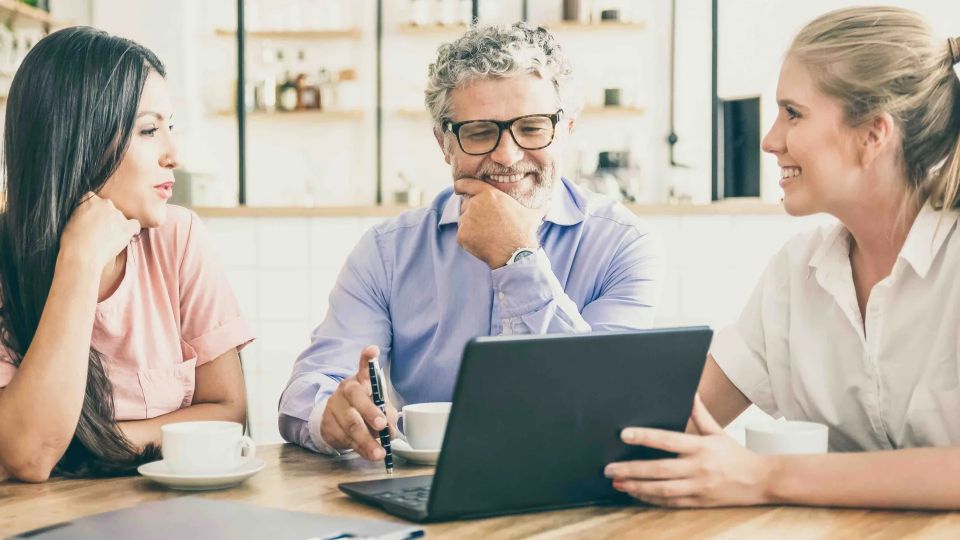 How to Present a Website Mockup to a Prospect
Published on September 2, 2022
We've all been there before. You worked really hard on a website mockup and you're excited to share it with our prospect. So you send them an email with a link to view it and await their response….and wait…and wait some more.

Oftentimes, you'll hear nothing back.

That's because you're presenting it all wrong.

Have you ever wondered why restaurants put so much effort on the presentation of their dishes? Or why the same dish seems like it tastes better just by the way it looks on the plate?
IT'S THE POWER OF PRESENTATION!
The truth is, how you present a website to a prospective small business client is just as important as how you build it. In fact, it's a vital part of the overall sales process. You put the time and effort into creating a beautiful personalized mockup website so you don't want to drop the ball in the final steps leading up to your chance to close the deal. If you think that sending your prospects a link to the website you built for them is all you need to do to get the sale, then you could be missing out on the opportunity to gain new clients, sell more websites and scale your business.

Believe it or not, there's actually a very simple, proven formula to present website mockups you could use that will boost your closing rate and help you close more deals for your web design agency. In this article, we share best practices for presenting a website mockup whether it's over the phone or in-person. This is real actionable advice based on real world experience.

Keep reading to learn how to effectively present a website mockup to a prospective small business client in a way that captures their attention, sparks their interest and opens their wallet. 
What is a Website Mockup?
The website sales process traditionally starts off with you displaying your portfolio of past work to a potential client. While this is a great way to showcase the work you have done for others, ultimately your client wants to know what you can do for them. This is where a website mockup comes into play.

A website mockup (often referred to as a "free demo design") allows a prospect to preview their website for free. It's one of the most effective ways to sell websites to small businesses using the SiteSwan platform.

Using SiteSwan's professionally designed Themes and Instant Site Creation, you can create a personalized, fully-functional, multi-page website for your prospect in about 60 seconds flat. Your clients will think you spent weeks designing their website.

By offering a free website mockup, you'll be able to stand out from the competition, earn trust and easily build value before asking for the sale.
5 Rules for Present a Website Mockup
Now that you're familiar with the concept of a website mockup and how it fits into the sales process, let's review the 5 rules you'll want to follow when presenting a website mockup to a prospect.
Rule #1: Present it LIVE (In-person or on the phone)
The first rule to presenting a website mockup is to present it live. Whether you prefer to present the website mockup in-person or on the phone is up to you, but it needs to be done live. Most SiteSwan Resellers find that presenting over the phone is just as effective as presenting face to face and is an easy and efficient way to conduct sales. Start by scheduling a day/time when you will be able to present the design to the prospect.

Once you have the mockup complete, wait until you get them on the phone before you share the link. Don't email it prior and let them view it on their own.

You want to make sure you get the prospect on the phone and have the opportunity to present the site live and get their feedback.
Rule #2: Lead the Conversation (Stay in control and keep them on track)
Before you begin the presentation, make sure that your prospective client has the site loaded on their laptop or desktop computer. Now it's time for the grand tour. Encourage them not to start scrolling without you or to start exploring other pages on the site. You want to stay in control and lead the conversation. It's your job to dictate the speed and flow of the conversation. Reading different sections of the site will help them stay engaged and avoid them from jumping ahead or clicking around the site.
Rule #3: Go from Top to Bottom (Highlight every section of the site)
Start from the top of the homepage, and work your way down all the way to the footer. Walk them through every section of the website and point out all the important features and elements of the site. Take time to explain why you designed it the way you did and how it will benefit their business. Point out specific design elements, verbiage, call-to-actions and contact forms as you go.
Rule #4: Get their Feedback (Good or bad)
Once you've completed the presentation, it's time to get their feedback. Ask for their honest opinion and thoughts about the site. What did they think of it? Listen carefully to what they have to say.

While you're obviously hoping for a positive response,  it's important to be prepared with how you'll respond to their comments - good or bad. Either way, asking for feedback is the perfect segue to the next and final step in the sales process – asking for the sale.
Rule #5: Ask for the Sale (If you want the sale, you have to ask for it)
Now that you've finished presenting the website mockup to the prospect and asked for their feedback, it's time to close the sale. How do you do that? It's simple – you ask for it.

When a prospect provides feedback, whether it's positive or negative, it shows that the client is interested in moving forward. This is your cue to ask for the sale.

Below you will find a sample of responses you may receive from a prospective client following a website presentation and examples of how you can reply to each.

Scenario A: 

Client's response: "I love it!"

Your reply: Great! Then let's take the next step! All I need is a credit card number to put the $499 setup on then give us about a week and we'll have the site ready for launch.

Scenario B:

Client's response: "I like it, but I see some things that need to be changed."

Your reply: No problem. I can make those changes for you. All I need is a credit card to put the $499 setup fee on, and we'll take care of all those changes and have the site ready to launch in about a week.

Scenario C:

Client's response: (Anything but "yes")

Your reply: What else can you tell me?
I'm disappointed to know we can't take the next step now, but I understand. While you are under no obligation to give me payment today, I would need to take this site offline if you're not ready to move forward. I just have to protect the work that we put into this. When should I follow up? (Note: Follow up is critical! - 60% of customers say no four times before they say yes.)
Presenting Website Mockups: Tips for Success 
While every mockup presentation will be unique and tailored to the client, there are some general best practices to consider to help you increase your chances of closing the deal. Try implementing these 4 strategies into your presentation process to ensure a favorable outcome.
Eliminate distractions: Schedule a time in advance to ensure you will have their full attention. You want them to be free and available so they can focus solely on your presentation and viewing the website you created for them.
Make sure they're on a computer: Laptop or desktop is preferred over mobile devices. While all SiteSwan websites are mobile friendly, advise your prospective client to access the website from a computer for the best viewing experience. 
Be prepared: Practice what you will say ahead of time. To help you feel comfortable and confident, prepare and practice so you can fine tune your pitch. There are so many exciting features that you don't want to leave anything during the presentation. 
Focus just on the homepage (Optional): You can even "hide" the content on the inner pages. They can get a good sense of your work from how you design the homepage. Once they confirm they like the direction you're going in, assure them that you can complete the rest of the site. Plus, you don't want to do more work than you have to before getting that initial setup fee payment. 
Present Your Next Website Mockup with SiteSwan 
While there are a number of ways that you can go about selling a website design, presenting a website mockup is a proven method that has been known to work time-and-time again. In almost all cases, sending a link to a prospective client to view the site you designed for them isn't enough to make the sale. With this tactic, there's no way to know whether or not they received the link, viewed the website or even liked it. Plus, you'll just have to send numerous follow up messages in hopes that you'll hear back.

Instead, with a mockup website presentation you're taking the time to show your prospect all the unique elements and design aspects of their potential website. With a real-time presentation, you're also establishing their trust, building a relationship and showing them why they should do business with you over the competition. To learn more and to watch a live demonstration of how to properly present a mockup website to small businesses, review the recorded webinar discussion here.

When you become a SiteSwan Reseller, you're given all the tools, support and resources you need to build and sell websites. With our business-in-a-box model, you can start in no time and there's no prior experience needed. Take the next step and start your own web design agency today!
We'd love to hear from you!
Please free to get in touch to let us  know what you think or if you would like to learn more.