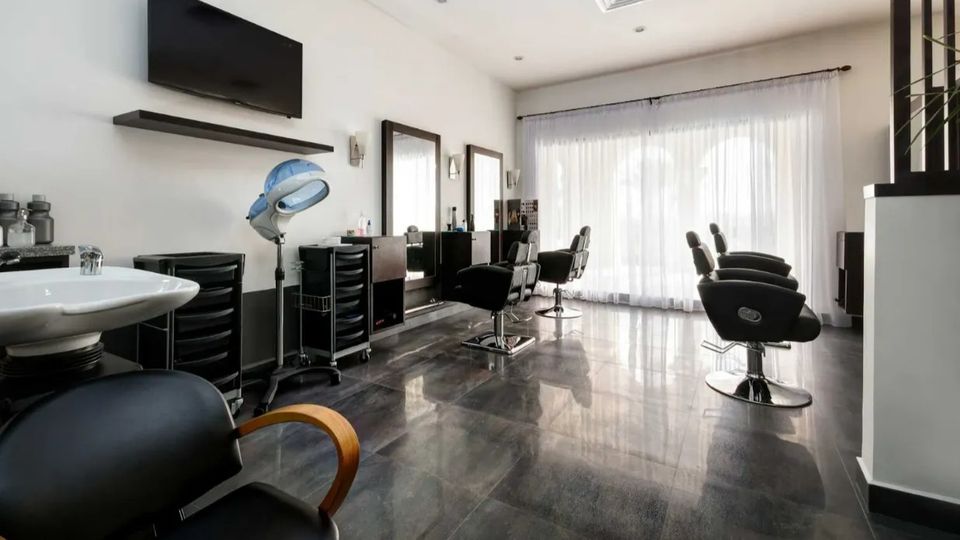 How to Sell Websites to Spa and Beauty Salons
Published on February 20, 2023
Did you know that 83% of consumers these days use a digital tool like Google or Yelp to help them find and select a local beauty salon or spa? That's a great statistic to quote when speaking to spa and beauty salon owners to sell them a website.

Are you looking to expand your clientele in the spa and beauty industry? Whether you're a website reseller just getting started or an experienced designer, this guide will help give you the tips and tools you need to learn how to sell websites to spas and beauty salons.

By implementing the techniques outlined in this article, you will be able to stay ahead of the competition and position your web design agency as a leader in the industry. There are many ways to attract and retain web design clients in this dynamic industry. Don't wait any longer to make your mark - let's get started!
What to Know About the Spa & Beauty Salon Industry
This rapidly expanding sector of the beauty industry encompasses an array of different service providers, each working to give clients a relaxing and pampered experience. Just how rapidly expanding are we talking about here?

Expert analysts predict that the spa and beauty salon industry will grow to a whopping $217.25 billion by 2026. That represents a 6% CAGR (compound annual growth rate). A realistic and average growth rate is about 5%, indicating this is an especially lucrative industry.

Within the industry, certain treatments seem to stand out as the most popular, too. Understanding what these are can help you target business owners offering those treatments.
Most importantly, consumers expect fast service with high-quality standards from these establishments. So, it's critical for the success of any spa or salon that they provide clients with accurate information about their services.

That's where you come in! Speaking about this industry growth with potential clients is a great way to start the conversation about their business needs. From there, it's up to you to chat about how important a local spa website is to its success.
Businesses in the Spa & Beauty Salon Industry
From nails to facials to waxing, businesses in this industry are well-versed in a variety of treatments. They offer everything from basic services to more specialized treatments such as body wraps, scrubs, and even massages.

Understanding which types of businesses are the most popular and lucrative is critical for you. After all, you don't want to sell websites for beauty salons or create a local spa website if you don't understand their services or their appeal.

Nail Salon

Nail salons offer a variety of services such as mani-pedis, acrylic nails, and nail art. The staff often consists of dedicated professionals whose training and attention to detail can transform nails into works of art.

Hair Salon

Hair care is a huge industry, and with the right team of talented stylists, hair salons can provide excellent services to their customers. Hair salons are very versatile as they can offer a variety of services such as haircuts, perms, color services, styling, and treatments like conditioning.

Lash & Brow Salon

Professionals at eyelash and eyebrow salons are better equipped than ever to offer a variety of services and provide a world-class experience for their clients. Often, these types of beauty salons offer services that include:
Lash extensions

Lash tinting

Lash lifting

Eyebrow shaping

Microblading
This type of beauty salon is super niche. In fact, it's so niched that we've only recently seen an uptick in interest for such a specific type of salon. While the concept is still new, that makes it a great market to enter as a website reseller.

Medical Spa

Medical spas provide a wide range of health and beauty treatments. Often, this includes medical treatments such as:
Dermal fillers

Botox injections

Laser hair removal

Skin lifting

Massage therapy
All in all, medical spas have become our modern-day fountain of youth. Keep this in mind when choosing the right website design or theme for this type of business.

Massage Spa

Finally, massage spas have become increasingly popular in recent years as consumers seek out more holistic methods of relaxation and self-care. Massage treatments are a great way to promote overall wellness. After all, they can:
Improve circulation

Help relax tense muscles

Reduce stress and anxiety

Improve range of movement
Massage spas provide an oasis of calm amidst the hustle and bustle of everyday life. This makes them different from medical spas or your regular hair or nail salon. Again, understanding this difference is critical as you build and sell websites for salons and spas.
The Benefits of Websites for Spas and Beauty Salons
The benefits of websites for these businesses go beyond being able to display information about treatment prices and list special offers.
By having an online presence, beauty salons and spas can:
Reach more potential customers from wider geographic locations

Generate new leads through local SEO techniques

Create a stronger relationship with customers by providing relevant content such as product reviews or facial tutorials
The impact that a website makes on the success of many spas and beauty salons is clear. After all, those looking for the best in spa experiences increasingly expect to easily find that information with just a few clicks on the internet.
Websites for Spas and Beauty Salons: What to Include
When it comes to salon website design or spa website design, there are several key components to include to draw attention from potential customers.

Here are a few key elements to include regardless of what kind of business you're working with.

• Mobile-Friendly Website Design

With the widespread use of mobile devices, having a website that is optimized for mobile has become a necessity for businesses. By ensuring you client's  website is mobile-friendly, you make it effortless for customers to access essential information such as hours of operation, photo galleries, and exclusive deals - all from the convenience of their mobile phones.

A mobile-friendly site should not only be visually appealing but also easy to navigate and read across various devices, including smartphones and tablets.

• Service Pages

The service pages on your client's website should provide an in-depth overview of all the treatments they offer, complete with comprehensive descriptions and visually appealing pictures. By showcasing the details of each service, potential customers can make an informed decision on whether to book their next appointment with your client.

The information provided on these pages is essential to give customers an accurate understanding of the services offered and what they can expect from each visit or treatment. Ultimately, the quality and clarity of your client's service pages can significantly impact their business's success, as it can help attract new customers and keep existing ones satisfied.
• Price List
In the spa and salon industry, a pricing list can be thought of as a virtual menu, providing customers with a comprehensive guide to the services they offer and their corresponding costs. By having a dedicated pricing page or price list, customers can conveniently browse, compare and make informed decisions based on their budget and preferences.

A pricing list is not only useful but also expected, as it helps customers to have a clear understanding of what to expect before booking a service. Whether it's the price of gel nails or microblading, a well-structured pricing list can eliminate any guesswork for customers, ensuring transparency and building trust in your business.
• Photo Gallery

Having a photo gallery on a website is an essential aspect of the spa and beauty salon industry. This is because customers in this industry are primarily interested in the final results and the quality of the services offered. By having a photo gallery, a business can showcase their expertise, the various services they offer, and the results their clients can expect.

Customers are more likely to book an appointment or visit a salon if they can see examples of previous work, which can increase their trust in the business. Additionally, a photo gallery can also serve as a source of inspiration for potential customers who are looking for ideas on different hairstyles, nail designs, or other beauty treatments. In today's digital age, having a photo gallery on your website can help attract new customers and keep your existing ones engaged with your client's brand.

• Customer Testimonials

Hearing real-life experiences from satisfied customers can provide potential clients with valuable insights into the quality of service they can expect from your client's spa or salon. This is especially important in the beauty industry where clients are looking for exceptional results.

Whether it's a stunning balayage, expertly applied lip injections, or any other service, testimonials from happy customers can help establish trust and set realistic expectations. By showcasing the positive experiences of past clients, you can encourage new customers to visit your client's salon or spa, confident that they will receive top-notch service and leave feeling satisfied.
How to Sell Websites to Spas and Beauty Salons
Are you all caught up on the benefits of websites for spas and beauty salons as well as which features they should include? Great!

Now, it's time to think about how to sell websites to spas and beauty salons. If you're looking for ways to sell websites to spas and beauty salons, the best approach is to identify their needs and offer tailored solutions that meet them. Here's how to do that.

Pick a Niche

Picking a niche means deciding which type of beauty salon or spa you'll target. While you can target business owners in the general industry, it's great to tailor your pitch and services to something specific like medical spas or massage therapists.

Find a Spa and Beauty Salon Owner

Connecting with the right person is essential, as it will help you develop a relationship and better understand their needs. Reach out via email or social networks and target owners who are digitally active in their marketing efforts.

Use SiteSwan's Local Prospecting Tool to find businesses in your area that fit into the industry you want to service.

Focus on the Benefits

When you're speaking to a spa or salon owner, focus on the business benefits of having a website. Talk about things like:
Increased visibility

Customer contact

Creating an impression of trustworthiness and professionalism
Let them know that their business can stand out among competitors with an easily accessible website and powerful online marketing strategies.

Communicate Future Value

To be successful, it's essential to clearly illustrate the advantages they will get in the long run.

Talk about increased visibility in search engine rankings which can attract more customers, customer reviews that help build trust and credibility, as well as easy-to-navigate navigation that can simplify the customer experience.

Show them how updated features such as secure payment processing or optimized loading speed result in improved customer service and overall success.

Use SiteSwan's Pre-Designed Themes to Create and Present a Website Mockup

Finally, realize that you don't have to build a website from scratch! Instead, use a pre-designed local beauty salon or spa website theme (or any other Website Theme we have).

From Medical Spa and Message Spa to Nail Salon and Hair Salon, we have a variety of professionally designed Themes for you to choose from. Our Themes are designed with industry-specific SEO content and high-quality stock photographs which means the heavy lifting has been done for you. All you have to do is tailor the website and content slightly for each business's unique needs and present it to your client. 
Become a Website Reseller With SiteSwan
Now that you know how to sell websites to spas and beauty salons, it's time to build your website reselling business. Luckily for you, with SiteSwan, becoming a website reseller is now simpler than ever before.

We provide pre-designed web themes so you can get your projects off the ground faster. Plus, there's something special about seeing the satisfaction of your clients when their dream businesses come to life right before their eyes.

Get started today and unlock a whole new realm of possibilities in the website design space for spas, salons, and other businesses with SiteSwan.
We'd love to hear from you!
Share your comments or questions using the form below.