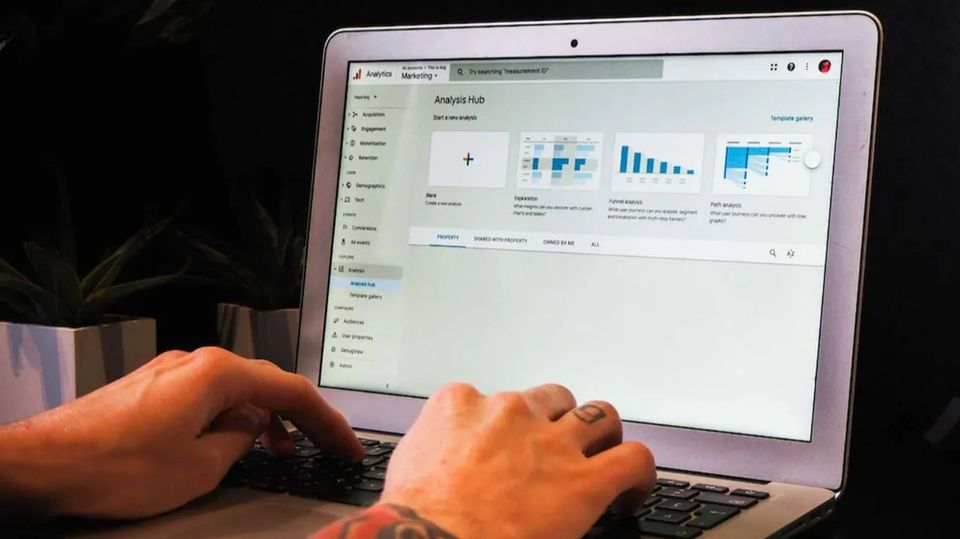 Your Guide to Switching to Google Analytics 4
Published on November 14, 2022. Updated on February 6, 2023.
Are you using Google Analytics to track the performance of your website? If not, you should be! Over 7.1 million websites around the globe are currently using Google Analytics to track and measure everything from page views to bounce rates.

Overall, Google Analytics is a great tool to use if you're interested in helping your clients make sense of their website performance. However, it's important to know that in July of 2023, Google will officially sundown Universal Analytics, forcing millions to make the switch to Google Analytics 4.

What does this switch to the new Google Analytics mean for you? This quick guide will walk you through everything you need to know and then guide you through the transition process step-by-step. 
What Is Google Analytics?
Google Analytics is a free tool that website owners can use to track and report their site visitors' activities. The platform can track things like:
How many people visit a site

Where they come from

How long they stay

What pages they view
As a business or entrepreneur, you can use this information to identify trends and improve the overall website experience.

Likewise, you can also use Google Analytics to track the effectiveness of marketing campaigns and to segment website visitors into different groups to better understand their needs.
Why You Should Be Using Google Analytics
Simply put, any business with a website should be using Google Analytics to track its website's performance. Not only is the service free to use, but the platform provides you with a wealth of data about your visitors.

This information can be invaluable in helping to improve your website's overall performance. And, as mentioned above, you can use these insights to improve your content marketing efforts.

We're about to dive into the benefits of those insights. However, it's important to note one thing. Regardless of the analytics platform you use, you must track website analytics.

First of all, website analytics allows you to, well, track and analyze your website traffic. This means that you can see where your visitors are coming from, what pages they're spending the most time on, and even how they got to your website in the first place.

And with this information, you can make more informed decisions about your website's layout and content strategy. Additionally, website analytics can give insight into potential customer behavior and interests, which can help with targeting advertisements and making sales.

Ultimately, viewing your website statistics can give you valuable insights into your business and help you to make more informed decisions about marketing and content strategies.
What to Know About Google Analytics 4
Alright, so you know a lot about Google Analytics by now, but we mentioned there was a new version of analytics in town, right? In October 2020, Google released something called GA4, which stands for Google Analytics 4.

Before GA4, the most recent version of Google Analytics was Universal Analytics (also known as UA), which was released in 2014. GA4 is a complete rewrite of the Google Analytics platform with a focus on leveraging machine learning to provide more insights into customer behavior.

Sounds simple enough, right? Do you just get to enjoy better analytics insights and reporting? Not so fast.

Google has announced that it will officially end Universal Analytics in 2023. This means that UA properties will stop processing new data starting in July 2023. Report data will remain available for at least six more months. But it's highly unlikely that your old reports will still work in 2024.

This means that those who want to access their data year after year when UA ends should have completed their transition to GA4 before July 1st, 2022.

However, if you haven't completed your migration yet, it's not too late. It's quite simple to transition your accounts (and we'll get into that in a bit!).
Google Analytics 4 vs. Universal Analytics: What's Different?
GA4 includes some major changes from Universal Analytics. While it's almost impossible to list all of them in such a small space, here are some of the most significant differences.
Updated Dashboard
First and foremost, the GA4 dashboard has been redesigned and features new tools and reports. Plus, GA4 integrates with other Google products like BigQuery and Firebase, giving you even more data to work with.
Focus on Machine Learning
GA4 uses a machine learning approach to data collection, while UA relies on traditional rules-based sampling. This means that GA4 is better at understanding complex user behavior and can provide more accurate results.
New Data Model

GA4 uses a new data model, which is based on events instead of page views. This allows for a more granular analysis of user behavior.


Cross-Device Identity

GA4 uses a new concept called "cross-device identity" to track users across devices without using IDs. This means that you can get insights into how people use your website on different devices, even if you don't have their personal information.


Tracking Offline Conversions

GA4 allows for the tracking of offline conversions, such as phone calls or in-store visits. This means you can finally see the full impact of your offline marketing efforts, whether it be through events, print campaigns, or in-store promotions.


New Additional Features

Finally, GA4 introduces some new features that weren't available in Universal Analytics. These include event-based goals, which allow you to:
Track conversions based on specific events (like button clicks or sign-ups)

Create remarketing audiences and more targeted audiences for your ads

Enjoy enhancements to eCommerce tracking to track sales and measure ROI
Overall, these changes can make a big difference if your team knows how to implement the data effectively.
The Benefits of Google Analytics 4
Ask anybody who switched over to GA4 already. There's no denying that Google Analytics 4 offers many benefits over the previous version, including improved data collection, better insights, and enhanced user control.

However, it's important to understand that one of the biggest benefits of Google Analytics 4 is improved data collection. GA4 collects more data than ever before, making it easier to get insights into website traffic and user behavior.

Additionally, GA4 offers new ways to collect data. The sooner you switch over, the sooner you can start to enjoy "smart data measurement. As mentioned, GA4 uses machine learning to automatically identify and track important events on a website.

Another big benefit of GA4 is the improved insights. The platform provides more detailed information about website traffic and user behavior. Additionally, GA4 offers new ways to visualize that data, making it easier to find trends and patterns.

Finally, GA4 offers enhanced user control. This is great if it's your job to pull and analyze website statistics. You can now group different types of data for better analysis, and share that data with other users more easily.
How to Transition to Google Analytics 4
So, are you ready to switch to Google Analytics 4? If you're currently using Universal Analytics, transitioning to GA4 is easy. Just follow these steps.

First, create a GA4 property in your Google Analytics account. You'll need to provide some basic information about your business, such as your website URL and business industry.

You can then create a data stream. This simply means you need to check whether your data is coming from an Android or iOS app or the web.

Next, you'll need to enable tracking. This means you're giving Google permission to track your website analytics. To do this, you'll need to sign into your Google Analytics account and click on Admin.

Find the Property tab and click on Data Streams > Web. Click on the data stream you just created for your website. You should see an option that says Google Tag that you'll want to click on.

This is your tracking code. Install this tracking code on your website so that GA4 can start collecting data about your visitors. Note that you can also complete this step using Google Tag Manager.

After you've installed the tracking code, you'll need to wait for some data to come in before you can start using GA4. This may take a few days or even weeks, depending on the amount of traffic your website receives.

Once you have some data in your GA4 account, you can start exploring all of the new features and insights that are available.
Is Switching to Google Analytics 4 Mandatory?
The short answer is no, switching to Google Analytics 4 is not mandatory. However, it's important to keep in mind that the older versions of Google Analytics will eventually be phased out and unsupported.

If you'd rather not make the switch yourself then you can rest assured that all older UA accounts will automatically be switched over to GA4 on July 1st, 2023.

Switching to GA4 now simply allows you to take advantage of its new features and benefits, such as improved measurement of app usage and enhanced data privacy options.

Likewise, if you set up Google Analytics for a new website now, it'll automatically default to a GA4 account. This means you don't have to do anything special if you're setting up tracking for a new site.
Get Help With the Google Analytics 4 Transition
Transitioning to Google Analytics 4 offers several advantages for businesses, including the ability to collect data across devices and platforms in a single place. If you're looking for help making the transition then we're here to help.

We've created a helpful how-to guide for all of our SiteSwan Resellers that explains how to transition to GA4 for any of your sites. Click here to read through the guide and get in touch with any questions.
We'd love to hear from you!
Please free to get in touch to let us  know what you think or if you would like to learn more.