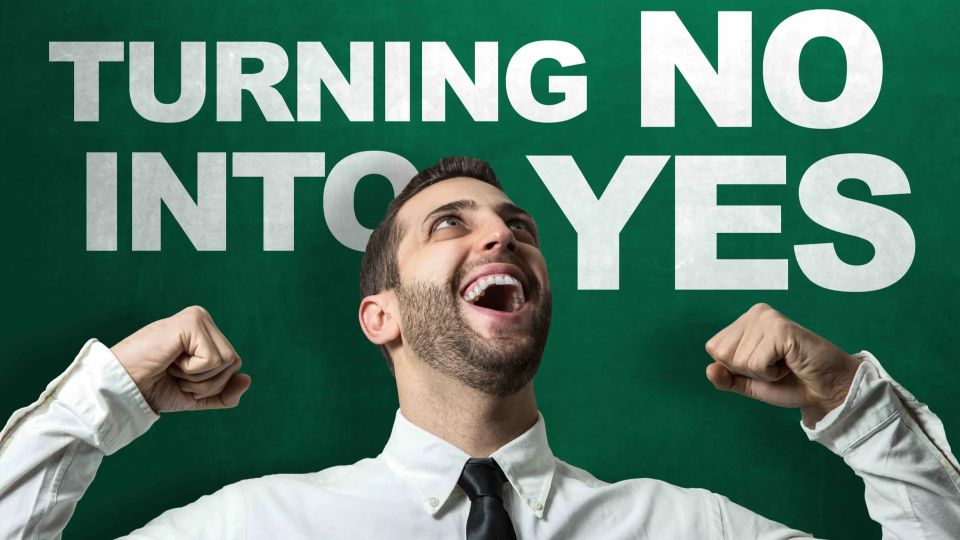 How to Overcome Common Sales Objections 
Published on May 8, 2023
It doesn't matter what you're selling or how long you've been selling, you're bound to face objections from time to time. Selling websites to small businesses is no exception. What separates sales people from great sales people is the ability to overcome objections without getting discouraged. Effective sales people often view objections as opportunities, rather than barriers.

The best way to overcome sales objections is to familiarize yourself with what a potential customer might say. Once you know what objections they might have, you're able to prepare responses that address their underlying concerns with valuable solutions.
4  Tips for Handling Objections
Let's go over some general tips and guidelines for handling objections. You should always follow these tips for any objection you encounter.
Validate their concerns by repeating it back to them. This has 2 major benefits - it not only makes your client feel heard and understood, but it lets you slightly reword it, if necessary, so you can more easily overcome it. 
 
Thank them for their honesty in raising their concern. By doing this, you're essentially complimenting them for having the guts to be honest while also making them really commit to this objection so they can't squirm out from under it. 
 
Ask if there's anything else concerning them? You don't always have to ask this question, but if you do, do it BEFORE you address their objection. This way, if they say "no", which they probably will, then you're teeing them up for the sale after you overcome the objection. 
 
Be polite and don't talk down to them. You don't want to make them feel like they're doing something they shouldn't. You want to try to get on their side and stay there while overcoming their objection. 
So with those tips in hand, let's look at the top sales objections you might face when selling websites to small businesses, and how you can respond to them:
Objection #1:
They say: "I"m too busy as it is. I don't need a website."

Your response: I hear this a lot - and I get it - you've survived all this time without one, so why now would you suddenly need one if things are going well?

First of all - congratulations for being able to stay so busy without the aid of a marketing tool that works 24/7. You have a lot to be proud of and lots of businesses wish they could say this.

But here's the deal: The one truth in business is that past success does not guarantee future success. Just because what you're doing is working now, it doesn't mean it always will, especially with the speed at which consumer behaviors change. I can't help but wonder if part of what makes you so busy is that you're constantly having to establish trust with potential customers, you're answering the same questions over and over on the phone, and maybe you're busy with the wrong customers - all that bogs you down and makes you FEEL busy.

Here's what I mean: if you had a larger pool of potential clients to choose from (because you were getting more leads, for example), you could cherry pick your favorite, most profitable clients. So you may not need MORE clients, but simply BETTER clients to enjoy your life more as a business owner.  Look, not having a website today is like not having a phone number 20 years ago for your business. Imagine not having a phone number for your business…and your website monthly fee - what I would charge you, is just $50/month - which is less than what your phone bill is. Would you be willing to see my ideas for a website design for your business in that price range?
Objection #2:
They say: "A website costs too much money."

Your response: I totally understand your price sensitivity. I'm sure you have a lot of costs associated with running your business, so you need to know you'll get a good return on any investment you make. I get it.

I'm sure you've heard some of your peers spend $2,000, $5,000 or even $10,000 to launch a nice website. Because of our proprietary technology and process, we are able to offer the same or better quality as our competitors, but at a fraction of their cost. For just $499 up front and $49/month, you get a professional website specifically designed for your business, it's fully responsive so it works great on all devices, tablets, smartphones, etc., we help you with your domain name, set you up for search engine optimization, we offer super reliable cloud hosting, an SSL certificate for maximum security, perpetual compatibility with all future technology, Do-it-for-you updates whenever you need them, built-in traffic stats, friendly local support, and no hidden fees - and FAST turnaround - I can get a site launched for you in less than 2 weeks. This will help you make an amazing first impression, increase your online visibility, improve your search results, build consumer confidence, and attract more people to your business. And all this costs less than a cup of coffee a day.

So again, at $499 up front and $49/month does that feel WAY higher than you imagined this would cost?" And then keep a promotional offer (discount on the setup fee) in your back pocket.
Objection #3:
They say: "I don't have time to talk about this. Can you just email me some information?"

Your response: It sounds like time is a very scarce resource for you, and I want to respect that. Let's skip the small talk and get right to the point, then - and if you'd prefer we do this after hours, or at a specific time when you don't have customers in front of you, then let me know, but this will only take a minute and your competitors are doing it, so I don't want you to miss out.

The process of getting a website with us is very straightforward - I already know 90% of what we're going to do for you - in fact I have your homepage all designed in my head already, because I've been researching your industry. We do all the work - it requires no work from you. It's completely hands-off. I literally just need a credit card number, and we're done. Remember, I'll not only design & launch your site, but I'll even help you keep it up to date by making edits and changes on your behalf whenever you need them done.

The first step is to do a 100% free homepage design for you. No obligation - if you love it, we move forward and the site is launched in a week. If you need changes or modifications, we'll do them until you love it. I promise it won't bog you down or interfere with your day-to-day responsibilities. Will you let me do a free homepage design for you?
Objection #4
:

They say: "I don't need a website – I've got a Facebook page."

Your response: I'm very happy to hear that you are active on social media. While social media is very important, it's not a substitute for a website.

What I'm proposing is that you take a more holistic approach to your marketing - and increase your exposure across the internet in our community.

Don't you wish you had more flexibility with the types of things you post to Facebook? You can use a website to expand on your Facebook posts, and create pages on your site to flesh out topics and subjects you post about.

A website functions as the hub of all your advertising and marketing and is 100% branded for you (unlike Facebook which will always be co-branded and cluttered with links and ads to your competitors). Plus, only about ⅔ of Americans are on Facebook, it's technically a Google competitor (which doesn't bode well for Google search results), you're subject to their ever-growing list of restrictions,  limitations, and censorship, and advertisements are always flanking your Facebook page. Only your website will have its own domain name, and is a critical element of your company's overall branding. Would you like to see an example of how beautiful a new website for your business can be and compare that to your Facebook page?" (and see how well it can work with your Facebook page?)
Objection #5:
They say: "I don't need to hire a web designer. I'm going to build one myself."

Your response: Let me ask you: 'what's the reason you haven't already built one?'

I know you have limited time & resources as a business owner. I've watched a lot of business owners struggle to build their own sites on one of those platforms you see advertised on TV. Look, you're a (insert industry name - "plumber") would you suggest I (perform service they offer - "fix a leak in my bathtub drain") myself, or would I be much better off hiring a professional with experience? If you don't build websites every day, you're gonna be hard pressed to create and maintain something using industry best practices the way I can for you.

Look: the truth is most small businesses who think they can build their own site end up getting frustrated, they give up, and then they wind up paying someone to finish it for them, which oftentimes can be more expensive than just hiring my firm from the get go. Remember, I offer a no-risk homepage design so you can see what I'm capable of before you pay a dollar. This isn't a free estimate or proposal - it's an actual homepage design I'm going to build specifically for your business, and I don't charge anything for you to see it. 
Objection #6:
They say: "I already have a website. Why do I need a new one?"

Your response: Let me ask you: "would you label yourself 100% happy with your existing website?"

If no: "well, I think you should be, and my clients only stay with me because they feel that way."
If yes: "well I believe you should be 110% happy with your site, the way my clients feel about theirs"

I couldn't help but notice some things about your site that might need attention: for example, I didn't see an active SSL certificate on your site, which is critical for instilling confidence and trust in your visitors, and helping you perform better in search. I also noticed some outdated information on your site, there isn't a great call to action that tells people what they need to do when they first get there - and I don't think your clients are getting the impression that you're their best option amongst your competitors. You have the ability to put your business in a better light to make a better first impression on clients. I would love to show you my ideas for a new website for your business that includes all of these things, and will probably even get you better search results. Would you be willing to set aside a couple minutes to review it with me? Keep in mind there's no cost to see it…
Objection #7:
They say: "Business is slow. We need to wait for things to pick up."

Your response: I'm sorry to hear that business is slow - it's a challenging time for a lot of business owners. Decisions to increase your "expenses" at a time like this might seem counterintuitive, but when you think about a website being the hub of all of your business marketing - it's actually an essential piece of the puzzle to turn things around - and one that's surprisingly affordable and easy to get a return on.

If heaven forbid things get worse you'll probably kick yourself for not investing $50/month for a professional website to help you right the ship. I can point to several examples of other businesses who faced a similar threat and are so grateful they chose to prioritize their marketing when times were toughest. After all - you need more deals to go through to pick up the business - and we build the types of websites that make consumers want to work with you.

Our website services come with a setup fee & a monthly fee - they're extremely competitive and reasonable, but given your situation, if I was able to work out a payment plan with you for the setup fee so that you don't experience an upfront burden, would you be interested in seeing a homepage design idea I have for your business?


As mentioned earlier, the best way to handle sales objections is preparing yourself for what someone might say. Review the objections listed above and practice the responses. You want to make sure that the responses flow out of you easily, that you don't stumble over your words too much, and that it aligns with the way you normally speak. Practicing and role playing with a friend or family member can help you get comfortable saying these responses.

Also, don't get frustrated. Someone might cut you off as you're going through your rebuttal. Or they might change their tune and throw a different objection at you - or maybe they're just argumentative. If they're not willing to engage with you, don't lose your cool or get down on yourself. Move on or try them again another time. And always remember to sell yourself. People like buying from people who they like. If you're not amicable, friendly, or down to earth, it won't matter how good your pitch is or how good your rebuttals are, they're just not gonna buy.

Finally - don't forget to ask for the sale. The best time to ask for the sale is after you've successfully overcome an objection!
We'd love to hear from you!
Share your comments or questions using the form below.