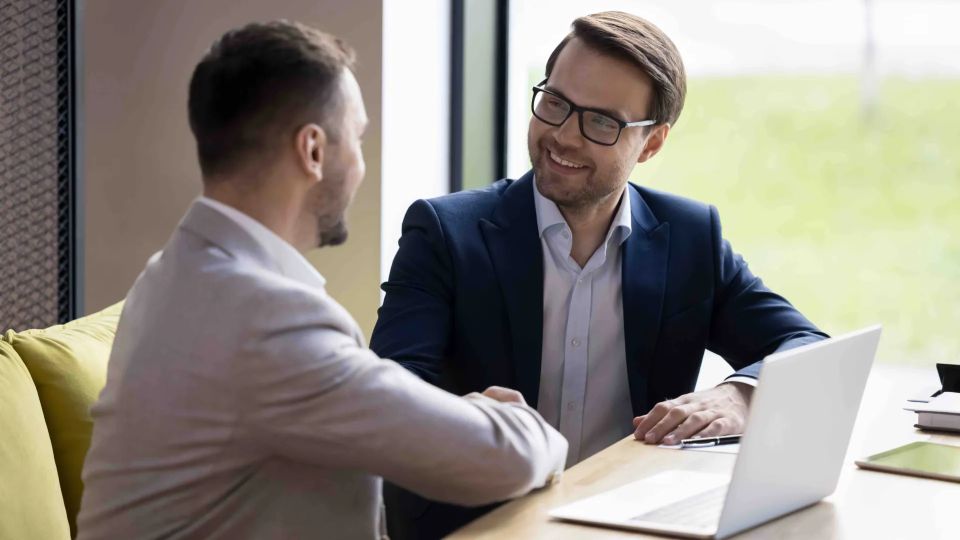 31 Ways to Generate Leads for Your Web Design Agency
Published on April 3, 2023
With over 84,000 web designers in the US, you would think the industry is over-saturated with competition, making it impossible to find work.

However, it's quite the contrary. Skilled web design is one of the most sought-after services for small businesses all over the country, and the need is only growing. Websites are no longer an exception, they're an expectation. Today, every small business needs a professional website for their company, creating a lucrative opportunity for web designers and independent freelancers all around the world.

But that doesn't mean growing your web design business will come easy. You still have to be proactive with sales and find customers. And it goes beyond just handing out business cards to a few friends. Fortunately, it doesn't need to be difficult either with the right tips. In this article, we will reveal over 30 different ways to generate leads for your web design agency!
The importance of lead generation for a successful web design business

Running a successful web design agency requires a constant flow of new clients to keep your business growing. Lead generation is the process of identifying and nurturing potential clients who could use your web design services.

Lead generation is essential for any business, especially for a web design agency. Without a steady stream of new leads, your business may struggle to survive. That's why it's important to have a diverse lead generation strategy in place that includes a mix of traditional and online methods. By implementing these methods, you can reach out to a wider audience, build relationships with potential clients, and ultimately grow your business.

So, let's get started and explore the 31 ways to generate leads for your web design agency!
1. SiteSwan's Local Prospecting Tool
If you are currently building websites for your clients using the SiteSwan platform, you can also use it to find clients as well. SiteSwan's Local Prospecting Tool is one of the most effective and unique ways to identify potential web design clients in your market. This proprietary tool lets you search for local businesses in your area, see which businesses do and DON'T have a website, and create a ready-to-sell demo site in under a minute. The Local Prospecting Tool will even check those businesses who have a website and determine if their current site is mobile-optimized or secure.

Start by entering a keyword or industry like "Restaurant", "Painter" or "Plumber" and enter your city & state or zip code. Our Local Prospecting Tool delivers a long list of nearby businesses complete with their contact information and whether or not they currently have a website. Remember, just because a business currently has a website, doesn't mean they don't need a new one. Be sure to check out all existing websites to see which can benefit from a redesign and pitch them on a new site. Many successful web design agencies have claimed that SiteSwan's Local Prospecting Tool is "gold" and worth the subscription fee to the platform in itself.

2. Leverage Your Existing Customer Base
If you already serve small business clients, this is the perfect place to start selling websites. Talk to your existing clients and ask them to promote your services and make a recommendation. If they're happy with the services you offer, they'll likely want to help!

Business owners typically know other business owners. Ask questions and see if they know someone who might need a website. Also, word-of-mouth marketing is the most effective form of marketing there is. Someone else does the sales pitch for you, and we trust people we know better than another one of the thousands of ads we see.

Essentially, this is the lowest-hanging fruit with the highest potential for short-term sales. Use it to your advantage!

Another way to leverage your existing clients is by building up your portfolio. Presenting real life examples of your past work is a great way to showcase your talents.

3. Reach Out to Family & Friends
We all know someone who owns a small business or sells freelance services, whether it's a family member, friend, or neighbor. Offer to build them a new site for their business as you launch your web design business.

Even if you're doing this for free or for a discounted rate, it can give you a chance to build a professional portfolio where you can direct future leads.

Also, much like your existing customers, this can help with word-of-mouth marketing. Talk to friends and family and ask them to keep their ears out for anybody they know in need of web design services! Leveraging your existing network and personal contact is always one of the easiest places to start.

4. Post to Job Boards like Craigslist
Posting your web design services on job boards is a great way to spread the word. Often, local businesses check these service listings to find local businesses selling their services. Craigslist is a great example, but there are plenty of others worth trying!

Some of these will cost money to post your services, but most of them are affordable and only require a fee of around $5, including Craigslist. Some are even free for first-time users! Spread your eggs across as many baskets as possible, and always look for new places to post your services.



5. Optimize Your Own Marketing Website
The website you use to market to clients needs to be stellar. You could drive traffic to your site all day, but if you're making a bad first impression with your marketing site, it's unlikely your visitors will go much further. Why would they want you to design their website if yours isn't up to par?

Your marketing website serves as a visual representation of your personal brand and the quality of the work you provide. Make sure your site is professionally designed, features your logo and is connected to a domain that is easy to remember (and spell). Be sure to have a portfolio page with samples of your past work, a pricing page, and a contact page with a lead-capture form.

One of the perks of becoming a SiteSwan Website Reseller is that we provide you with a professionally designed marketing website so you'll look like a pro right out of the gates!
6. Network at Local Events
Business leaders and professionals in every city always look for opportunities to network. You don't need to take much initiative other than finding existing ones in your area.

For example, you can get on platforms like MeetUp or Eventbrite, both of which show local events in your area. Try to find local networking events, business conferences, and more that are open to the public. This is a great way to meet your target audience directly and make a face-to-face sales pitch. You can even find virtual events to participate in.

Just remember, the sale isn't the only objective when networking. The more people you know in your area, the more likely your business is to be successful. Get to know as many people in your community as possible, and when the time is right, let them know about your web design services.

At these events, people will usually ask what you do for a living. This is a great opportunity to spread the word about your services and potentially find someone looking for a web designer.

7. Join a Chamber of Commerce
Joining a local Chamber of Commerce is a great way to promote your web design business. They'll do a lot of the marketing for you and help spread the word to other businesses in your area. It's also a great way to network with other businesses in your area.
Many chambers of commerce host monthly meetings where you can meet other business owners face to face. This is the perfect opportunity to introduce yourself and pitch your services.

8. Get Active on Social Media
Social media is free, effective, and has nearly unlimited potential. One of the best platforms to use as a web designer is Facebook. Facebook has over 2.9 billion active users of all generations and backgrounds. It's the largest social network by far, and it is where you're likely to find the most potential clients.

Alternatively, LinkedIn is another great option. LinkedIn is heavily focused on the business-to-business market making it another great opportunity for outreach. Create a profile, share content and start building your network.

While you can reach out directly to potential leads and even invest in ads, it's always best to grow an organic following first. Just remember to post engaging content regularly and stay on brand. This will offer a lot of legitimacy for a relatively limited amount of work.

9. Pick Up the Phone
Whether you'd believe it or not, cold calling actually works. Even if your success rate is only 2%, that means you'll get one new client for every 50 phone calls you make. That's not a bad statistic considering you can make hundreds of calls every day. Plus, if they're happy with your work, they'll spread the word.

Therefore, this is a great way to get the ball rolling when you are just starting out as a web designer or during a dry spell. Many successful agency owners claim that cold calling is an essential part of growing their business and picking up the phone is a way to "earn your stripes" as a new entrepreneur.

When cold calling, you'll need a solid sales pitch and be prepared to overcome possible objections. It's also very important to always follow up.

10. Craft Search-Friendly Content
Remember, you want users to find your content organically. This is the best way to generate leads by far. When people find you organically, it starts their journey with your business on an initial note of trust.
Ads are great, but SEO is better, especially for a web designer. Prospective leads will want to know if you can get their websites to rank on Google. SEO is quickly becoming one of the most sought-after services for business marketing.

If you don't already have a blog, build one right away. You can write about all different web design-related topics that can help your target audience find you. Give them reasons to hire you as a web designer.
Also, remember that you're writing this content for users, not search engines. If the content is high-quality, Google will catch on. If the content is written for search engines, your users will catch on.

Try to answer serious questions as best as you can. For example, you can write a piece titled "How to Improve My Website's Security."

From there, you can answer the question thoroughly, highlight some of the pain points, and position your services as the solution. Add a strong call to action (CTA) at the end to have them contact you, and share your content on social media for an added boost. If your website is already optimized, you could start ranking this content sooner than you would think!

11. Utilize Email Marketing
If anyone ever tells you that email marketing is dead, they did you a favor. They told you not to listen to another word out of their mouth.

Email marketing is not only alive but offers the highest average ROI out of any marketing platform available. On average, email marketing yields $42 for every $1 spent.

Building an email list takes time, but it's well worth it. Everything you do to improve customer retention for maintenance services will dramatically improve your business's sustainability in the long run. Leave prompts for people to sign up for your newsletters on your website, and keep your emails as informative and professional as possible!
12. Host a Workshop or Seminar
There are plenty of online platforms where you can host a workshop or seminar for business leaders interested in improving their websites. This can be done entirely online, or you can market for an in-person seminar if possible.

You can run through all sorts of topics that business owners may care for. On some platforms, you can even record your workshop and sell it for individual prices, like Udemy. This way, even if you don't have a large turnout, you can still generate passive income and potentially gain leads.

If you want to offer the workshop for free, you can do it on YouTube or similar platforms. A live workshop will work the best in the short term, but a YouTube workshop could attract more leads in the long run.

There are plenty of topics to choose from as a web designer, including:
Basics elements of a website

Improving website usability

SEO best practices

Accessibility

Website marketing
The list goes on. Business owners are always looking for lessons from professionals, especially free ones!
13. Ask for Referrals
Ask your existing network of clients for referrals, either online or in person. Talk to your customers about giving reviews or testimonials on your website, your Google Business Profile, or elsewhere online. This is a pretty simple and straightforward ask, so why not try it?

One of the best ways to get more reviews is to have an effective Reputation Management strategy in place. Online reviews aren't just for restaurants anymore. Even web designers should be diligent about generating more positive reviews and deflecting negative reviews about their company.

14. Partner with Other Freelancers
Let's say you specialize in affordable, simple websites. You can partner with an agency that builds more robust sites or serves higher-end clients. Chances are they turn down a lot of businesses that come to them with limited budgets, just like you might turn down clients looking for a more complex website solution.

Make an arrangement where you'll send them leads for website projects you can't fulfill and they send you smaller clients that are looking for a low-cost solution. You can even strike a deal where you give each other a "finder's fee" so you'll both earn something on every sale.

Alternatively, you might partner with freelancers who don't offer websites at all. Photographers, content creators, marketers and graphic designers all serve small businesses. Many times their clients will ask if they offer web design as well. Instead of turning them down completely, they can recommend you instead. In exchange, any time one of your clients needs one of their services, you'll return the favor.
15. Offer a Discount or Special
A discount or special offer is always a great way to generate leads. Just like consumers, small businesses need an incentive to take action. Discounting the setup fee on a website can be an effective way to attract new clients for your agency.


16. Run a Google Ads Campaign
If you can afford it, paid advertising is one of the best strategies for getting the ball rolling. You don't want to become overly dependent on ads, but they are great for generating initial revenue. Again, once you have customers, it's easier to get more!

Make sure this ad campaign is directing users to an optimized landing page with a clear call-to-action for the best results!

17. Knock on Doors
Like cold calling, door-to-door sales can absolutely work. It may be intimidating at first, but it gets easier and easier with every door.

Remember, you're not interrupting people at dinner time pushing a service they don't need. You're simply approaching a local business during business hours to see if they're interested in a new, professional website. Maintain the mindset that you're trying to help them, not sell them, and you'll find it a lot easier.

Again, we wouldn't expect anyone to feel great doing this at first. It's a little awkward to approach people face to face if you aren't used to it, but it is by far the most effective form of direct marketing once you get comfortable with it. It's far more personal than a phone call!
18. Visit Your Local Home Improvement Store
Believe it or not this is a great opportunity to find contractors, plumbers, and electricians who might be shopping for supplies (and need a website).

Approach them and introduce yourself, give them a business card, and make your pitch. At the very least, this is a great opportunity for networking.

If for nothing else, you can simply hang out in the parking lot and look for work trucks to see which businesses have a website. This is a great way to find potential leads you can reach out to later!
19. Barter Your Services
Not everything has to come with a paycheck. Consider offering to create a website for a business in exchange for something they offer that could benefit yourself and that you would otherwise pay for.

For example, a landscaper might be interested in cutting your grass for free in exchange for your web design services. Another example could be an accounting firm helping with bookkeeping and taxes in exchange for their website maintenance.

If you find a business that offers something you need, it's worth asking for! They may be more willing to go for such a proposal because it doesn't require a monetary investment, which would be a win-win for both of you.

20. Offer Free Website Mockups
A great strategy to generate website design leads is to allow business leaders to preview and get an idea of what their website will look like. Offering free consultations and a mockup can go a long way. Ask for some basic information about their business and create a personalized website to show them what you're capable of.

Let them know this is entirely free, and you're sure to get a response. A website mockup doesn't need to take too much time, and it could go a long way with your leads. To take a little bit of the load off, use SiteSwan's Instant Site Creation and website Themes to get it done effectively! Be sure to broadcast this service on your website for the best lead-generation results!

21. Scour Your Local Newspaper
Look through your local newspaper for local businesses who are advertising and check to see if they have a website. If so, can it be improved?
The newspaper is a great place to start because, well, it's harder to find businesses without websites on Google. Chances are that if you can find them online, they probably already have a web presence.

Conversely, those businesses advertising in a newspaper are less likely to have a website. Believe it or not, local businesses without websites are a lot more common than you may think. Around 27% of businesses in the US still don't have a website, and millions more open up every year, so your local newspaper is a great first place to look!
22. Send Out Postcards
Direct mail campaigns are another great way to find old-school business owners that don't have modern websites. Postcards are an excellent way to spread the word about your services to people directly in your area.

If you have a free afternoon, you can even stop by these local businesses yourself and drop them off. Just remember that it's illegal to place items into mailboxes, but you can still place them around or hand-deliver them for a personalized touch. Of course, the mail is always available if you prefer!
23. Start a Local Directory Website
Starting a local directory can be a great way to attract web design clients by first offering them a low-cost listing of your site. This is similar to the concept of the "value ladder". It's designed to attract a customer by offering something super affordable to earn their trust and establish a relationship. One you have them as a client it's much easier to sell them additional services (at a higher cost) such as web design.

Alternatively, you can offer your website clients a listing on your directory website as a way to increase exposure, improve SEO and market their business. It's the perfect add-on to websites.

Does the idea of starting a local directory website sound like too much work? It doesn't have to be if you use a platform like Ideal Directories. You can literally launch a local directory website for your community overnight!

24. Bundle Your Services
It's simple science; bundle deals win. If you are offering other services like social media marketing, SEO, or anything else, you can bundle it with web design to increase value for the customer and generate more revenue.

For example, let's say you offer a full-scale SEO and web design package with ongoing website maintenance and content marketing. Instead of charging a flat hourly rate or a certain cost per task, you could bundle it into one package that covers it all for a discounted rate. Yes, it will be more work for slightly less pay, but it will also be more consistent work that may even allow you to grow your web design business.

Businesses are always looking for ways to save on marketing, as it's typically one of their largest expenses. Don't sell yourself short, but try to make an offer they can't refuse!
25. Donate a Website
If you're willing, give a website away for free to use as a portfolio example and to generate referrals. If you're just starting out, we highly recommend going this route to build a portfolio. Doing this for a nonprofit or local community group is a great way to start, especially if they align with your values!

That's especially true if that organization is associated with businesses in your area. Many business owners contribute to or affiliate with local charities. Of course, you'd also be doing a good deed and building a portfolio for yourself.

Another great strategy for this is to run a promotion for a donated website. Using any marketing tool you want (social media, email, direct mail, etc.), you can run a promotion for business owners to sign up for a raffle. The winner will get a custom-built website however they want for free.

If this is successful, you will likely benefit from this more than lose. This is a great campaign to spread the word about your business to local business leaders.
26. Reach Out to Neighboring Businesses
Think about what roofers or exterminators do. When you complete a website project, reach out to other businesses in that area, let them know what you're doing, and show them the work you've done. This is a great way to start a sales pitch.

For example, you can start by saying "I was just working with Larry right across the street and I figured I would stop in and see if some of the other businesses around here could use some help with their website."

From there, you can easily show your work. "I saw that you only had 3 pages on your website, and it looks like you don't have a mobile optimized site. I just wanted to stop by and see if you'd be interested in our services for a small fee of-"

When you name-drop their neighbor, you're already establishing an initial note of familiarity and trust. Keep the ball rolling and let them know what you offer, how you plan to execute them, and how good of a deal your services really are. Again, face-to-face interactions are always the best way to secure a sale!
27. Get on Bark
Bark is a great website to help generate leads for agencies and freelancers. Unlike other platforms, there's no fee to join, no monthly subscription fee, and no cost per lead. You will only have to pay for the leads that you like, and nothing more.

This is a great way to get started, and you'll only have to pay for what you want. For startups with limited funds, this could be a great asset!
28. List Your Business on Alignable
Alignable is a great business networking site. It can help you network with small businesses in your area and around the country if you're open to working remotely. It's essentially a word-of-mouth referral generator that's easy to use and free to join!

Don't expect immediate results with Alignable. However, over time it can be a great way to build your network and generate leads.
29. Create a Google Business Profile
Google Business Profile, formerly Google My Business, is the most important business directory or listing you can use. It can help improve your website's SEO, offer a direct line of communication with your target audience, and directly increase leads.

If you don't already have one, build a Google Business Profile right away and answer every prompt that is applicable. Photos, business location, phone numbers, emails, and everything else needs to be consistent with your website and other applicable listings. This means they need to be exactly the same to avoid confusion with Google's algorithm.

Even if your website isn't ranking yet, this can still rank ahead of your website on search engine results. This way, when business leaders search for "web design services near me" or "web designers Boston", your business profile can appear in the business listings Google presents them. This will have a direct link to your website and more.

Over time, make sure you respond to feedback from customers and users. Answering questions can help verify to Google that you are an active business, which will help you rank higher.

Also, if you have an office space instead of working from home, feel free to list it on Google Maps as well. This will only further optimize your business listing.
30. Add Your Business to Yelp
Yelp is another important site to add your business to. It's a great way to get online reviews and feedback from customers, and you have control over these responses to some extent.

While most people think of Yelp to search for restaurants, it's become a resource for people looking for just about anything. Yelp is often the first stop for many business leaders looking for specific services including web design. Make sure you optimize your listing the same way as you would with Google!

31. Use Lead Magnets
A lead magnet is a free asset or special deal offered to customers in exchange for their contact details. It can be a discount code, ebook, template, or another resource. You can use a lead magnet to help get small business owners to submit their information on your marketing website.

For example, you might create an ebook titled "How to Grow Your Small Business Online" and inside include some ideas and strategies that a business can implement. Offer it on your website for free to anyone who submits their information. Once you receive their info, you can send them an ebook and reach out to offer your web design services. After all, a website is one of the most effective ways to grow your small business online.
Start Generating Website Design Leads for Your Agency Today
Now that you know how to generate leads for your web design business, it's time to put these tips to use and start generating website design leads as soon as possible. The sooner you do, the sooner you can grow your client base and scale your business. Many of these strategies are free so it doesn't require a huge investment if you are willing to put in the effort!

We hope this article has provided you with some valuable insights and inspiration for your own lead generation strategy. Remember, not all methods will work for every business, so it's important to experiment and find what works best for you. The key is to never stop seeking out new opportunities for growth and always be willing to adapt your strategy as needed.

Stay up to date with our latest marketing tips, and don't hesitate to contact us with any questions or for help generating leads!
We'd love to hear from you!
Share your comments or questions using the form below.