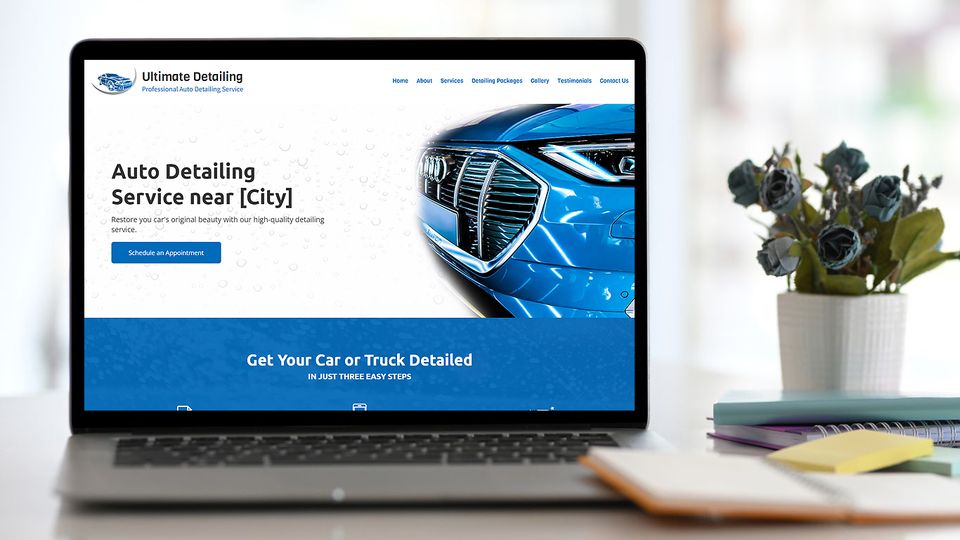 How to Sell Websites to Auto Detailing Businesses
Published on June 12, 2023
You may often wonder what the future holds if you sell web design services. But the best way to answer that question isn't to examine the web industry alone but to look further at what's happening in other industries.

Take the auto detailing industry as an example. This is a thriving market, and industry analysts predict a year-on-year growth of 9.6% between now and 2031.

Could your web design agency capitalize on that growth? Well, with around 60,000 auto detailing businesses in the US, the answer is a resounding yes. This guide will show you how to start selling auto detailing web design services so you can further expand your agency.
Why Niche Targeting and Online Marketing is Helpful
You aren't limited by location or physical space when selling web design services online. So you have the potential to sell to anyone, anywhere, anytime.

But here is the paradox of online marketing. The fact you can sell to such a broad audience is the primary reason to do the opposite. Oftentimes, you're more likely to win new business if you narrow your marketing to a specific niche.

When selling website design services, targeting a niche will help you focus your marketing strategy on one specific audience you can research and profile. That means you'll find it easier to create a perfectly designed service to match the unique needs of that demographic. And you'll easily stand out from your competitors.

It also helps you to develop a trusted relationship with that audience. They'll see your business as the go-to expert for their industry. And that will net you more testimonials and referrals, all of which will help your sales efforts.
Benefits of Targeting the Auto Detailing Industry
So why target the auto detailing industry? Here are some reasons why it's a great niche for your web design business.
They Rely on Their Website
A good website is critical to an auto detailing business. That business will use its website for marketing its business and informing customers about its services. They need content that's up-to-date, relevant, and valuable.
They Value a Long-Term Partnership
Auto detailing businesses want to work on their core services and not be stuck handling the day-to-day tasks of running a website. That means they'll be looking for a web design company with whom they can form a long-term partnership.
A Wide Range of Clients
The auto detailing service, while niche, still provides you with access to a plentiful market.

Many customers reach out to auto detailing services, and you may have clients who specialize in vintage cars, luxury, sports, or family vehicles. It gives you many ways to profit from websites sold to these customers.
Cost-Effective Marketing
Auto detailing is a specific service that will enable you to market your web design via advertising effortlessly. That will make your marketing more cost-effective, as you won't run ads to other non-relevant audiences.
How to Target Auto Detailing Businesses
You have more than one way to target auto detailing businesses. Here are a few strategies to try as part of your website selling process.
Social Media
Social media is an easy way to reach new audiences, and you don't even need a big marketing budget to get started. Before building a presence on social media, do some research to find out the best platforms for you.

It may be that auto detailing businesses in your area have a Facebook group. Or they may have an established presence on LinkedIn.

Doing this research will ensure that you spend your time and money on the platform that's most likely to bring you a solid return on your investment.
Present a Website Mockup 
Many auto detailing companies will seek a long-term relationship with a web designer. But before they sign, they'll want to know they are working with the right team.

So one way you can help build that trusted relationship is by providing a free or low-cost trial service for your customers. For example, you could show them a FREE mockup of what their site would look like if they worked with you.

Our Auto Detailing website template is the perfect starting point and makes it easy and quick to sell website mockups to auto detailing companies. And once you have an interested client, you can upsell long-term services such as additional features, Reputation Management and of course, monthly website maintenance.
Incentivized Referrals
Humans are naturally more inclined to buy from a service when it's recommended by people they trust. And it's for that reason that referrals are such an effective way to get more clients.

It's always best practice to ask your clients for referrals. Whenever you complete a website project, ask if they can recommend any other businesses who might be interested in a new website also. You can even incentivize your current clients to provide referrals by paying them a small referral fee for any new client who signs.
Pay Per Click Ads 
If you want to get sales fast and have a healthy marketing budget, your best option is to run a PPC (pay-per-click) ad for your website services.

As with social media, you want first to research your target auto detailing clients to know where to find them online. To market to local businesses, consider organic and paid marketing on Google local search.

When setting up the ad, use relevant keywords and geographic targeting. Also, test different ad copy to see what resonates best with those auto detailing customers.

When running a paid ad, ensure you send potential website buyers to a landing page to get them on your email list. You can offer a relevant lead magnet to attract the right leads, such as a PDF guide outlining how to design the perfect auto detailing website.
Email Marketing
If you send leads to a landing page and get them on your email list, you can market and promote your services to that list regularly.

One technique to try is creating different website packages for your audience and sharing those promotions over email. You'll find some are more popular than others, so it's a valuable way to understand your audience better and help you build the design service that best fits their needs.

Try time-limited offers by email, too. It'll help you sell more services to those leads who haven't decided but don't want to miss out on a deal.
Industry Events and Networking
Finally, don't forget to step outside the world of online marketing and go to some industry events in your area. Research via Google and social media to discover any upcoming auto-themed networking events.

You could reach out to the organizers and offer to be a sponsor in exchange for advertising your website design services. Or you could pay for a space at a conference to chat with people and give out a brochure outlining your services and design packages.
Must-Have Features for Your Auto Detailing Website Designs
'Great marketing will help you to take a step closer to securing customers. However, you'll only get leads signing on the dotted line if you have a compelling offer.

So here is what you should include in your website designs and the design packages you sell to an auto detailing audience.
Clear Branding
Customizing SiteSwan's Auto Detailing Website Theme for your client's brand is crucial to create a unique website that truly represents their identity. While it's true that anyone can build a basic website using a template, companies often turn to professional designers to avoid the risk of ending up with a generic-looking site that lacks originality.

By emphasizing your ability to customize the theme and incorporate your client's logo and brand colors, you can assure potential clients that their website will be a unique representation of their brand. This personalized approach to web design sets you apart from the cookie-cutter templates and demonstrates your commitment to creating a distinct online presence that accurately reflects their brand identity.
Consider User Experience
You'll want to demonstrate that whatever types of websites you sell, you offer an excellent user-friendly design to ensure site visitors have a great experience. By making this clear in your offer, customers will know that you'll create a website that is easy to use and navigate and looks beautiful.
Mobile Capability
Along with a good user-experience, site visitors need to be able to access an auto detailing business's website with ease from any device. With a seamless navigation format functional on all mobile devices, site visitors can find the information they are looking for quickly and easily.
Consider Location
Geographic targeting is essential for auto detailing companies because they'll market to a local audience. So add features to your website design to help them do that, such as maps.

You can also upsell content marketing packages to help them with local search optimization on Google.
Don't Forget About Analytics
Finally, ensure you build a website that supports the customers' marketing efforts. A straightforward option is to set up all their analytics software for their website to help them track their traffic sources.
It's also a fantastic opportunity for you to market additional services such as content writing or SEO.
Get Started with SiteSwan's Auto Detailing Website Theme
SiteSwan's Auto Detailing Website Theme is an excellent starting point and an easy way to create a professional and engaging website for businesses in the auto detailing industry. Designed with the latest trends and user-friendly features in mind, this theme provides a perfect foundation for launching a stunning website.

With its pre-designed Website Themes and customizable elements, SiteSwan empowers web designers to quickly create visually appealing websites that showcase the unique services offered by auto detailing businesses. By leveraging this theme, web designers can save valuable time and effort, focusing on adding their personal touch and customizing the site to suit their clients' specific needs.

SiteSwan's Auto Detailing Website Theme is a game-changer. It not only accelerates the website creation process but also ensures that web designers can offer their clients a top-notch online presence, positioning themselves for success in the web design industry.
Sell Your Web Design Services to Auto Detailing Businesses
If auto detailing web design aligns with your business goals and expertise, you have chosen a niche with great potential. Auto detailing businesses rely heavily on a strong online presence to attract customers and showcase their services effectively. By specializing in web design for this niche, and using SiteSwan's professionally designed auto detailing website theme, you can provide a tailored solution that caters to the unique needs and preferences of auto detailing companies.
We'd love to hear from you!
Share your comments or questions using the form below.