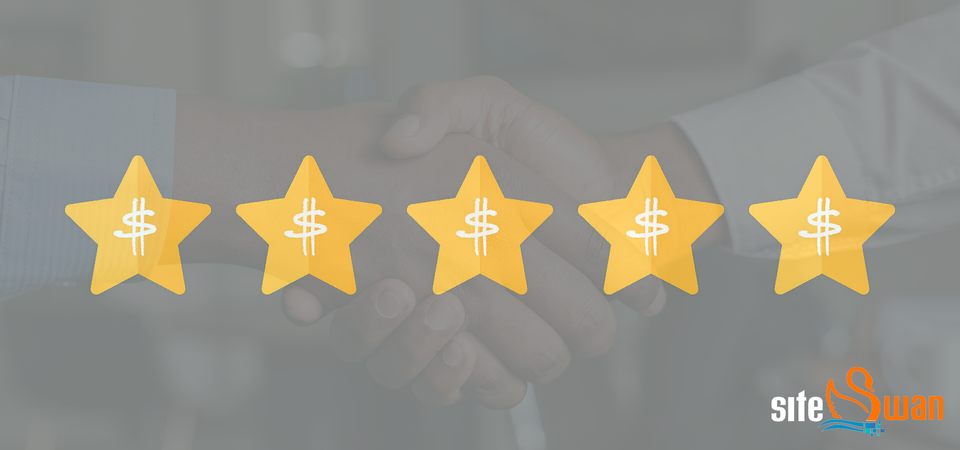 Sell More than Websites with SiteSwan's Reputation Management Feature
Updated on December 19, 2022
SiteSwan's Reputation Management feature is proving to be a valuable tool for many SiteSwan Resellers. It's the first true expansion of SiteSwan's services beyond web design, and it's ideal for anyone interested in selling digital marketing services to small businesses. But what exactly is it?

 It's a tool that helps small businesses easily monitor, manage and respond to online reviews while also helping them increase their average star rating across the major review sites.



Reputation Management is a booming industry and a very lucrative service to offer to small businesses. More and more, a business's online reviews influence customer decisions, so business owners have to stay on top of what's being said about them, and address all positive and negative reviews with professionalism. With SiteSwan's integrated Reputation Management feature, you can help your clients monitor their online reviews, discover what customers are saying about their business and help them maintain a positive online reputation. It's also the perfect add-on to your web design services because it's simple to setup and maintain, and you can even bill your clients for it directly from the SiteSwan Dashboard.
Some key features include:
 
Review Monitoring - Easily track all of your clients' online reviews at the source from the top review sites including Google, Yelp and Facebook.
Reputation Reports - Gives your clients insight into key metrics such as average star rating, total reviews, reviews by star rating and more.
Email Notifications - Help your clients keep track of when new reviews are added and how they are performing with a daily report delivered right to their inbox.
Respond to Reviews - Easily identify who, when and where reviews are posted so your clients can reply in a timely manner.
Stop Negative Reviews - Prevent negative reviews from going public by allowing upset customers to share their concerns directly and discreetly.
Increase Positive Reviews - Help your clients get more 5-star reviews by requesting positive reviews from happy customers.
The Reputation Management feature is currently available on select plans and is accessible from within the existing SiteSwan Dashboard. Setting up a client with the service is extremely easy and only takes minutes. It's also incredibly profitable. Most resellers are charging an additional $99 - $199/month PER CLIENT for Reputation Management. You can sell Reputation Management as an add-on to your existing web design clients or by itself to other local businesses in your area, giving you both flexibility and unlimited earning potential.
And just like we do for websites, SiteSwan gives you marketing material, sales ideas and support so you can start selling Reputation Management right away.
For tips on how to sell reputation management and land your first paying client, watch our video.
We'd love to hear from you!
Share your comments or questions using the form below.